Adila Batool Changezi
QUETTA:  Saima*, was a coal miner's wife and a domestic worker herself, residing at the foothills of Koh-i-Murdar. One fateful morning, she rose only to find out putrefied food in the kitchen which she went out to dispose of down the foothills. This is where she slipped off and lost her life.
Had it not been for a shepherd to witness the unfortunate incident, nobody back home would find any clue about the incident as everyone was asleep then. "I heard a shepherd shouting.  I and another man from a nearby house rushed out. However, the man reached before me and covered the body with a blanket. Having reached, I found her skull ripped apart into two pieces with her brain protruding out. Her brother reached shortly and tied her hands and feet. The body was later shifted home. Had shepherd not witnessed the unfortunate lady spinning down the hills, her body would have fallen prey to scavenging animals," says Zakia*, 40, adding that this is not the first incident of its kind. Many people have slipped off the narrow patches from the foothills housed by the Hazara community to date, resulting in casualties and deaths.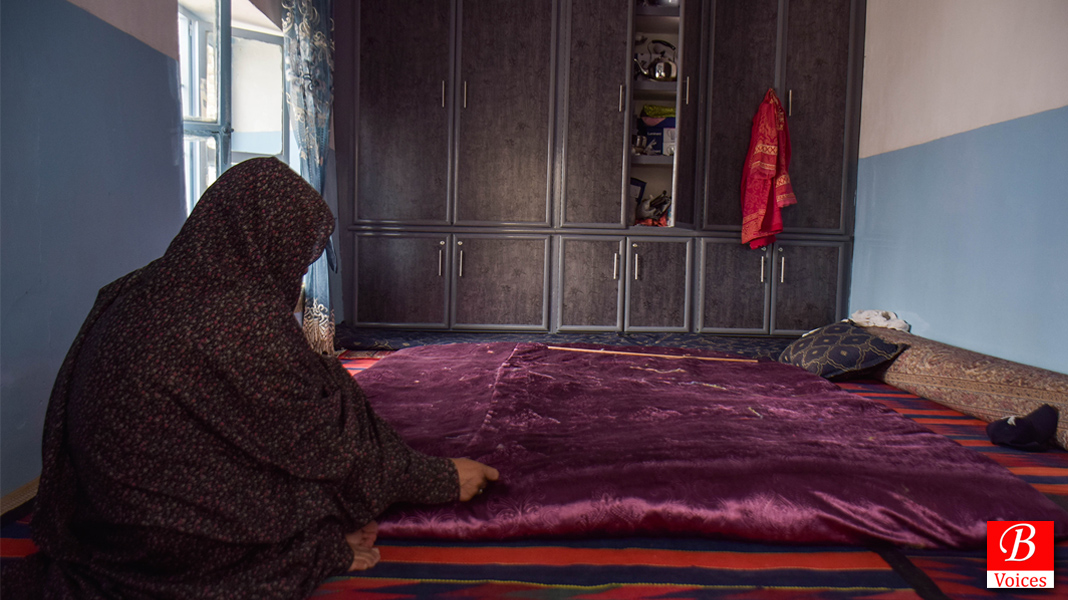 "Hazara's have been living in Balochistan since the British era in the prime location of cities like Loralai, Zhob, Dukki, Sanjavi, and Mach. However, most of them later migrated to Quetta and they formed the third biggest tribe after Kasi and Shahwani tribes in the city in the post-1935 earthquake demographic setup of the city.
Hazara Kalan, located on Mecongi Road, seems too distant from Hazara localities today but it was one of the first Hazara neighborhoods then. Today, you cannot find a Hazara household in that neighborhood called Babu Muhalla. There may be some property or shops belonging to Hazaras but these too have been given to others for look-after," says Sajjad Hussain Changezi who is Program Manager Balochistan Rural Development and Community Empowerment (BRACE) and Rural Support Programs Network (RSPN).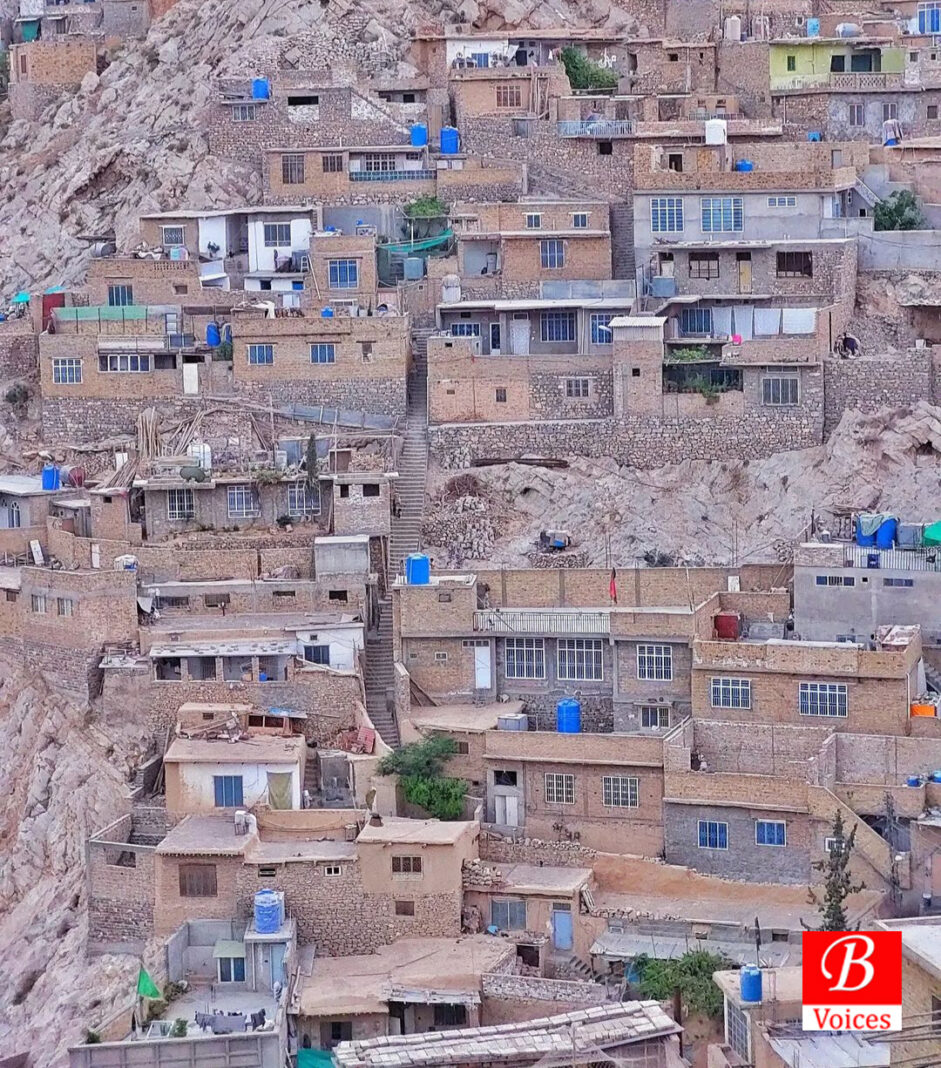 The Shiite Hazara community has long been residing in the Quetta valley in localities named Hazara Town situated on the Western end of the city and Marriabad situated afoot Koh e Murdar. Earlier there were few houses in Marriabad located on the mountain of Murdar. Those who were poor and could not afford land, went to dig up the mountains and build themselves a shelter to live their lives peacefully.
However, the 2 decades of terror attacks targeting the Hazara community carried out by banned outfits have limited them to their ghettos. This specifically took a sharp turn after the blasts in the January and February of 2013, killing more than 100 Shiite Hazaras. To boost security, FC check posts were placed on entrance points of Hazara localities which further intensified their existing sense of insecurity. Those who owned businesses, plots, and jobs outside ghettos, either were targeted or fled the country where some reached their destinations and others fell victim to difficult sea voyages. Many shifted to Marriabad and Hazara Town abandoning everything.
Following this, Marriabad and Hazara Town ran out of space. Under these circumstances, Shiite Hazaras who could not afford to buy land in Hazara town, or Marriabad, resorted to buying spaces in the mountains from those who already had houses built there and claimed spaces adjacent to their houses. Here they had to pay a hefty amount to break down mountainous rocks and build their 2-room houses. Currently, one such house on the mountain with 2 rooms, a kitchen, and a bathroom costs more than 2 million which, for a daily wager is completely unaffordable. Moreover, the labor to supply building raw materials uphill on the construction sites often costs limbs to the destitute residents. "Such houses in other parts of the city with planned housing schemes are way cheaper than the unplanned property in Marriabad. In Quetta, Hazara residential areas are the most densely populated localities. Government and administrative bodies do not pay any attention to the living conditions and access stairs of the houses in the mountains" laments Sajjad.
Fatima, a middle-aged housewife, also lives on the high foothills of the mountain. Her husband is diabetic and her son is disabled. "We cannot afford to buy land on the ground. We face hardships here as rainwater seeps into the rooms, destroying all our investments. We recently renovated this home with a cost of 1.2 million and are still indebted. My son was disabled after a stone fell on him. Taking him down the foothill is a painstaking task without any assistance," says Fatima.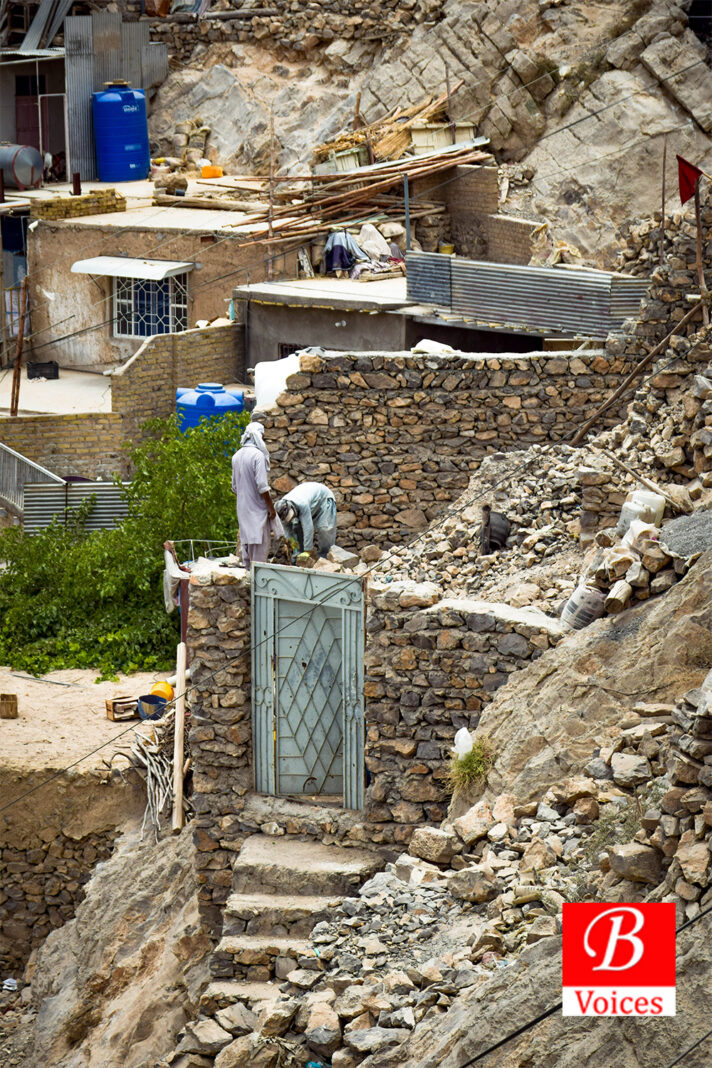 Houses on mountains do have connections and meters for gas, electricity, and water and regularly pay their bills. Yet the supply of gas and water uphill remains a constant problem perennially. The residents face a substantial financial burden from water pumping motor defects from time to time. They must come all the way down from their houses to access their water pumping motors every time the water is released into pipes by WASA.
 "I'm facing weak eye-sight and asthma problems. It is a lot of dust here as we drill through these rocky stones. We have nowhere else to go. The earth has run short and life is tough for us. From bringing up the machinery and construction material to breaking down the rocky mountain, it is arduous", told laborers who were leveling up the mountain with heavy machinery to build houses.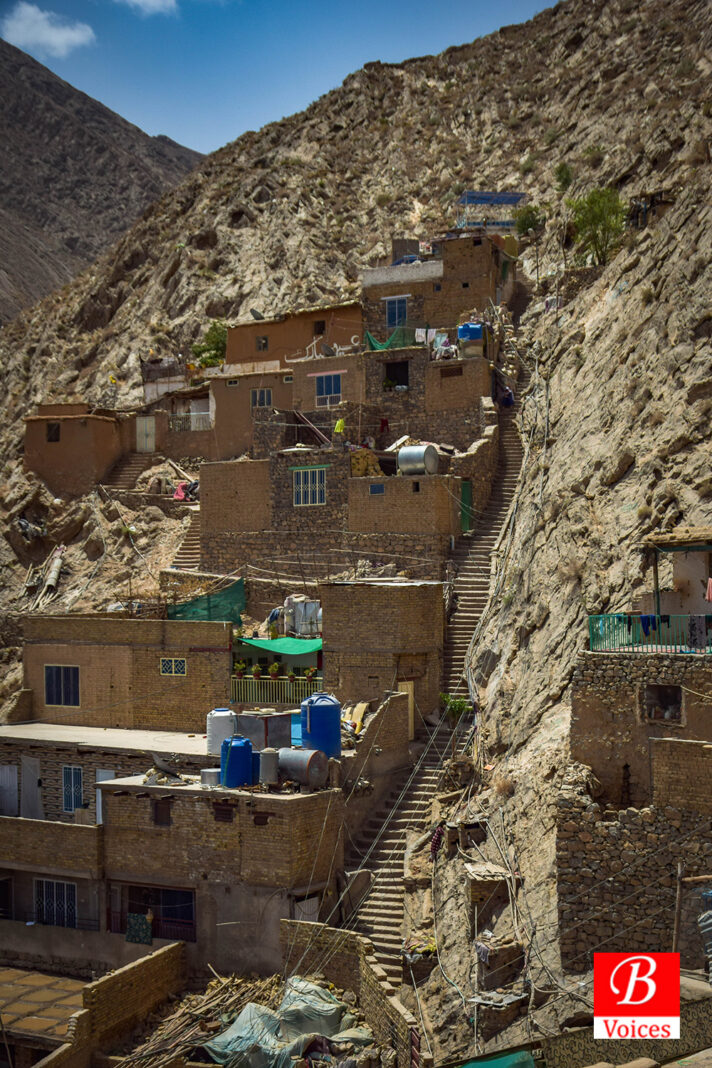 For people who look at the pictures and aerial videos of Quetta, these houses seem beautiful and mesmerize the viewers, but little do viewers can imagine about hardships faced by the residents. Many houses lack boundary walls, others have more residents than carrying capacity.  A family of 23 persons lives in a 5-room house with only 2 bathrooms and a kitchen. Additionally, access to facilities here is nerve-wracking for the residents. Students have to climb down and up hundreds of stairs each day with heavy bags. It is equally difficult to take rations and other supplies to their houses up the mountains. Pregnant women, injured, weak, and sickly are brought down to hospitals either in blankets by 4 people or piggyback rides which in itself is risky. The stairs are unsafe and sloppy. Moreover, the threat of wild animals such as snakes, wolves, scorpions, and porcupines is also persistent.
Economic opportunities for the community have also been reduced. Whereas the majority of Punjabi Shias fled back to Punjab, Hazara Shias being confined to their ghettos lost not only their businesses but also bore financial blows.  Many talented entrepreneurs were killed ruthlessly. "Muhammad Ali of Ali Agency, a self-made entrepreneur, who started from a humble background to owning the Ali Agency, dealing with corporate companies of telecom industries, was abducted for ransom. He was brutally tortured to death despite the hefty ransom paid. His body was beyond recognition. His brother could not identify his body at the first identification visit.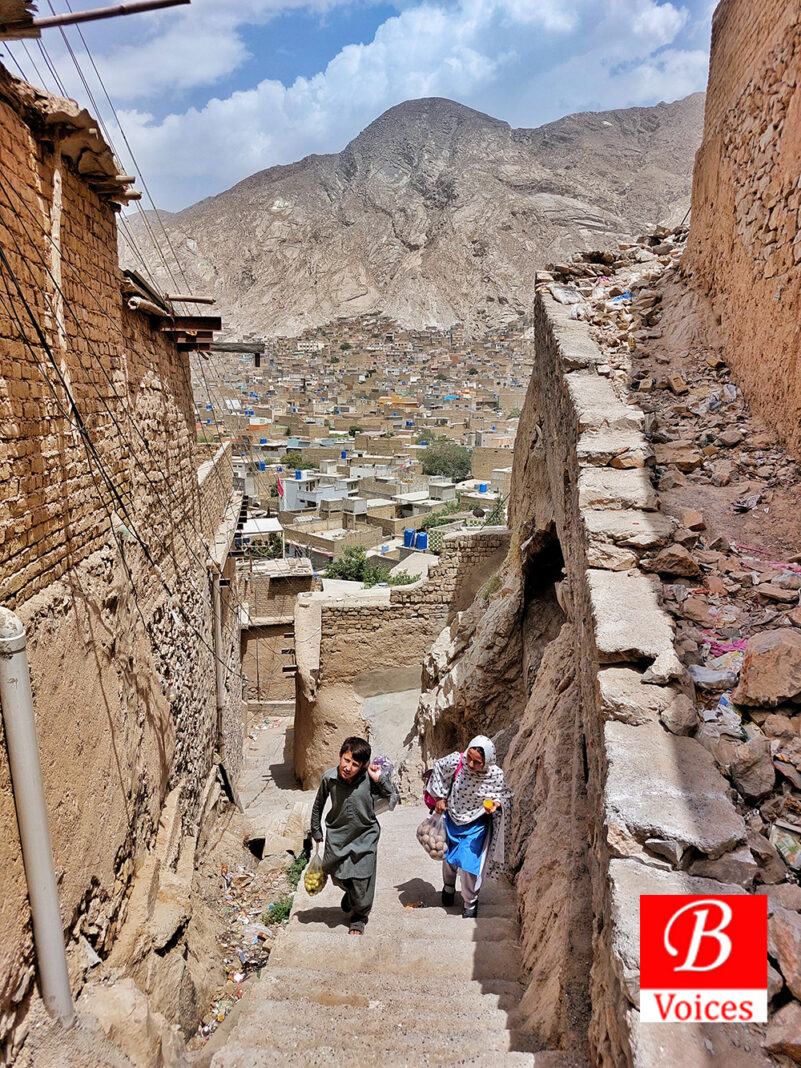 Scared for their lives, other businesses like Millennium Computers owned by Zakir Hussain had to move to Alamdar Road. Two leading grocery providers in Quetta—Ahmed Store and Sahibi Store, owned by Hazaras had to face abductions and attacks, losing their businesses. They faced major blows being closed for a long time after the attacks and later having moved closer to Hazara localities. Ahmad Najafi of Ahmad Woods was also targeted who was a mainstream businessman in the city. Being singled out and killed caused the Hazaras to shrink their living and business spaces from Main markets to Alamdar Road" adds Sajjad detailing the timeline of the Hazara population's shrinkage space in Urban Quetta.
Raza Wakil, a Hazara political and social activist, says, "Unfortunately, we became a religious minority in Pakistan. We have not become Shia recently. We were Shia and our neighbors were Sunni since times immemorial. It all started with the policies of the state beginning in Zia's era and continuing onwards. Secondly, some clerics have also been preaching hatred between both communities. This hate created differences among us. Especially, in the past two decades. We lost property and businesses and access to the main bazaar. Our properties in prime locations must have encroached. Hence, resorting to building on mountains remains the only choice. If you have visited those houses, you would know even a healthy person feels dizzy and scared going up there," he says, adding that Government has failed to accommodate this vulnerable community on vast tracks of empty land laying vacant adjacent to Marriabad which perhaps is property of Cantonment Board because Marriabad has no scope to expand Eastward or Westward.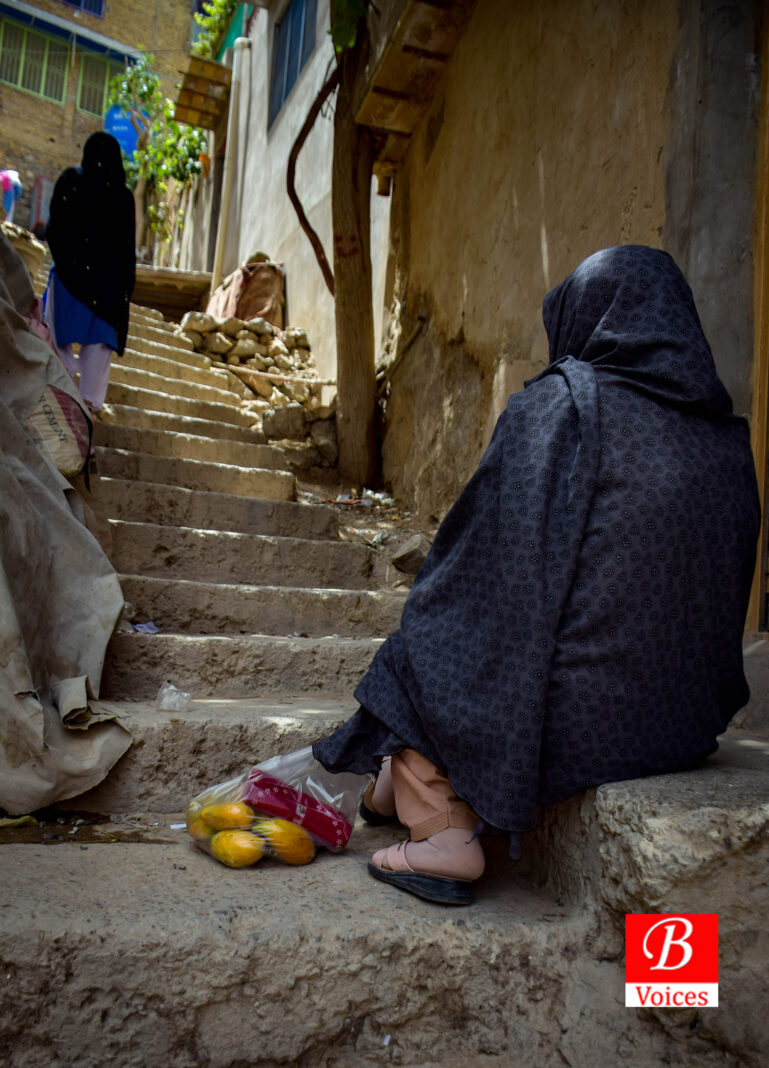 The recent monsoon spell triggered flash flooding in different parts of Balochistan including Quetta. Many houses of the Hazara community located on the mountains were heavily damaged being washed away by the flash floods and stones from the upper mountain. The impoverished families who already live hand to mouth are left on their own. Although Provincial Minister for Sports & Youth Affairs.  Mr. Abdul Khaliq Hazara visited a few of the damaged houses, but no financial support was offered to the affectees apart from a tractor to take away the debris. He only provided them with water coolers and substandard ration.
Abdul Khaliq Hazara, the Provincial Minister for Sports & Youth Affairs and MPA from Marriabad, told Balochistan Voices that people who live in mountains near Marriabad are underprivileged. "Marriabad has gone out of space. We do not have empty plots for development let alone some housing scheme. We are planning an accessible housing scheme on the mountain above Hazara graveyard." He added, "We have constructed water storage tanks on mountains, you can see at Sanai Abad one of those. We have placed boosters at the tube wells in Khartar area, from where the water reaches those storage tanks and then is distributed to the houses.
"We thought of elevator facility for those disabled, women in the family way or sick and elderly but the streets are too narrow and not well planned for the feasibility of such an idea. However, we are still looking into this and consulting experts on this ", reflects Khaliq Hazara on the plans for disabled, sick, elderly and emergencies of the mountain residents.
"I personally visited all the housed affected by floods. I have spoken to the cabinet, commissioner and local government about their loss and damages. I personally conveyed tents, gas stoves and cylinders and food supply for 60 households from PDMA to them on urgent basis. My party (Hazara Democratic Party) on its own contributed 2 to 3 lac rupees for urgent clean up of the flooded houses ", claims Abdul Khaliq Hazara.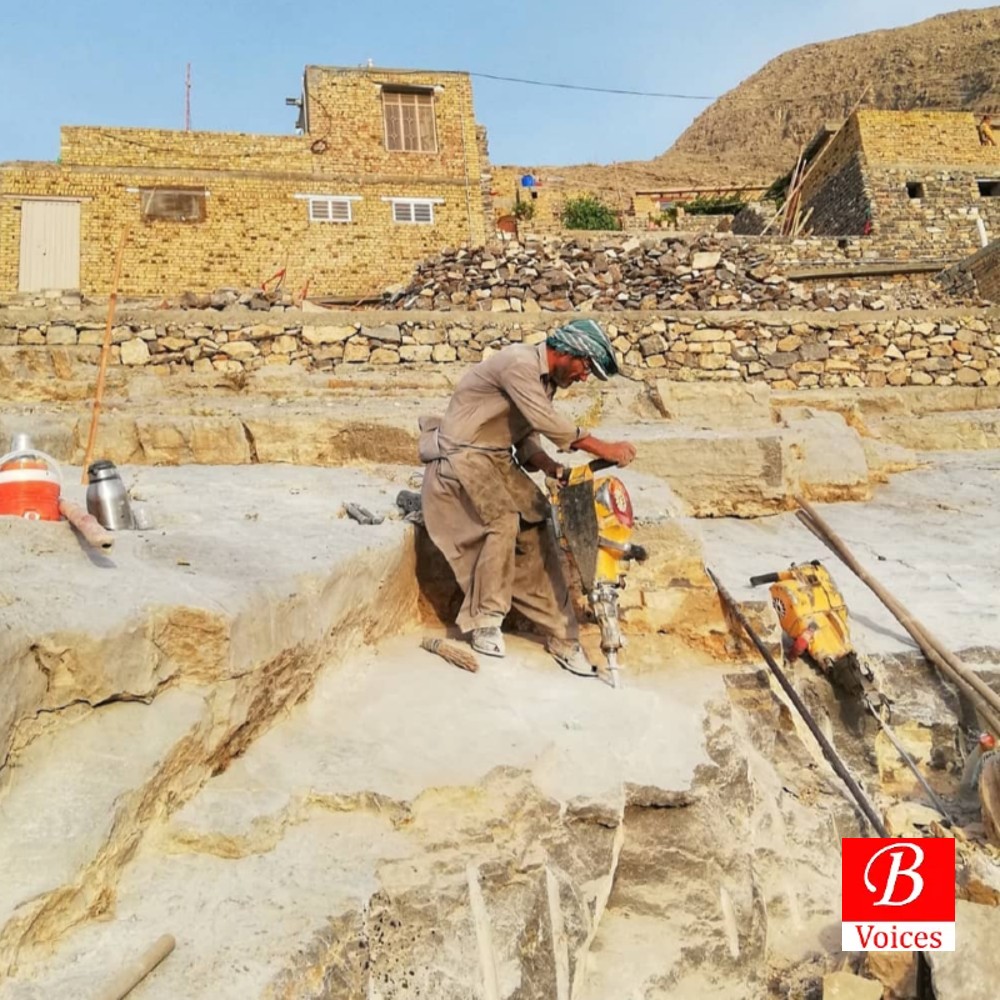 Hamida, 60, resides at the bottom of the mountain. She is traumatized after the floods washed her belongings off and damaged her house.
Gull Khanum, 30, has nothing left behind. Her whole house on the mountain and belonging were either damaged or flushed away. She is undergoing a depressive situation and cannot afford to rebuild her life from zero.
Sajjad suggests that the state should encourage diversity by making housing societies where all communities should co-exist peacefully.
*Names have been changed at the request of the residents to hide their identities.
The Writer is an MS student at the National University of Science and Technology Islamabad, and a communication practitioner. She tweets at @AdilaBChangezi
Photo Credits: Zahra Asghari is a Hazara street photographer based in Quetta. Her Instagram is @zahrra_asghari and Tweets at @Zahra14asghari