Quetta: Opposition in provincial assembly criticized the proposed Public Sector Development Program (PSDP) in budget for Fiscal year 2016-17 and demanded that it should be reviewed.
These comments were made by Engineer Zamruk Khan Achakzai of ANP, Deputy Opposition leader, while debating on the provincial budget, on Thursday.
Speaking on floor of the assembly on second day of Debate, Mr. Achakzai said that meager amounts have been allocated for the ongoing development schemes in the budget which tantamount to a joke.
A committee should be formed to review the provincial PSDP and make it acceptable to everyone – Zamruk Khan Achakzai
"PSDP should be formed in such a way so that all the stakeholders are happy," he said.
Deputy opposition leader demanded that a committee should be formed to review the provincial PSDP and make it acceptable to everyone.
Maulvi Mazullah, legislator of JUI-F and an opposition member, said that ongoing schemes of opposition have been ignored in the proposed PSDP which is not fair.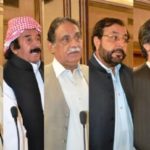 Shahid Rauf, MPA of JUI-F, complained to Chief Minister Balochistan, Nawab Sanaullah Khan Zehri, that woman MPAs have been discriminated in PSDP formation.
"Development schemes proposed by women MPAs should also be incorporated into the PSDP," she demanded.
She also criticized last minute transfers in Finance and Planning and Development (P&D) department and termed it bad governance.
Nawab Ayaz Jogezai, Provincial Minister for Public Health Engineering (PHE) defended the proposed PSDP in the budget.
He claimed that this is the best possible budget which can be developed in the current circumstances. "There is no flaw in the budget it can provide relief to people if it's implemented effectively," added Mr. Jogezai.
Lamenting the failure in erstwhile Quetta Greater Water Project, He said that billions of Rupees in that project were looted and NESPAK is responsible for its failure.
It must be noted that PHE has received the biggest allocation in PSDP with Rs. 15.27 billion and 10 billion are allocated for new Quetta Water Supply project which is based on pumping water to Quetta from pat Feeder Canal.
A version of this was published in

The Nation

under an arrangement.