In this modern era, social media has become very important in highlighting the issues of common man and bringing it to the attention of those who are in the corridors of power. Apart from Facebook and Twitter, one of the most widely used mediums in social media is WhatsApp and the group feature of the service.
WhatsApp is a cross-platform mobile messaging services which allows the users to create groups where up to 256 people can be added. Initially, this feature in WhatsApp was introduced to connect family members but now it has a wide range of utilities.
Different groups have been created to highlight the issues of public. One such group is called 'Balochistan Voices' which comprises federal ministers, former chief ministers, members of Balochistan Assembly, high level bureaucrats and members of civil society amongst others.
Balochistan Voices WhatsApp Group comprises of federal ministers, former chief ministers, members of Balochistan Assembly, high level bureaucrats and members of civil society amongst others
If there is a problem in a hospital or a school, it is highlighted in this group and officials of the concerned department respond in no time. They take action to solve the issue or give explanations on why the issue can't be resolved instantly. A lot of micro level issues have been resolved from the platform of this group.
A few months back, the issue of Higher Education Commission (HEC) depriving Balochistan of its due share in resource distribution got a lot of attention. That issue was basically picked up from the aforementioned WhatsApp group by the then Secretary Education of Balochistan Abdul Saboor Kakar. He then raised the issue with the HEC Chairman and a committee was formed to investigate the matter. All of that was possible because the issue was brought to the attention of Kakar in a WhatsApp group.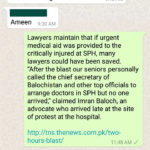 There are several other messaging services which provide similar features but WhatsApp is the most popular one amongst them. With its simple and easy-to-use nature, WhatsApp is being adopted by people in different spheres of life to make their communications better and stronger.
In District South of Karachi, entire coordination between government officers takes place with the help of WhatsApp groups
In District South of Karachi, entire coordination between government officers takes place with the help of WhatsApp groups. Every officer in the district is part of the set of WhatsApp groups created by the office of Deputy Commissioner (DC) of District South. One major area where the WhatsApp groups help the district a lot is the anti-polio campaign.
Irfan Mirwani, Assistant Commissioner (AC) Arambagh in District South, says, "A special group is made for all the concerned officers of anti-polio campaign. When a campaign starts, all the field officers upload status updates about teams, deployment of police and the field activity in the WhatsApp group."
He further explains that when a delay or refusal case is reported in the group, the DC issues orders to police immediately and after solving the problem, the concerned officer reports back in the group.
One of the most common problems faced by administrators in Karachi is that of water supply and breakage of sewerage pipelines. Again, District South has created a separate WhatsApp group for this purpose which comprises all the concerned officers and public representatives of the area. Field officers take pictures of the leakages in sewerage pipes and upload it in this group and then the DC issues orders to Karachi Water and Sewerage Board officials to take action and also share updates. Through this way, public officials are put under pressure to do the job assigned to them on time, providing relief to the people.
"Usage of WhatsApp groups has helped us save a lot of time," says Mirwani. He adds, "If we do not use WhatsApp groups and rely on traditional mechanism of issuing official letters then the problems which are solved in a few hours would take days to solve."
Governance is not the only field where WhatsApp groups help. They also help in academics and even PhD scholars make use of this technology for better and swift communication.
Shumaila Umer is a PhD scholar in University of Utara in Sintok Kedah city of Malaysia. She says all students and professors in her class are connected though a dedicated WhatsApp group. "Professors instruct the day-to-day academic schedule to students though this group and also answer their questions."
Shumail Umer, who also teaches at Sardar Bahadur Khan Women's University Quetta, discloses "We get answers to many questions while sitting at home and not taking extra time out to go and meet professors due to the usage of WhatsApp groups."
Likewise, WhatsApp groups have given birth to wide range of civil society forums. One of such forums is Civil Society Balochistan which comprises volunteers from across Balochistan that are inter-connected through a WhatsApp group.
Sami Zarkoon, Convener of Civil Society Balochistan, says that WhatsApp groups have made it easy to mobilize our activists on very short notice. "Whenever there is a need to protest on an issue we just leave a message in our group and people show up," he says.
Moreover, scores of media groups have also been established where journalists and spokespersons of different departments share news to be carried by newspapers and TV channels. This has made the news reporting very easy for reporters. However, usage of such groups has also increased the instances of misreporting and inaccuracies in news.
Osman Hussain covers Pakistan and Middle East for an international technology magazine. He is of the view that WhatsApp or any other internet-enabled communication platform has democratized the spread of information and the dissemination of ideas.
"In the recent past, governments could simply switch off mobile phone networks and there was no means of communication. Now, thanks to services like WhatsApp that the chances of communication blackouts have been greatly reduced."