Ayaz Khan
"Hey! Don't take pictures; who are you?" asked me a worker heading towards me frowned and raged. The voice echoed in my ears when I entered into a plot to click some photographs of obsolete ships waiting for their turn to be dismantled at Gaddani ship-breaking yard. "Don't take pictures of workers without labour suite," he shouted, "You guys give these pictures in newspapers," he asked me and seemed concerned.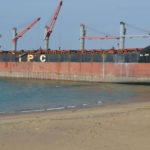 "Yar (Dear Friend)! Don't mind, you might be thinking that workers without suites are on duty. But it is not so. They (workers without labour suites) are off duty in fact," murmured a person standing behind me in civil dress, probably a labourer. The short and informal conversation with both workers—raged at first sight and calm later on—was not a new thing for a person with a camera hanging around his neck and having an appearance that of a journalist. But, workers' strong sense of recognizing a journalist does show their loyalty to the owners and contractors to keep torchbearers away from the misdeeds of business elite that has claimed numerous lives at Gaddani ship-breaking yard.
Gaddani ship-breaking yard
Gaddani ship-breaking yard is dyed in both colours that of a saviour and a killer as well. Currently, it has accommodated a total number of around 6,000 workers, yet it has also claimed around 33 lives (according to official record) since November 2016.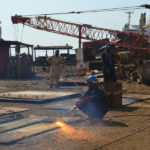 The November 1st incident claimed around 28 lives followed by another explosion on 9th January in the morning which claimed 5 lives. Following the November 1st incident, government of Balochistan imposed section 144 on working site for fifteen days but the industry could get stay order through court and continued work. But, after the incident of January 9th, Chief Minister Balochistan while taking strict notice of the incident in a high level meeting huddle banned beaching of ships particularly those carrying LPG and oil. The tug of war between business elite and government has made the breaking yard an abattoir. The profiteers keep on getting stay orders and labourers are left in shambles being the prime victims of this remorseless tug of war between profiteers. After the November 1st incident, a poor family is left in a miserable state which has lost 13 members of the family in the deadliest explosion.
Victim Families
"I have been compensated by the industry owners. Yet my heart bleeds for my son whose body has gone missing since the incident," says Sher dad's mother with a shaky voice. Sher Dad is among those workers whose bodies have not been recovered yet.
"Sher Dad's untimely death was the second shock for me as I had lost my husband just 9 months before the pathetic death of my son," mourned Sher Dad's mother with sore eyes.
"We work as ironsmiths and live hand to mouth. Because of being uneducated we cannot get jobs in factories except breaking at yard," says Faiz Mohammad, Sher Dad's brother.
The family of Sher Dad lives within a courtyard as joint family. The wooden cottages inside the courtyard, depicts the poor life of the family.
"I have lost two sons in the explosion. One is married and has a child and the other was betrothed," mourns mother of both sons, Alam Khan and Haider who were on the hapless ship to bring their family a livelihood to fight against the odds of prevailed poverty.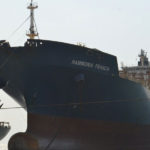 History of Ship Breaking in Pakistan
Shift of dismantling work of deep-sea going ships, when they reach their age of demise, to the third world countries, during 1960s, was to get a cheap labour force and Pakistan, Bangladesh and India accepted to persecute the labourers with forcing them with the concept of cheap labour force.
Since inception, Pakistan enacted—or inherited by the British—5 labour laws—today the laws are available with amended versions. The laws included Trade Union Act 1926, Industrial Employment (standing orders) Act 1946, Industrial Disputes Act 1947, and Factories Act 1934. The common point in these Acts was the leniency for the labourers as they had right to raise their voice against repressive behaviour by the business elite. The Trade Union Act 1926 not only enabled the labourers to form a platform in defence to their rights, but section 16 of The Trade Union Act 1926 also enabled them to raise separate funds for the civil and political interest of the members which meant to bolster political parties in reciprocation of getting pro-labour legislations in parliament.
With the promulgation of Trade Union (amendment) Ordinance 1960 and Industrial Disputes Ordinance 1959—both laws were amended in the regime of Ayub Khan—brought labourer practices for their rights to a grinding halt. Both ordinances clipped the wings of labourers while making Trade Unions' recognition mandatory by the employers and curtailed the power of labourers for calling strikes.
Internationally, Pakistan has been a signatory to many conventions on safety of workers and environment at ship-breaking yard yet the most sophisticated convention of safety of workers and environment was the Hong Convention 2009, which needed 15 countries to be signatory in order to enforce the convention. The convention, if enforced, ensures full protection of human health and environment-friendly measures as the article 1(a) of the convention restricts the countries, which sign the convention, from practicing beaching without worker-protective gears and ensures utilization of machinery to save workers from hazardous work.
Pakistan Labour Policy 2010
Apart from internationally enacted laws and conventions, the labour policies within the country ensure a healthy environment for workers within any industry ranging from mining to ship-breaking industry. The paper works on protecting labour rights dose exist, but its implementation remains an eye wash. The Pakistan Labour Policy 2010 is on the numerous paper works for the protection of labourers' rights having been kept under the layers of dust.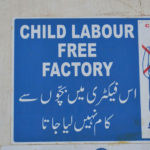 The Labour Policy via its Legal Framework clause 20 strictly prohibits the exploitation of child labour, but the scenario within the yard seems repugnant to the law. The contract based exploitation of the labourer lies at the core of the violation of the clause 20 of the Labour Policy. Most of the contractors get workers inducted on bases of nepotism, which in return, enables the young workers, less than 14 to 18, get into the yard with CNICs (Computerized National Identity Cards) of their relatives.
Collective Bargaining
With being frustrated from the labourer laws enacted through national and international platforms, workers keep their fingers crossed to get some relief from the annual agreement between employees and Collective Bargaining Agency (CBA). The CBA ensures basic facilities related to health, education, accommodation, increase in wages, remuneration for workers in case of loss of lives and getting injured and above all it ensures availability of drinkable water for the workers at each plot.
Contrary to the promises to provide basic facilities to the workers, currently workers lack a well-established 'First Aid Emergency' facility.
There is only one well of water available for the workers, which is denial of the claim made during annual agreement that ensures availability of 'water filtration plants' at every plot.
"Burn, hit and metal fall injuries can neither be treated at Gaddani or adjoining cities for which I have been working and equipped the medical facility at Gaddani with possible first aid emergency," claims Ghani Memon the Vice Chairman of ship-breaking yard association.
"After the elections of Ship-Breaking Association, after 12 member's deliberation, if I am elected Chairman, with honesty and devotion I will work for a better safety towards workers on priority basis," ensured Mr. Ghani.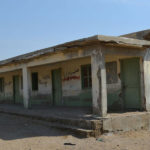 In fact at Gaddani, the abject poverty drags poor and cheap workers to find a two times livelihood and the compelling demand of quenching the unfathomable starvation throws them into the claws of exploiters leaving them in a miserable condition where death is too frequent to imagine.
Writer is team member of Balochistan Voices.
All photos provided by writer.
Note: If you have found an error in this article or a factual inaccuracy or just want to give general feedback then feel free to contact us at [email protected]