Aziz Ahmed Jamali
Takht e Suleman (literal meaning "The Throne of Solomon") is reportedly fourth highest peak in Balochistan; its distant location on far northern end of the province, dense green terrain and allied folk tales make it mythical enough to attempt for scaling. We heard so many myths about Koh e Suleman that we couldn't resist visiting it. The opportunity arose in summer 2016 when a couple of fellow trekkers began with betting on the subject. As the stakes went high, we embarked upon hike/trek to Takht, the hidden prominence at about 11,000 feet above sea level.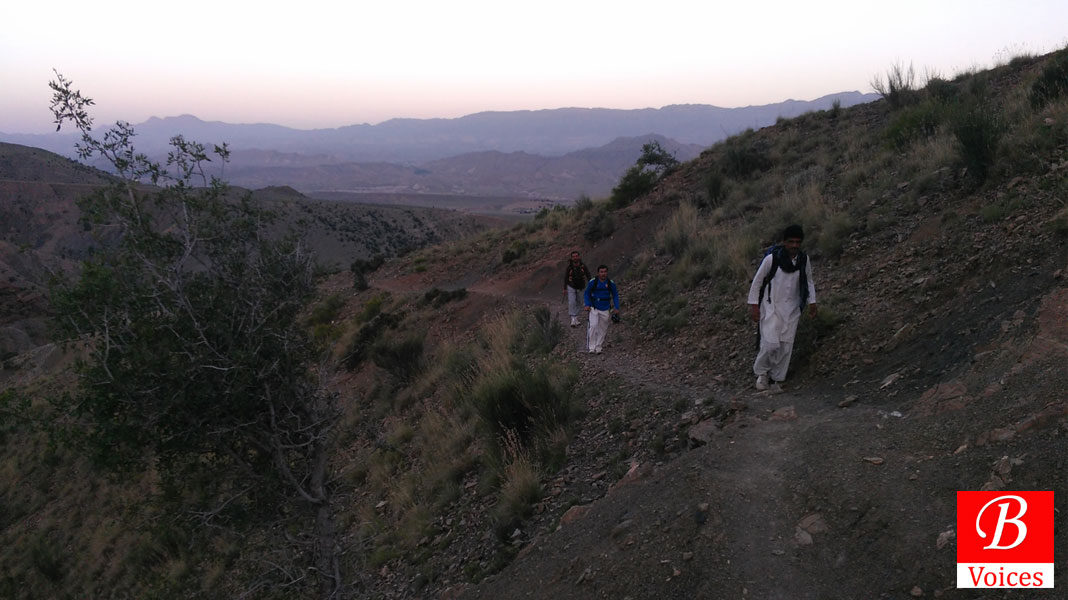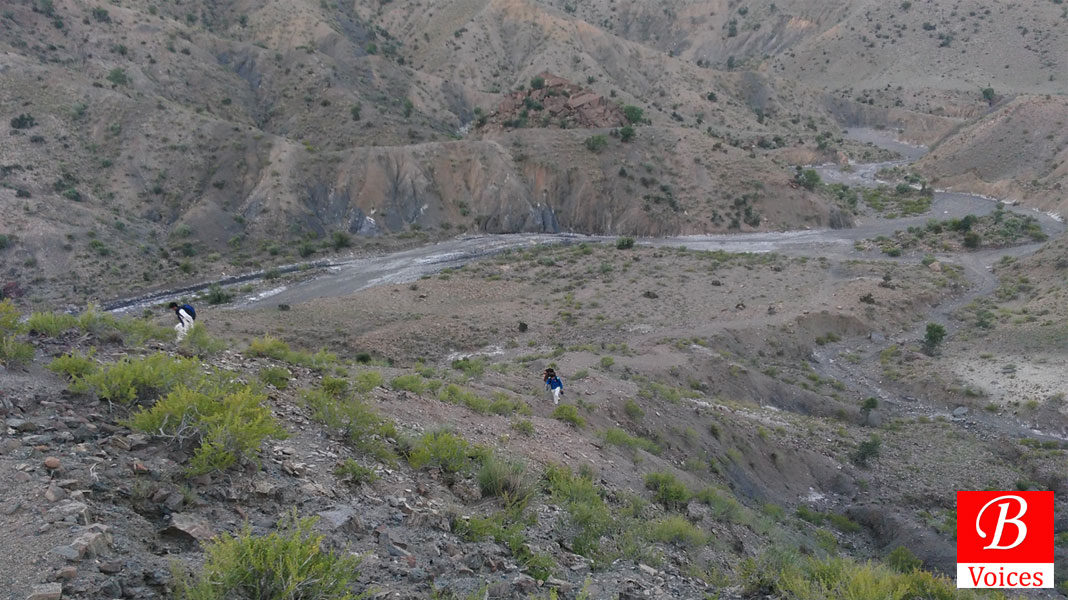 Abdul Hannan, Azam Khan and Bismillah Afghan allured me to join the venture since they're sure to win the bets on trekking up the Takht summit in a single day; it's an outback of 36 kilometers as our cellphone odometer would mark. Translating such a challenge into reality indeed required certain bravery, skill and time management. Almost everyone around Dera Ismail Khan, Sherani and Zhob districts would agree or inform that it takes two to three days to trek to and from Koh e Suleman's sacred citadel locally known as the "Takht". Common people would avoid it since the long trek is devoid of water en route; so the venturing fellow(s) need to carry loads of drinking water to survive each day spent in that alluring wilderness.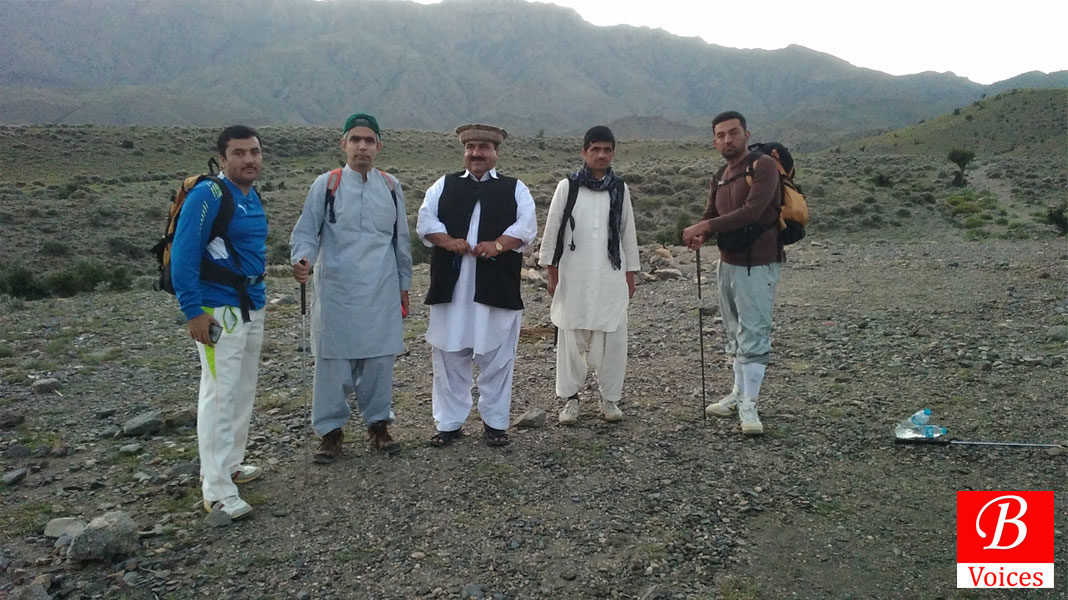 Amidst such speculation, we drove to Sherani that day and stayed at Sharan Abdul Sattar, a village west of Manikhwa, off Quetta – Dera Ismail Khan Highway. Having enjoyed a sumptuous dinner and sound sleep in warm blankets on wooden beds, we got up around 4 am next morning; and got going on feet with the first light.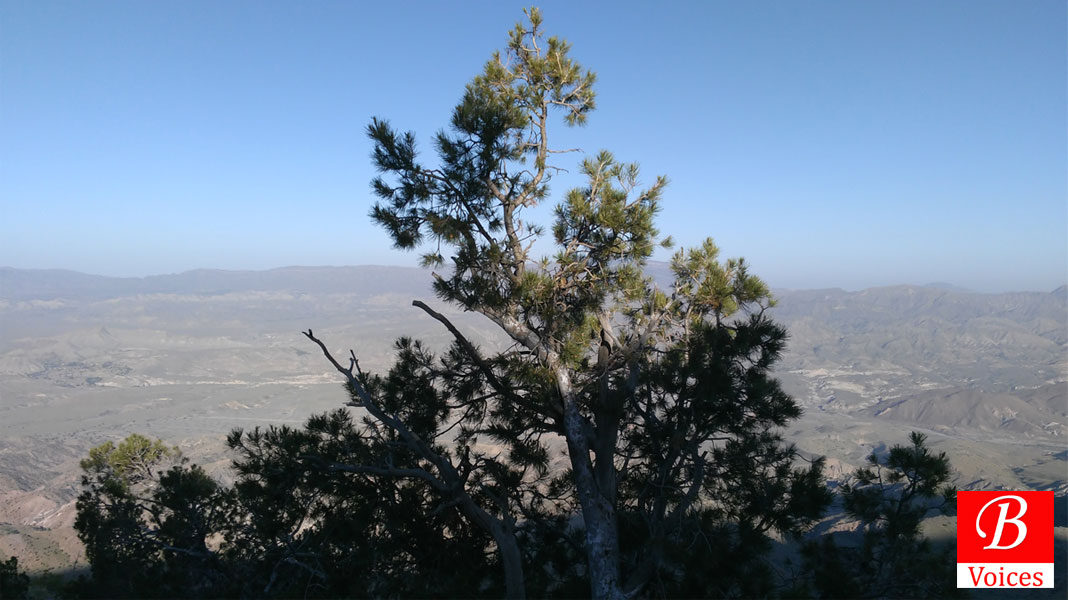 We passed by semi-perennial water streams and in next three hours entered into shady Chilghoza jungle, just at the time sun rose with its heat and shine.  Across a brief yet thrilling mountain passage we descended into a little meadow full of tall grass and much more. Butterflies hovering around on flowery plants were a treat to our nature loving eyes. Affront lay a vast forest of pine trees, as far as eyes could see, and that's the most soothing part of the long trek. It took us another two hours' walk in jungle until we stopped for a break at a spot marked by a vivid presence of wild rose plants. Edge of the rocky surface offered unique views of the Zhob River and its tributaries. An abandoned thatch-and-stone hut stood close to us; its roof had become a habitat for certain leafy plant which we couldn't recognize.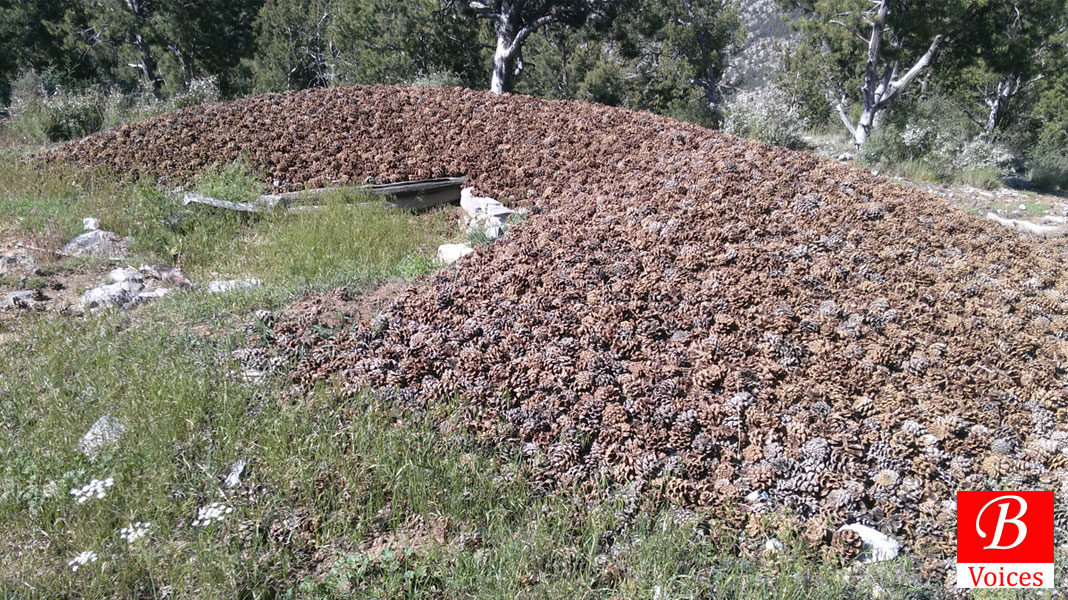 Next two hours posed the most thrilling part as we had to steer ourselves up along sharp and sheer angular rock faces as tall as hundreds of meters. All our group members turned stuntmen at once and came up with some good photography of self and nature around. After climbing few rock portions and crossing a couple of make-shift narrow passages we made it to the summit. Just before the peak, one comes across a prominent place where people stop by for offerings in the name of the Saint Koh e Suleman is known after; it's an unmanned spot, hardly a hundred square area, with a cemented prayer place and few words written around it.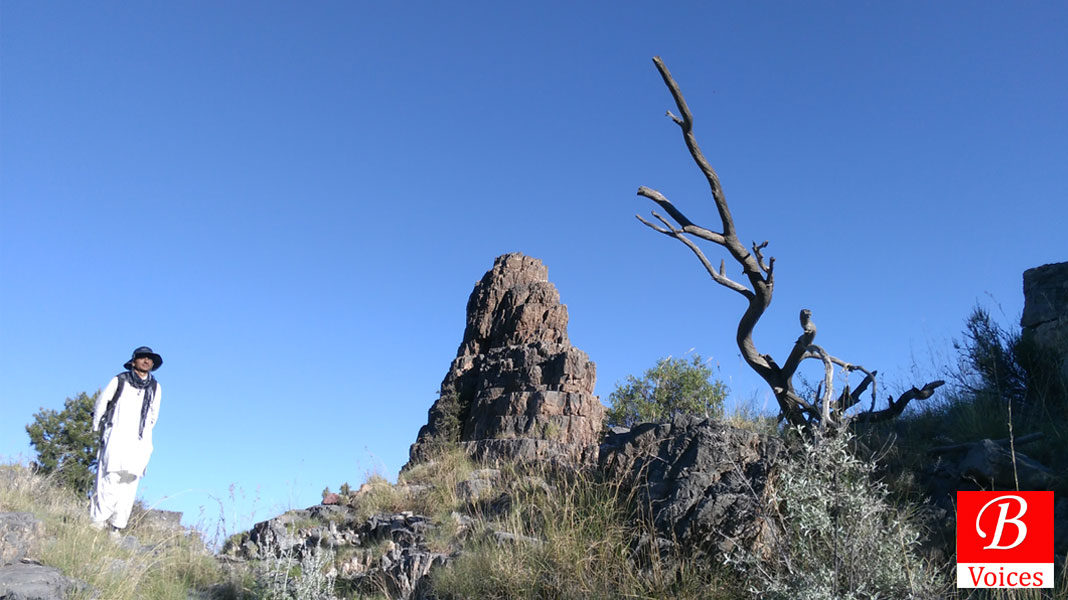 The summit came as the most pleasant surprise as we had spent seven hours before reaching the top. Our cellphone GPS measured the altitude equal to 10,900 feet asl, 160 feet higher than Chiltan, the famous height south of Quetta Valley. We had made it to the Takht e Suleman Peak in seven hours, including a brief interval for breakfast en route.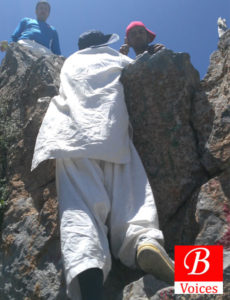 Time around the summit was spent in gulping fruit juices, drinking enough black tea offered by Bismillah Afghan and enjoying the thrill of Takht itself.
Takht is a natural platform situated about 14 feet below the Summit of Koh e Suleman; we approached it by fastening a rope around our waists and then negotiated the descent on hard, steep rock face. Two persons can sit or stand there at a time since the Takht or Throne of flat stone is just six feet long and four feet wide; below and beyond it lies a sheer fall of about 2000 feet, only negotiable by death, dread or a parachute. The ascent and descent around Takht was so adventurous that we preferred to video record it. All four of us experienced the thrill before we realized it was time to revert to the base camp at Ahmadi Dargah (where we had begun our journey 5 am same morning).
Return from Koh e Suleman was a brisk trek which commenced at 1.30 pm and culminated around sunset at 7 pm including a break for 30 minutes; in final moments we felt so short of available day light that we ran in speed to save time. Having prevented ourselves from the risk and travails of trekking in the darkness, we reached Ahmadi Dargah with the last light; almost setting a record in trekking history.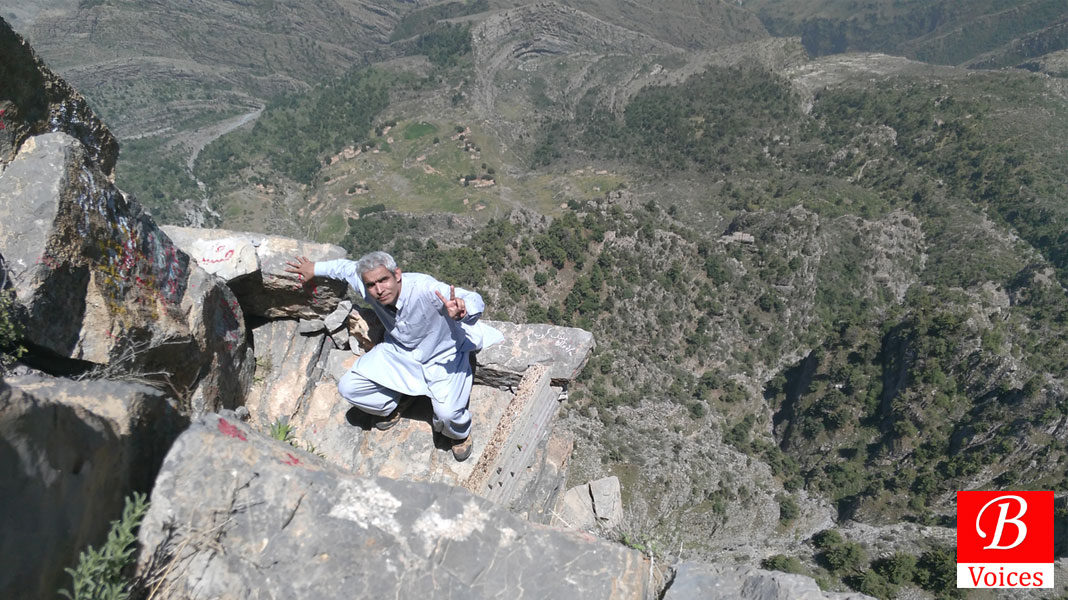 Breaking the myth of impossibility of trekking Koh e Suleman in a day, we had walked 36 kilometers in twelve hours. Our hosts looked full of awe as they didn't seem to believe us; they argued that we might have returned without touching the summit. The night before, at least three persons had bet with us, from goats to tens of thousands of rupees in cash, if we completed the trek in a single day; our video evidence of the Takht helped us win all those bets.
We began availing the bet items soon after reaching the ground. First and foremost was a dinner that very night hosted at Zhob by a senior official in the Education Department; remaining (goats), we spared to be availed upon our next visit(s) in the region.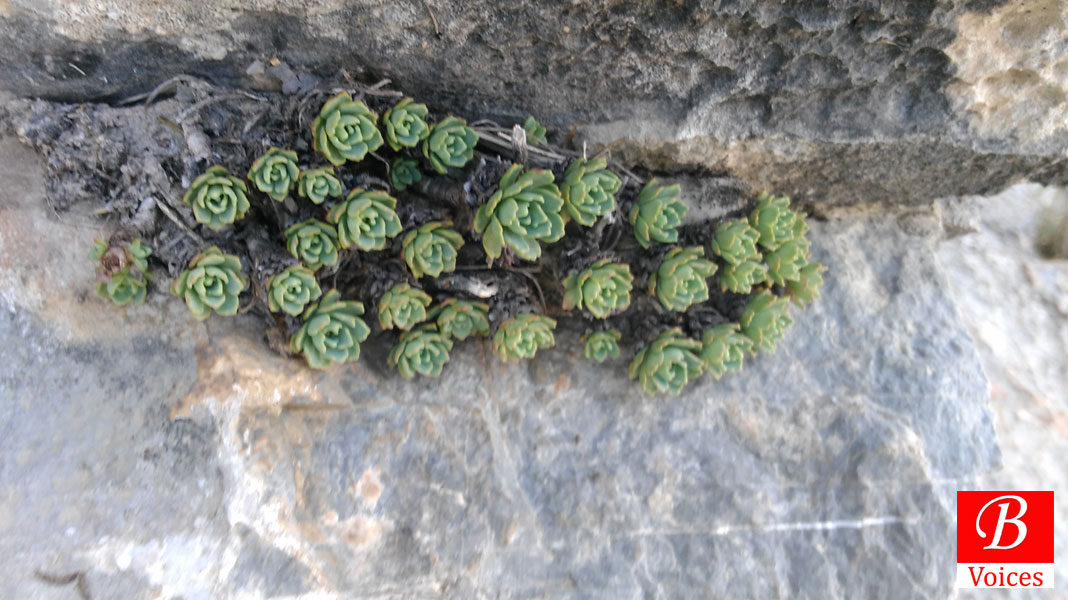 Next morning, we set from Zhob to Quetta, a journey of 350 kilometers. But the adventure spree didn't seem to stop that day. 40 kilometers south of Zhob town, off the village called Mina Bazar, we diverted west of the highway to approach the Zhob River; by its western bank stands a rock prominence rising 525 feet high above the river. Masakhul rock is such a tall nail of nature that it's visible from Zhob town and the valleys around. During a journey by air, I could spot it from the ATR window while landing at the Zhob airport. I had once tried but could not reach the top; so it was opportune time to improve the track record of achievements.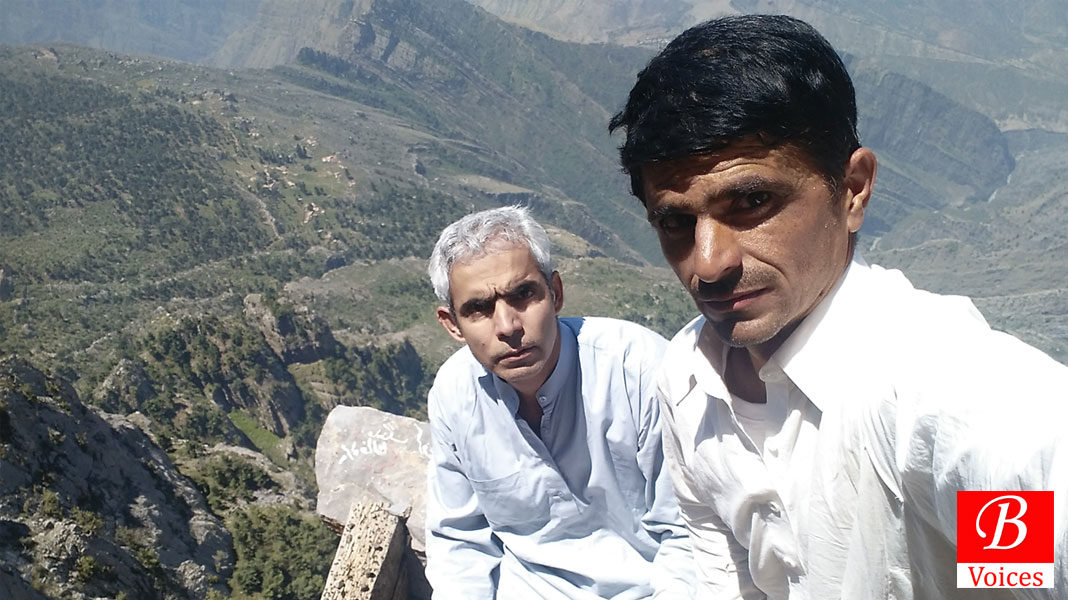 We parked our vehicle across the irrigation weir by the river and trekked the first 350 feet altitude in an hour; but the rock poses high risk in negotiating the last 150 feet or so. Fellow trekkers Azam and Hannan opposed the decision of doing the rock top but I overruled; they stayed back in anger. I and Bismillah proceeded with the risky venture. With an expert climber like Bismillah Afghan, it took us half an hour to reach the top; another feather to the cap, especially mine.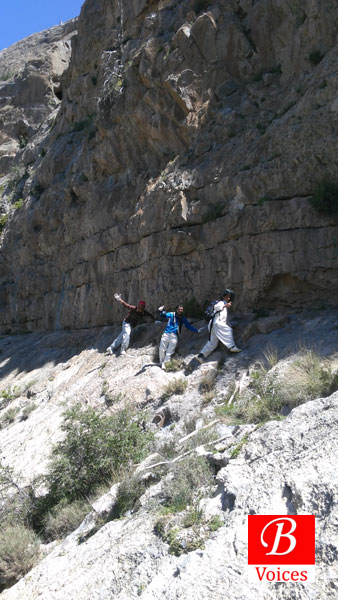 We spent 15 minutes atop the Masakhul Rock Prominence, 5180 feet above sea level, relishing the far views of the valley(s) around. Clouds formation in the east and the length of Zhob river, flowing south to north, were treat of the day. Off course few clicks and selfies came out naturally.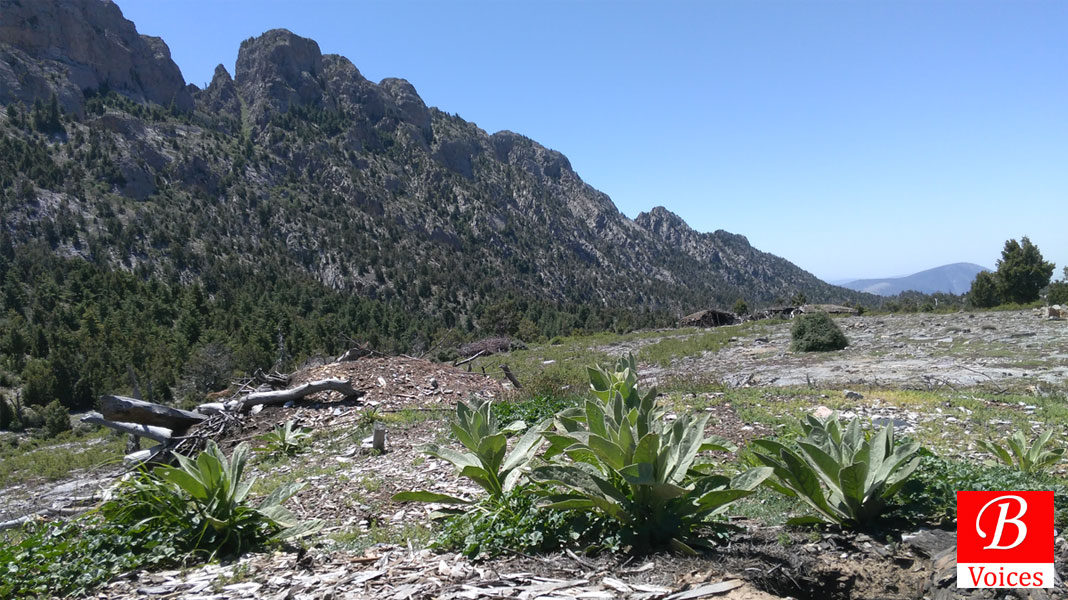 Level of tiredness rose so much thereafter that we afforded driving back to Quetta only; hence came to end our fastest trek journey to Takht e Suleman and a thrilling climb atop Masakhul rock prominence.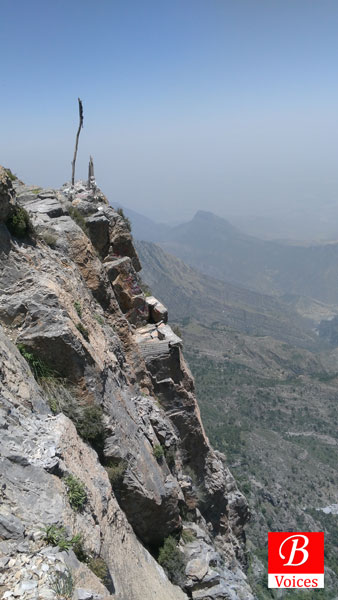 Courtesies – Guide: Bismillah Afghan (from Quetta)
Food & Stay: Malak Sattar Sherani and Daud Khan Tokhai
Writer is an Officer of Pakistan Administrative Services. Click here to read more travel stories by Writer