Quetta: Chief Minister (CM) of Balochistan Nawaz Sanaullah Khan Zehri resigned Tuesday afternoon to avoid no-confidence motion which was scheduled to be tabled in the special session of assembly at 4:00 PM.
Governor Balochistan immediately accepted the resignation of Zehri had the notification was also issued for the resignation and dissolution of the cabinet.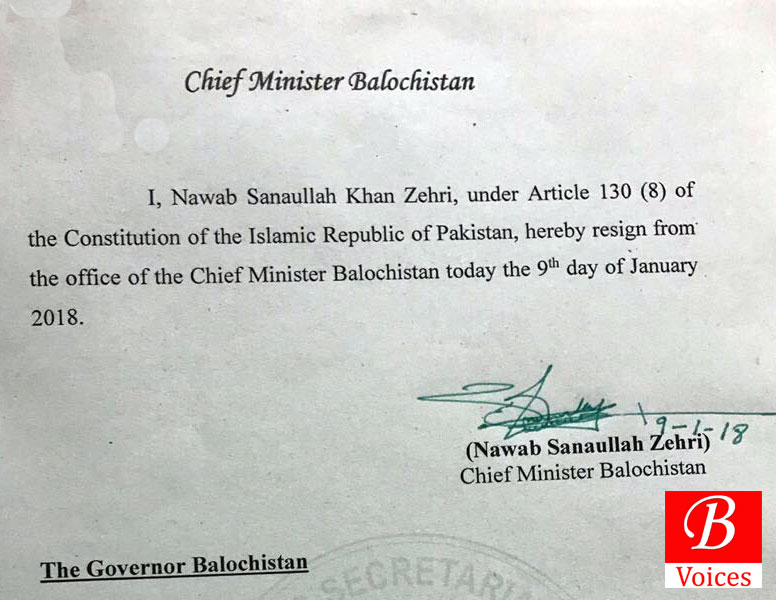 Last Tuesday, 14 members of Balochistan assembly signed an application to move a no-confidence motion against Zehri. That was followed by resignation and sacking of cabinet members of Zehri from PML-N and PML.
Yesterday, Prime Minister (PM) of Pakistan, Shahid Khaqan Abbasi, came to Quetta to convince the dissident members of PML-N and PML to drop the no-confidence motion against CM Balochistan. However, the dissident members of government benches as well as members of opposition refused to meet PM even when he extended his stay in Quetta to two days.
Prior to leaving Quetta, PM advised CM Balochistan to resign so that no-confidence motion can be avoided.
Alhumdulillah! CM #Balochistan resigned

— Sarfraz Bugti (@PakSarfrazbugti) January 9, 2018
Former CM Zehri and his spokesperson denied the reports of allegations till the last moments. Finally on Tuesday afternoon, Jan Achakzai confirmed the news of resignation of CM Balochistan.
I can confirm CM Balochistan tendered resignation following  spirit of democratic principles. He thanked party MPAs & coalition partners 4 their support. He decided 2 bring an end to instability. He said #CPEC 2 continue.

— Jan Achakzai (@Jan_Achakzai) January 9, 2018
What's Next?
It was alleged that No Confidence move against CM Zehri was an attempt to sabotage Senate elections and to prevent PMLN from getting a majority of Senate seats from Balochistan. Now, it's unclear that what will happen to Senate elections.
According to the latest reports, Nawaz Sharif advised Cm Zehri to resign so that Balochistan Assembly can be saved from dissolution.