Engineer Salahuddin Baloch
Yellow vest protest of its own kind kicked start in Balochistan on 15th July as engineers from across the province gathered to protest for employment opportunities and technical allowance, with country's economy and economic activities that drive engineers already in tatters. While countrywide engineering profession painting rather an abysmal picture, the field, particularly in Balochistan, needs some heed.
The demand list that placards and banners show is legitimate and needs consideration. Prominent among these demands is the removal of non-technical office holders from technical posts. Whether or not these highly lucrative posts used as a political tool, the argument, however, is debatable if these technical posts are in control of non-technical staff. Criticizing Engineers for deteriorating infrastructure hold ground only if engineers are deciding matters that are technical.
It is pertinent to mention ill-directed efforts of the government to spread technical education to far-flung areas with allocations for sub-campuses. Do we really need technical skills more than basic literacy facilities, living within limited available resources that we have? or could these limited resources in the otherwise resource-rich province have been used on more reasonable programs, maybe a crash literacy program for that matter?
Do we really need technical skills more than basic literacy facilities, living within limited available resources that we have?
While finding himself in twitter trend #BalochistanEngineersOnRoads, CM Jam Kamal criticized the Engineers for their "lowest level education." One may ask why then the need was felt to expand the network of engineering institutes. Public needs and thought processes within power corridors that be, doesn't quite align in this part of the country, and the engineering profession is no exception.
Balochistan already has plenty of engineers, most of them, and rightly so, flocking to other professions. What use is of a degree that cannot fetch a job. By allocating in the budget for more of the same results in engineers, and most talented ones, get trapped in a bubble and when the eventual explosion happens, they find themselves nowhere, bemused and confused.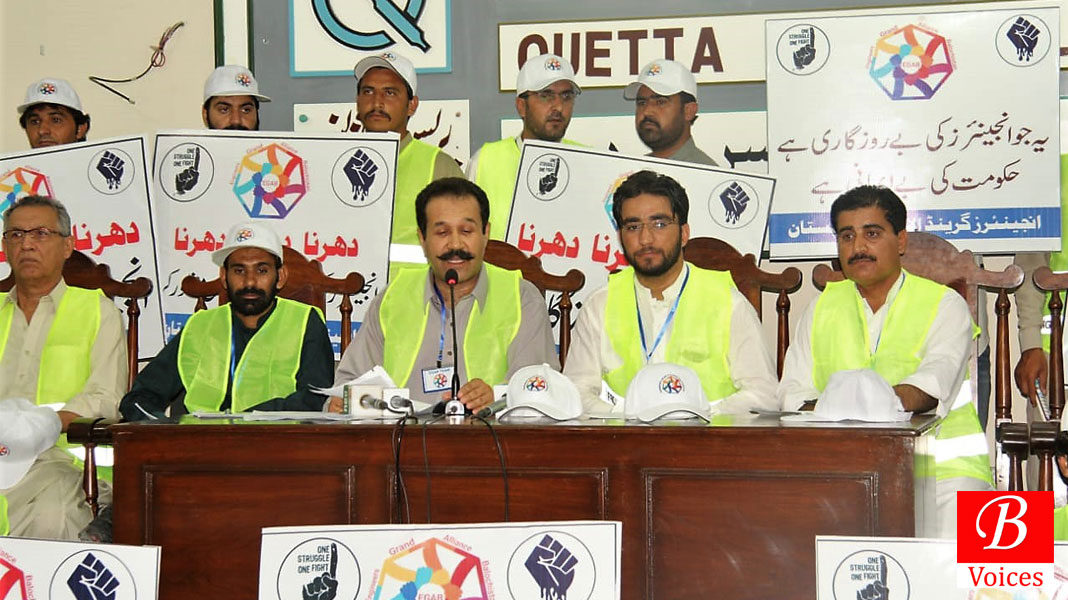 Statistics, when brought to the fore, start writing the story on their own. As it goes, current unemployed bachelor's degree holders in Balochistan stand at alarming numbers, with a yearly accumulation of more than one thousand. And there are only on average 100 job opportunities available to contest for on yearly bases. And if that was not enough, the current economic stifling that the country is experiencing, the private sector is almost unable to absorb the bulging skilled youth population. In a province that is grappling with decades of political unrest, the probabilities that literate, skill full and yet bemused youth can be attracted to an ideology that serves their frustration grows higher. The issue is more serious than to be put on the back burner.
Where does the much-touted CPEC stand on this very matrix and how engineers of Balochistan can be of importance in this regard, is of relevance. CPEC needs high skilled engineers with experience in mega projects, and on this yardstick, given our experience, our engineers are no way near any consideration. But there is a possibility. These inexperienced engineers can be inducted in the system on internee basis, and while in the process the experience grows by itself. This way, people of Balochistan will also have their stakes in the biggest project that the country has ever had in its history. But that too needs political will and daring, and discourse that surrounds CPEC is bleak for these Engineers.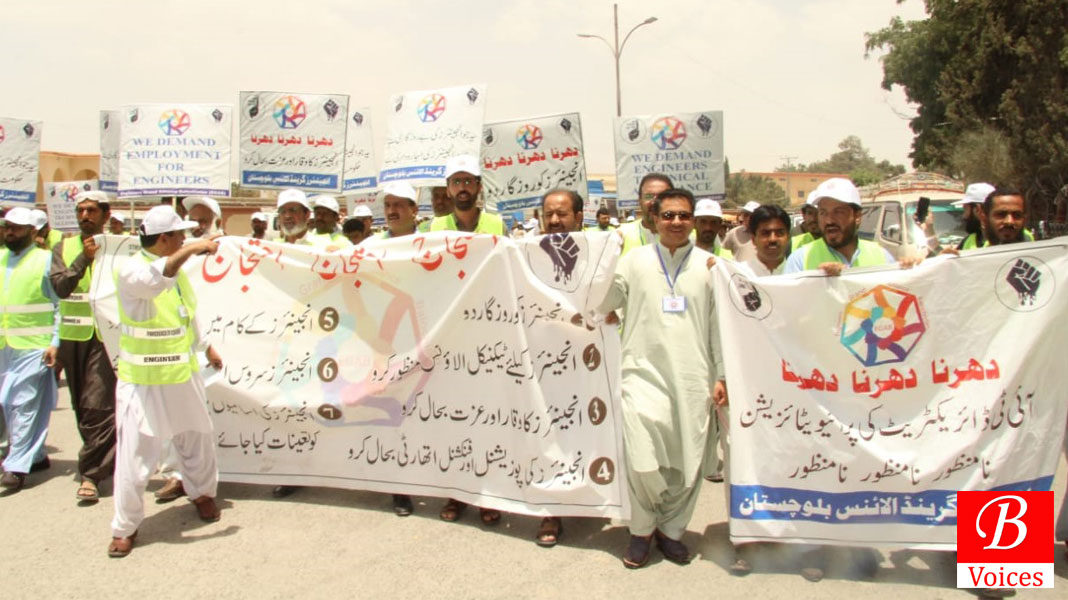 Our legislator cum executive must revisit their policy of sub-campus expansion and focus on quality enhancement of already available and functioning institutions. The intake freedom that these institutions have been granted must be curtailed as the quality is being compromised. Given the job opportunities that are available, increasing the enroll numbers points to fundraising only.
Moreover, government and opposition alike must push for incorporating Engineers in the development projects that CPEC brings, on all platforms available. Strike down on these protests, an exercise allowed by the constitution, will do no good and further deepens the hopelessness and desperation that Engineers have already found themselves in.
Disclaimer: 

Views expressed in this article are those of the author and Balochistan Voices not necessarily agrees with them.