Arbaz Shah
Their meal of Aftar (Fasting) is different from others in society, simple home baked bread with gravy, dates and juice. Living simple life-style looking after her family, she works 10-hours a day sitting home stitching Pashtun cultural embroideries and designing for earning. With weak eye-sight and poor physical strength she still hopes she will earn adequate in this subsequent season of religious-eve Eid-Ul-Fiter, which will bring joys for her 3 children and a paralyzed husband, Because the dress rate hikes 500 rupees when there comes a season.
 Zareena Jamal 43 has been stitching embroideries for nearly a decade, she got married in her 16 and gave birth to Rehman her first and only son two years after when she just reached eighteen.
Living in the mid-east of Karbala a town in Balochistan province of Pakistan with fifty thousand population in her small sized home she survives miserably with her husband Jamal, son Rehman and two daughters Shumaila and Arifa, It takes her 10 days to fix an embroidery which she sends to market in capital city Quetta and earns 3,000 rupees of it.
 "It is now difficult to carry our routinely needs I hardly fill them, Before Jamal was faced by a road accident 4 years back which got him paralyzed on his left foot he would look after family's needs, He is now incapable of working so I am all on my own taking the weight and responsibility of family on my shoulders. I can stitch 3 suits in a month which makes 9,000 rupees with which I spend the whole month, buying grocery for kitchen and Jamal's medicines take a high sum".
 Preparing those three embroideries seems now not possible, because, Zareena's eye-sight is getting feeble and her shoulders much weaker, she has never consulted a doctor for her health-care because she cannot afford the expenses, said Zareena.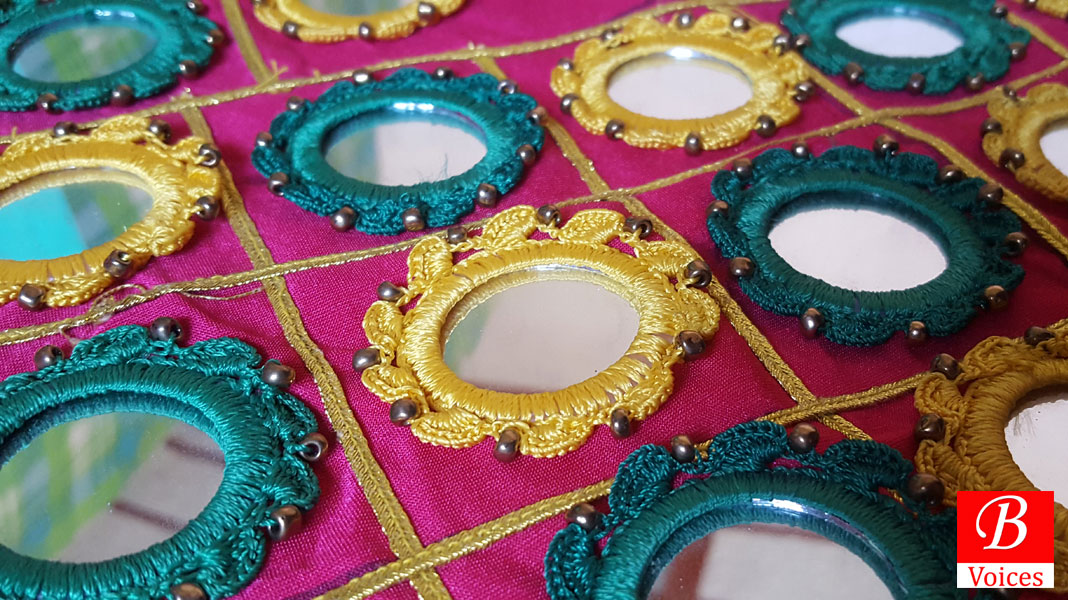 "We have not lived a normal life, Eid-Ul-Fiter heads-on my children ask for their dresses and shoes which I have even not yet thought-of. Neighbors sometimes help giving us their used stuffs, it may happen again this time and the eve will be spent using others things. I am having a hard pain in my body, getting much weaker I am worried for the further survival of my family. If even I get lowered-down, who will be looking after us?".
 Jaweriya Najmu-Din was a bed ridden women living next door to Zareena's home, she laid on bed for nearly five years and died in the same situation. She had been stitching embroideries for 12 years raising her five sons and fell into different diseases and unstable body condition and even close to lost of her eye-sight.
 Around 100 women of the town stitch embroideries to carry the burdens of their families raising their kids and endure expenses of their schooling. In some cases, their husbands are not alive or unable to earn or unemployed to look after their families.
 Managing his business sitting in capital city Quetta Abdul Anan monthly receives embroideries from Zareena and many like her from Karbala and around paying them the fixed sum. "I pay them 3,000 per suit and showcase that in the out-let, women come highly interested in purchasing hand-made cultural embroideries and pay high amount for it".
 Sitting at home he helps them with utensils mirrors and other essential stuff, so that, they could make an easy access to prepare the fabrics, said Abdul Anan out-let owner. "Since Covid-19 has erupted and shut-down is imposed widely in the country and the call for border fencing, I find no way to communicate with home-based workers and have yet received not a single embroidery. The disease has hindered losses in business and submitted more worries for home-based workers and small business".
 According to reports published under authority of International Labor Organization (ILO), in a decade reportage from (2006/2015), "Pakistan is one of the Asian countries that have large number of women engaged in home-based work and this sector has expanded at a fast pace. This expansion can be linked to the globalization of industry and the search for efficient means of production through low cost labor. According to a World Bank study Fabruary 2018, over 10 million women in Pakistan are engaged in home-based work in sectors like garment, bangle-making, shoe-stitching, embroidery, carpet weaving etc. In spite of their contribution in economy being 60 percent, these women still do not have social and legal protection and are the most unprivileged among the society".
Dr. Raheem Bugti Medical superintendent (Helper Hospital Quetta) is reserving expertise dealing with medical matters faced by home-based workers, He figures-out that women working at home are faced with multiple postural problems that cause carpal tunnel syndrome, golfer elbow, rehumitid arthritis, scoliosis jersey finger and frozen shoulders.
Working in a still position stitching embroidery nearby her eyes also affect her eye-sight sharply which terms her ten-years reduction in her life-line, said Raheem.
Home-based workers are making their small business in high number, ILO has presented several proposals to the legislative assembly via it's platform, we shall bring a motion into the matter and debate it on the floor of respective assembly, as these women have been collaborating in marketing their works with their informal economy, said Shakila Naveen member Balochistan assembly. "They are not making an amateur business, it's what they are looking after their families and state is constitutionally bound to understand the worries and needs of its citizens. Government shall plan a strategy to bring an ease to their work and facilitate home-based workers with medical care".
A recent meeting held on Nov,30,2019 in a local hotel Quetta in nexus accommodation of Home Net Pakistan and UN-Women that debated the home-based workers and their generation of informal economy and their recognition. The guild was headed by deputy speaker provincial assembly Babar Musa Khel who felt to frame a fledged policy to protocol recognition of home-based workers to let them participate in marketing and respecting their shares in state economy.
Since we brought it into debate no such steps have been taken. I neglected one of points presented by UN-women and Home Net Pakistan in during conversation that home based workers will stick to pay quarter of their earning to the government treasury which I think is disparaging for their lower income to afford it, said Babar Musa Khel deputy speaker.
"The meeting ended with several proposals, the cognitive points that discussed the recognition of home based workers and their participation in industrial production. Later on, yet no contact has been made concerning the initiative that was planned in a cumulative gathering of UN-women along with Home Net Pakistan and provincial government. But government at its best is heeding-out possible way-out to understand their grievance and have them recognition bringing them in lane of formal economic participants".