Tahira Khan
Zain-ud-din, the resident of Killi Abdul Wahid Kakar, Hanna Urak Quetta, is one of the residents whose house was swept away by floods. As per his remarks, it was 26 August 2022, when torrential rain started and remained there for 48 hours.
His words are as follows: "It was the night of 26 August when the flood ravaged havoc in our village. Unfortunately, we did not know what was coming through; we undermined the gravity of the situation initially upon the warning of the government. However, few people took to high areas of the village, especially children and women due to which we did not incur loss of lives."
He further reiterated; "Those floods could have been lessened if the bridge had not collapsed. Regrettably, we knew that floods are expected to be above normal but did not picture that much intensity that was capable of sweeping away houses, bridges, agriculture land, livestock, and the entire critical infrastructure lying on its way."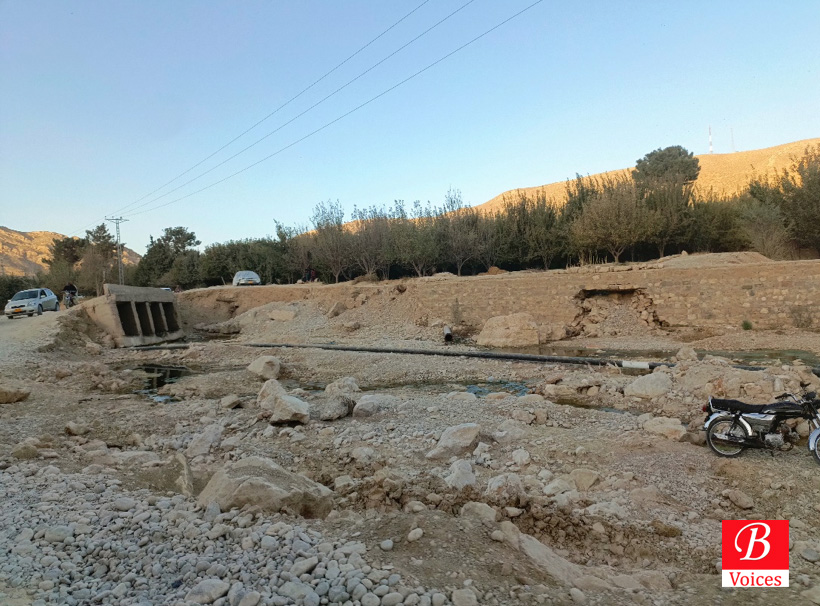 Zain-ud-din used to live in a house of nine rooms but now even the remains of the house are nowhere. While talking to him, he mentioned that his house area has now been converted into a road and he does not have enough funds to reconstruct the boundary wall of the house. Moreover, he mentioned that all the livestock is non-existent and many people have migrated from the village.
Moving further, he said that he used to live in a joint family. However, his brothers have migrated to the urban centers of Quetta and rented houses over there. He consulted many NGOs and other welfare organizations that helped them. However, he said that the funds were not enough to rebuild his home again.
Moving further, I encountered the remains of the hotel and a nearby-devastated parking area. Upon asking a resident, he said the owner of the hotel had left his business and moved to Quetta. He also pointed to the area where people used to park their cars and other places of creational activities but floods took them all.
It is pertinent to note that Zain is not the only resident who has been affected by the flood. As per the report of the National Disaster Management Authority (NDMA), from June to August 2022, flash flooding along riverine and urban affected thirty-three million people across the country. It means one in seven people has borne the brunt of this unprecedented disaster. Similarly, these floods have displaced eight million people in the country.
Unfortunately, last year, the country experienced unprecedented rainfall that was six times higher than the average monthly precipitation. Different reports have indicated that rainfall continued for five days and the intensity could have been lessened if the climate was not warmed by 1.2 C. Following that, the country endured monsoon rainfall during mid-June 2022 which surpassed its thirty-year average rainfall statistics. In Balochistan, the rainfall was 5.1 times its thirty-year average gushing through the province.
It is pertinent to note that Zain-ud-din Kakar is not the only story where flash flooding took away everything from him. Similarly, as per the NDMA Daily Situation Report No. 132, the August floods devastated thirty-two districts of Balochistan affecting 9,182,616 people. The report also mentions that last year's floods damaged 242,000 houses approximately.
Following that, those torrential rains damaged other districts of Balochistan as well where the top five districts include Sohbatpur, Sibi, Nasirabad, Kacchi, and Jaffarabad. Owing to these devastating floods, many districts witnessed temporary displacement of people. Jaffarabad witnessed the highest number of Temporarily Displaced Person's Households i.e., 10, 256 while Sibi and Sohbatpur encountered 7079 and 6183 TDP households, respectively.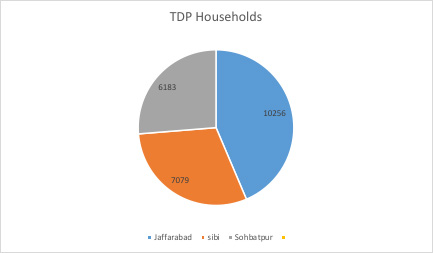 Furthermore, while talking to one of the residents of the Kacchi district, Macch area, Dr. Nabi Dad Bughti mentioned the same ordeal. According to him, the Kacchi district has witnessed extreme devastation and flood-induced migration where 62 percent of residents have returned. He also stated that critical infrastructure and houses are damaged and need funds to give the people a normal life. On a question about the number of displaced households, he said that approximately 200 households including 1200 people were displaced last year in Mach only.
Another Rapid Needs Assessment Report titled "2022 Monsoon Floods: Balochistan, Pakistan" mentioned that floods affected thirty-four districts of Balochistan inflicting misery upon 360,000 people. The report also identified that 500,000 livestock have died in the province. As far as houses are concerned, data suggest that floods destroyed 17,500 houses along with 43,900 partially damaged houses.
Like in Killi Abdul Wahid Kakar, floods had also destroyed critical infrastructure including roads and bridges in other villages of Hanna Urak as well. It includes Killi Toor Kuch as well where the damaged houses are still awaiting to be repaired. Overall, 1000 km of roads and 18 bridges were destroyed in the province. If we look into the village displacement figures, approximately 200 villages are devastated in the province with 20,000 people affected during the flooding season.
In the same vein, the village surveys showcased that eighty-three percent of the most affected areas had agriculture-based livelihoods. consequently, floods impacted farmers and tenants most in the province. Moreover, the second most affected portion was those whose livelihoods were based on livestock which constituted eighty-two percent. As far as the loss of other kinds of livelihoods is concerned, floods affected seventy-six percent of daily labor in the non-agriculture sector, fifty-eight percent of shopkeeping, and twenty-seven percent of regular employment.
In addition to that, floods also damaged transport-related assets including rickshaws, motorbikes, bicycles, etc. In some of the households, people also complained about the loss of agricultural machinery and related tools.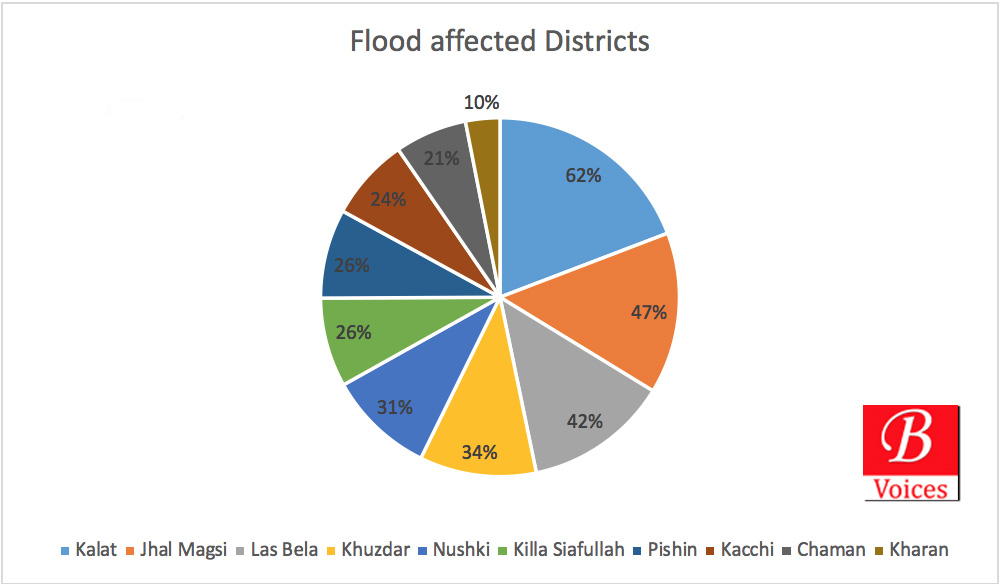 In response to those floods, the Government of Pakistan is taking steps to ensure a safe future for the people of Balochistan. In the context of the Hanna Urak area, a dam is under construction to store water and avoid flash flooding. As far as humanitarian response is concerned, the government is closely working with UN and humanitarian partners.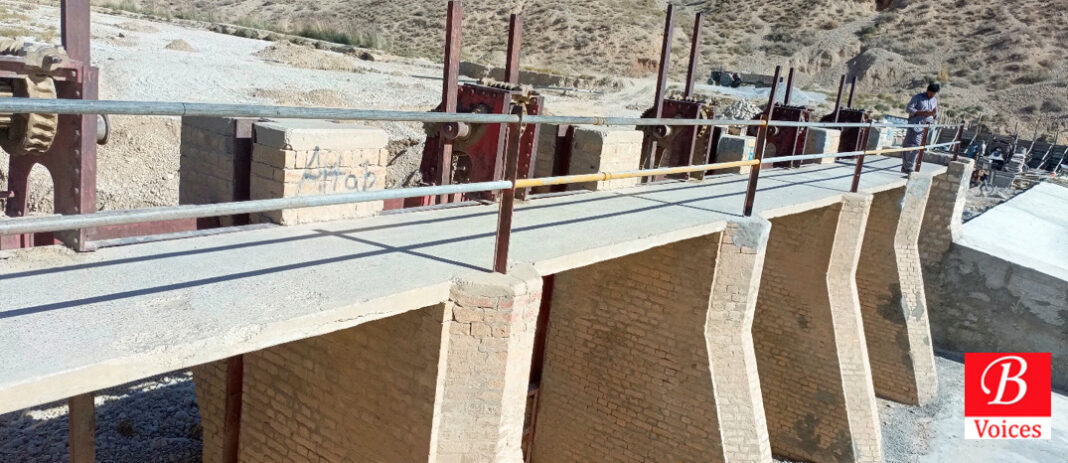 This story is produced with the help of OCRI (Open Climate Reporting Initiative), collaborating with CIJ (Centre for Investigative Journalism), under the mentorship of Farahnaz Zahidi.
The writer holds an M.Phil Degree in South Asian Studies from the University of Punjab. She can be reached on Twitter @TahiraGhilzai.