Quetta: Education enrollment campaign for winter zone of Balochistan was launched by provincial minister of education Abdul Rahim Ziaratwal, on Monday.
Launching ceremony was held in Sikinder Jamali auditorium of Civil Secretariat on Monday evening.

Abdul Rahim Ziaratwal announced the launch of the enrollment campaign and vowed that provincial government will mobilize all possible resources to make the enrollment campaign successful.
"We will engage MNAs, Senators, MPAs and local government representatives in the enrollment campaign to make it effective and successful," said education minister.
He said that education government officials will go door to door for the enrollment campaign. He also announced that all primary schools in the province have been declared as gender free schools to increase enrollment.
Aziz Jamali, Additional Secretary (Development) and Focal person of enrollment campaign, delivered a detailed presentation about the enrollment campaign.
He explained that normally around 237,000 children are enrolled in schools every year on average. This year education department plans to increase the number of enrollments by 160,000 more to make it 400,000.
School enrollments will be counted till 16th April and the number of enrollments will be announced till 30th April.
Through campaign, enrollments will be increased by 160,000 to make the total enrollments 400,000 this year.
Enrollment of school children will be verified through EMIS system which was adopted by provincial education department last year.
"Education department, GPE, UNICEF, Banks, Media, DGPR and civil society are all part of this campaign," added Mr. Jamali.
Enrollment committees would be formed on five tiers namely; provincial, divisional, district, tehsil and school level.
Ruqqaiya Sayeed Hashmi, member of provincial assembly, lamented the fact that there is influx of private schools and religious seminaries where parents send their children but not to government schools. She contended that enrollment campaigns can only be successful if incentives are provided for the students.
Mrs. Hashmi ensured the support of female parliamentarians for enrollment campaign.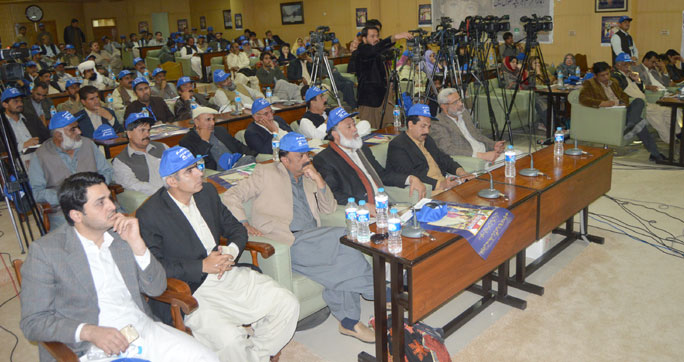 Abdul Saboor Kakar, Secretary Education, said that basic purpose of the enrollment campaign is to reduce the number of out of school children to minimum. He conceded that accurate data is not available for out of school children in Balochistan.
Mr. Kakar urged media to highlight the enrollment campaign so that parents can send their children to the schools.
Miss Sehrish, representative of UNICEF, ensured full support of her organization for the enrollment campaign.
Launching ceremony was attended by government official and educational campaigners in huge numbers.