Quetta was called little Paris due to its natural beauty and pleasant atmosphere. It was a very well managed small city which was a famous place to spend vacations. It was also one of the cleanest cities of the country and people from all over Pakistan came to Quetta to spend their vacations in summer. This city was also home to people from diverse ethnic and religious communities. Apart from Baloch, Pashtun, Hazara, Punjabis people from Parsi and Bohri community also lived in Quetta in complete peace.
However everything changed in last 25 years and today Quetta is not what it used to be. Transformation of the Quetta since the early 1990s has not been positive in any way. Instead of improvement, Quetta has suffered unabated deterioration and there are different reasons for it.
Shah Jahan Baloch, a development professional and someone who grew up in Quetta, says that, "Quetta was known as basket of fruits and flowers due to its beauty, cleanliness and harmony among people. He adds, "Now, instead of basket of fruits and flowers, Quetta has transformed into basket of Death and Disaster".
One of the major reasons for the negative transformation of Quetta is massive increase in population. Quetta was established by Britishers in 1880s for an estimated population of one hundred thousand people. Initial infrastructure of the city was planned while keeping in mind the figure of 100,000. However, the population of Quetta has increased exponentially in last few decades. According to the 1998 census, total population of Quetta was a little over 565,000. According to the house listing survey of 2011, total population of Quetta was 1,967,702. According to other estimates population of Quetta District is not less than 3 million at the moment. This population bomb has transformed Quetta from Little Paris in to a dump.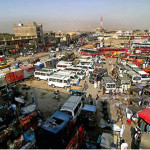 Quetta experienced a massive increase in population in last 25 years in form of migration of people to the city. There are two major causes of this migration; prevailing unrest in Afghanistan and lack of basic facilities in other districts of Balochistan.
In aftermath of Soviet invasion Afghanistan millions of Refugees came to Balochistan and majority of them settled in and around Quetta. Even after the end of Afghan War in 1989, these refugees could not return due to prevailing unrest. Civil War of Afghanistan of 1990s further increased the migration of Afghan refugees to Quetta. These refugees not only increased burden on the available infrastructure of the city but they were also involved in criminal activities which destroyed social harmony in city.
Secondly, Quetta was and currently is the only metropolitan city in Balochistan. It's the only city where most of basic civic facilities are available. Therefore all the affluent people from all over Balochistan gradually shifted to the city. This movement took place mainly in the last 25 years where everybody from different parts of Balochistan came to Quetta in search of better life. This factor also contributed in putting burden on the physical infrastructure of the city.
Unfortunately, provincial governments of Balochistan since early 1990s failed to cope up with the challenges in form of population growth. There was absolutely no planning on large scale to tackle the rise in population. This further aggravated the situation of the city. In 1991, Taj Jamali was Chief Minister and update Nawab Sanaullah Zehri is CM of Balochistan. During this entire period of 25 years there has been no planning to match the increase in capacity of civic infrastructure with population.
Tahir Munir Minhas is a retired provincial bureaucrat who has served at many important administrative positions over the years. He agrees that lack of planning for increasing population is the major problem that Quetta has faced during the last 25 years to be specific. "Non-serious approaches by the planners and the people on helm of affairs are increasing the problems for Quetta city day by day," said Mr. Minhas.
If a person visits Quetta after two decades he would experience a lot of development but not in an organized way. Today, Quetta has several tall buildings but almost none of them have emergency exists and parking places. In last two decades a lot of new drainage systems have been laid down but not in an organized way. Therefore, the sanitation is a huge problem in Quetta city. A modest rainfall in Quetta today, turns its major roads into foul smelling drains. This would be a huge shock for a visitor who had seen the beautiful Quetta that was till end of 1980s.
Shortage of available of water is another significant transformation that Quetta has experienced over the years. There was a time when tap water supplied by the government reached in almost every locality. However, due to population growth and mismanagement and corruption in water supply system, water has become a scarce commodity. People are compelled to pay huge sums of money to Water tanker Mafia to buy water. According to prediction of water experts, if no permanent solution is devised for water supply schemes in near future then it will force people to migrate from Quetta.
Apart from the population burst, water shortage and lack of planning another major transformation that Quetta saw was extreme deterioration in law and order situation. Quetta used to be a very safe and secure place where people from diverse backgrounds lived in complete harmony. However that situation is complete opposite now. During last 25 years Quetta saw bloody ethnic and sectarian violence which was unheard of before this period.
Hazara community of Quetta was the biggest victim of the law and order deterioration. Hazara community was forced to dwell within the confinements of two separate localities within Quetta city. There was a time when Hazara could not travel to certain parts of the Quetta city. Nothing much has changed for them even now. From 2002, targeting attacks on Hazara started and they culminated in early 2013 when two bomb attacks within gap of a month took lives of over two hundred Hazara people. It would be safe to assume that Hazara populace of Quetta has faced the brunt of transformation of Quetta in last 25 years more than any other community.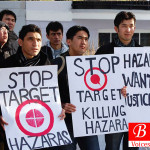 Ruqqaiya Sayeed Hashmi is a 3 time Member of Balochistan Assembly and belongs from PML-Q. She is based in Quetta and seen the transformation of Quetta before her own eyes. She says that Quetta has transformed for the worst over the course of last two decades. "Demographic changes couple with population burst and lack of planning has turned Quetta into a mess," she said. Belonging from Hazara community herself, she agrees that Hazara people have been on the receiving end during the entire period when Quetta experienced the negative transformation.
Mrs. Hashmi further states that corruption is one of the major reasons which has resulted in deterioration of Quetta in every way. "I am eyewitness to the massive corruption in Quetta from the time of Pervez Musharraf onwards," said Mrs. Hashmi. She is of the view that if funds allocated for development of Quetta had been properly utilized then situation of the city would not have been as bad as it is today.
Incumbent government of Balochistan, after coming in power, announced to focus on development of Quetta. CM Balochistan has announced special funds for beautification of Quetta and also taken steps to control security situation which is still not satisfactory. These actions can make some improvement on surface but it's not a sustainable solution for the growing problems of Quetta.
There is no doubt that transformation of Quetta has been nothing short of a nightmare for the residents of Quetta. They have faced a lot of problems as stated in aforementioned paragraphs. Government of Balochistan needs to reduce the population pressure on Quetta. They obviously can't force people to migrate out of Quetta. What they can do is to develop other cities of Balochistan and that would naturally reduce the population burden on Quetta. That in turn would result in resolving a lot of problems in Quetta city. With some dedication and commitment, lost beauty of Quetta can be restored to extent but there is no way that damages made to Quetta in last 25 years can be reversed.