Suleman Hashim
Gwadar the port city of Balochistan is the starting point for $46 billion China-Pakistan Economic Corridor (CPEC) project. Despite that, people of Gwadar protest on daily basis for basic amenities of life such as clean drinking water and electricity supply.
For last two weeks Quetta Electricity Supply Company (QESCO) has put the people of Gwadar in mental stress due to unannounced load shedding during night time. Gwadar and all the adjoining areas are in total darkness due to electricity load shedding at night times.
People of Gwadar protest on daily basis for basic amenities of life such as clean drinking water and electricity supply
People are compelled to protest against load shedding on regular basis and it's also the topic of discussion in every gathering in Gwadar.
After a series of protests by people, Deputy Commissioner (DC) gave a cheque of Rs. 10 million to councilors of Gwadar which is to be given to QESCO to improve the electricity supply system. However the councilors have been divided into two groups and the cheque is still kept with Chairman municipal committee of Gwadar and unused despite the intensity of the problems.
When people of Gwadar came to know about this then they protested vehemently outside the office of municipal committee and chanted slogans against QESCO and Councilors. Protestors included working class people such as tailors, carpenters, electricians, Mechanics, Welders and etc who depend on electricity supply for their livelihood.  The continuous electricity load shedding has destroyed the livelihood of several people for last month or so.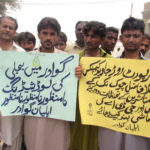 Moreover, Load shedding problems and voltage fluctuations have also destroyed electronic appliances in few homes and fire has also erupted in some house which has destroyed valuables of the people.  Now people have no choice but to protests against load shedding.
QESCO officials say that electricity transmission line from Pasni to Gwadar, which is 132 KM in length, has become obsolete which is the reason for load shedding.  More than normal dew falls in this area and along with the dust it affects the transmission wires which become weak and can't supply the electricity load, claim QESCO officials.
People of Gwadar however do not buy this argument because more dew falls in Karachi and Manora area but there is no such problem there.
People of Gwadar demand that these supply wires should be replaced as soon as possible but government is not taking any action. Even when a Transformer catches fire and becomes unusable, then it's only replaced when people collect money and buy a new one themselves.
People of Gwadar also complain about the attitude of QESCO officials who do not listen to the complaints of the people of Gwadar.
Situation on the ground does not support the assertion that Gwadar is the starting point of CPEC
Haji Mola Baksh, Vice Chairman of Muncipal Committee, called a meeting of the councilors and expressed displeasure on the issue of load shedding. They threatened that they will carry out a sit-in protest for an indefinite period if the problem is not resolved.
Will the investors of other parts of Pakistan prefer to invest in Gwadar when there is no electricity and drinking water in Gwadar? This is a huge question to ponder?
Is this Gwadar the starting point of CPEC, the situation on the ground does not support this assertion.
Note: If you have found an error in this article or a factual inaccuracy or just want to give general feedback then feel free to contact us at editor@balochistanvoices.com