Quetta: A Suicide blast at the entrance of Emergency Ward in Sandeman Provincial Hospital has killed 97 people, mostly lawyers, on Monday morning.
Lawyers had gathered in Sandeman Provincial Hospital after the dead body of Bilal Anwar Kasi was brought down there. He was President of Balochistan Bar Association and was gunned down earlier in the morning.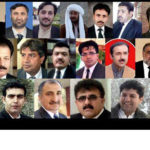 A powerful blast, which has been termed suicide by the officials, targeted the gathering of lawyers which resulted in death of 97 people at the time of publishing of this report. Official sources are only confirming 73 deaths in the blast.
Victims of the bomb blast were shifted to Combined Military Hospital (CMH) Quetta and 28 critically injured people were airlifted to Karachi for further treatment.
According to Bomb Disposal squad officials, a suicide bomber was wearing an explosive laden jacket which contained 8 KG of explosives.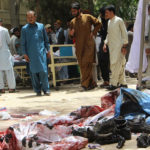 A splinter group of Tehreek of Taliban Pakistan (TTP), Jamat Ul Harrar, which is affiliated with ISIS, claimed the responsibility for the bomb blast.
Several high profile lawyers of Balochistan were killed in the bomb blast. The slain lawyers include Baz Muhammad Kakar, Adnan Kasi, Arbab Gul Zareen and others.
Journalist fraternity also became target of the suicide blast. Mehmood Hamdard Cameraman of Dawn News and Shehzad Khan Cameraman of Aaj Tv lost their lives while Fareedullah reporter of Dunya News sustained injuries.
Prime Minister of Pakistan Muhammad Nawaz Sharif and Chief of Army Staff General Raheel Sharif visited CMH Quetta and also attended a high level security meeting.
Chief Minister (CM) Balochistan, Nawab Sanaullah Zehri, blamed Indian spy agency R&AW for carrying out the blast in Quetta. He also announced a 3-day mourning period in Balochistan.
Supreme Court Bar Association condemned the bomb blast and Ali Zafar, President of the association, announced 7-day mourning period by lawyer's community.
Yayha Sahil Reki also contributed to this report
Note: If you have found an error in this article or a factual inaccuracy or just want to give general feedback then feel free to contact as at [email protected]