Adnan Aamir
Quetta: #ShaukatKhanuminBalochistan became the top trend in twitter in Pakistan on Saturday night.
On Saturday night from 8 PM till Midnight social media activists of Balochistan Voices, Balochistan Social Media Forum (BSMF) and Civil society Balochistan with help of different Social Media Teams all over the country tweeted #ShaukatKhanuminBalochistan.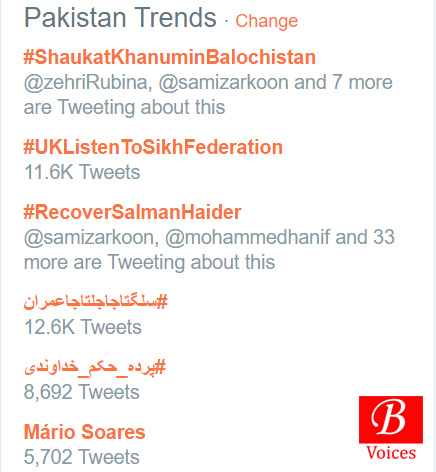 The states purpose of this trend was to bring the need of Shaukat Khanum Hospital to the attention of Imran Khan who has resulted kicked off fund raising campaign for this Shaukat Khanum Hospital in Karachi.
Rubina Ibrahim Zehri, Social Media Ambassador of Balochistan Voices will be leading the campaign.
Dear Khan sb,We need #ShaukatKhanuminBalochistan
to save our youngsters from #Cancer.Recently we lost so many youngstrs here in balochistan

— Rubina Ibrahim Zehri (@zehriRubina) January 7, 2017
Entire Pakistan is demanding #ShaukatKhanuminBalochistan @ImranKhanPTI Khan Sahb please announce one 🙂

— Farhan Khan Virk (@FarhanVirkPTI) January 7, 2017
 It was also mentioned that Sardar Akhtar Mengal has already offered land for ShaukatKhanuminBalochistan.
اختر مینگل نے پہلے ہی خضدار میں عمران خان کو ہسپتال بنانے کے لئے اپنی زمین وقف کر رکھی هے. @BSMF11
#ShaukatKhanuminBalochistan

— Sardarzada Sumalani (@Sumaladi) January 7, 2017
 Balochistan Voices also urged Imran Khan to respond to the demands of social Media activists about # ShaukatKhanuminBalochistan
Balochistan Voices urges @ImranKhanPTI and @PTIofficial to respond to the campaign of #ShaukatKhanuminBalochistan

— Balochistan Voices (@Bal_Voices) January 7, 2017
After Midnight the twitter campaign was called off.
We call off #ShaukatKhanuminBalochistan twitter Campaign on behalf of @Bal_Voices and #CSB – Thanks everyone

— BSMF (@BSMF11) January 7, 2017