Quetta: Former Prime Minister of Pakistan, Nawaz Sharif, has said that After Khyber Pakhtunkhwa (KP) People of Balochistan also showed their support for him.
He made these comments while addressing a political gathering arranged by Pashtunkhwa Milli Awami Party (PKMAP) to commemorate the 44th death anniversary of Abdul Samad Khan Achakzai in Quetta, on Saturday.
Nawaz Sharif attended the political gathering on special invitation of Mahmood Khan Achakzai.
Nawaz Sharif paid tribute to Abdul Samad Khan Achakzai and said that the He gave a lot of sacrifices and spent 24 years in jail for the sake of "ideology."
He severely criticized the Panama judgment which disqualified him as Prime Minister. He alleged that He was being victimized in the name of accountability.
"People don't accept minus one and plus one formula," said former three-time Prime Minister of Pakistan. He continued that democracy has been damaged in last 70 years because of following minus and plus formula.
Hitting at the Supreme Court judges, Nawaz Sharif said: "those who disqualified me have taken oath under PCO."
He claimed that He has an ideological bond with Mahmood Khan Achakzai, Chairman of PKMAP.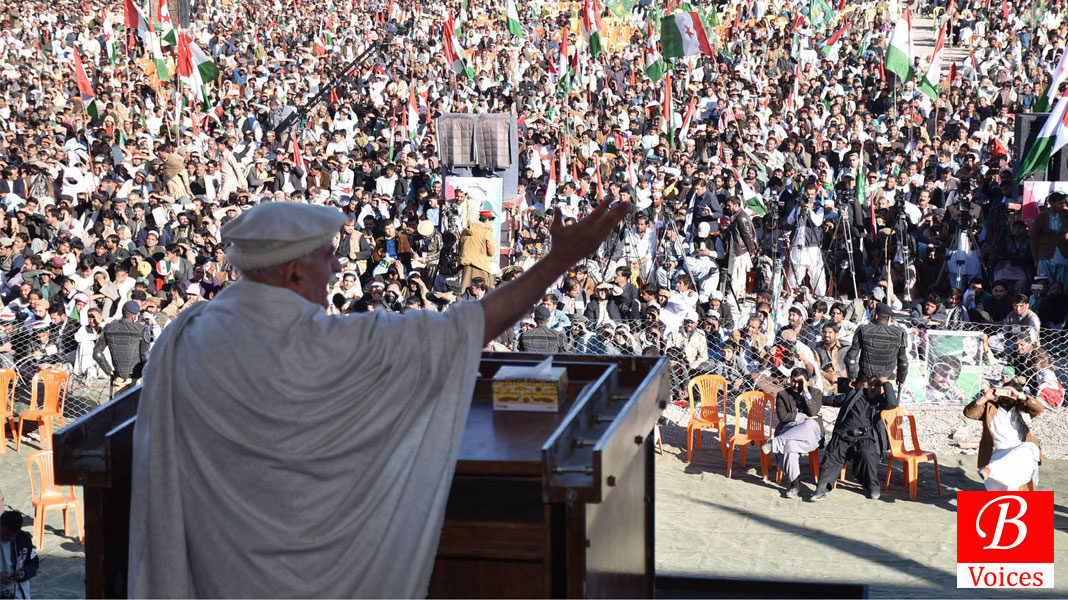 Addressing the gathering, Mahmood Khan Achakzai said that "We are with Nawaz Sharif for democracy and supremacy of the constitution." He continued that we will salute all judges and generals who will respect the constitution of Pakistan.
Member of National Assembly from Quetta and son of Abdul Samad Khan Achakzai said that Baloch and Pashtun will only say long live to a democratic Pakistan. He claimed that if all nationalities are given due rights then He is ready to take responsibility for bringing Baloch to the table.
Political gathering was also addressed by Chief Minister of Balochistan Nawab Sanaullah Zehri and other leaders of PKMAP.