Balochistan Voices has discovered that social media account of Abdul Quddus Bizenjo, former Chief Minister (CM) of Balochistan, has been renamed to Junaid Saleem, host of talk show Hasb-e-Haal.
A social media user who also followed Quddus Bizenjo on Twitter tipped off Balochistan Voices about the mysterious renaming of the account.
Twitter account of Abdul Quddus Bizenjo, which was created in June 2017, become famous among Twitter users in Balochistan when Quddus Bizenjo was elected CM of the province in January 2018.
The account of Quddus Bizenjo tweeted as Quddus Bizenjo till 26th June 2018 and then it was mysteriously renamed to Junaid Saleem with the handle @JunaidSaleemHH.
Surprisingly, a new account was created for Quddus Bizenjo in June 2018 using the handle @MirAQBizenjo which was also the original handle of Quddus Bizenjo's account which was renamed to Junaid Saleem. The new Quddus Bizenjo account only has 296 followers whereas the old Quddus Bizenjo account now renamed as Junaid Saleem has 14,000 followers.
Presently, the tweets from this account are anti-PMLN and Pro-PTI.
The twitter account now renamed as Junaid Saleem still has the old tweets about Quddus Bizenjo.
On 8th June this account tweeted on behalf of Quddus Bizenjo to contest elections from Awaran and Quetta.

A tweet still present in the feed of this account on 30th May laments the inability of Quddus Bizenjo to help people as CM because the court has stopped usage of CM discretionary fund.

On 26th May this account tweets as Quddus Bizenjo that "we have allocated 25% funds for education budget which is highest in history."

On 8th May this account tweeted that Balochistan has been ignored in CPEC and there is no project in CPEC for Balochistan.

On 11th April, this account tweeted a picture of Quddus Bizenjo meeting with Chief of Naval Staff Admiral Zafar Mehmood Abbasi in Naval Headquarters Islamabad.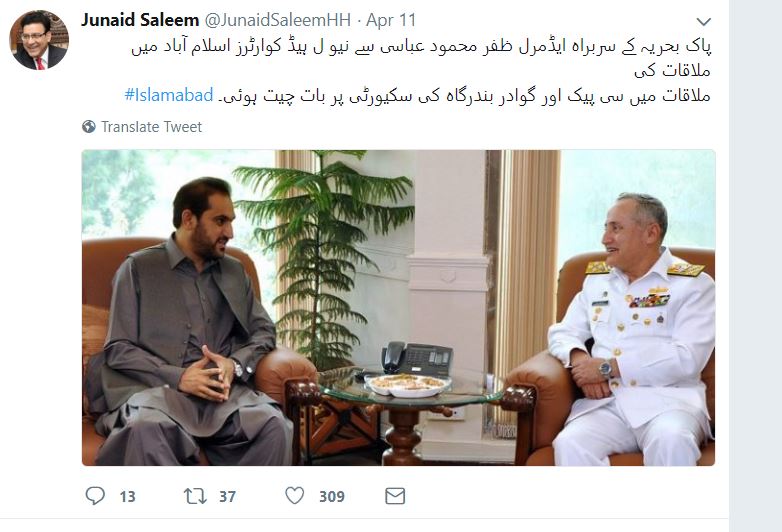 The analysis of Balochistan Voices shows that this was a dummy account created in June 2017 which was renamed after Quddus Bizenjo to take advantage of his popularity as CM Balochistan. Once Quddus Bizenjo was no more CM of Balochistan this account was again renamed to Junaid Saleem to cash in on his popularity and credibility.
Majority of Twitter users in Balochistan who followed this account as CM Bizenjo's account are unaware of the renaming of this account.