By Anisa Shabir
Students of Bolan Medical College (BMC), over the past few months, have taken to streets to demand their rights and voice their concerns, which the administration of university has failed to address.
Mahrang Baloch, a MBBS final year student at BMC, who is also a social and student activist, has risen to prominence and is actively championing the rights of students. She spoke about the issues pertaining to the education and BMC crisis to Balochistan Voices.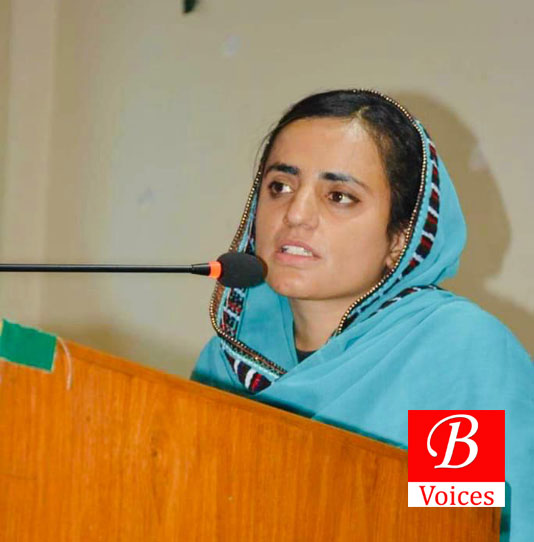 Anisa Shabir: What is the core issue at BMC, that is resulting in protests?
Mahrang Baloch: Bolan Medical College started facing problems after The Bolan University of Medical & Health Sciences Act No. VII 2017 was passed in Balochistan Assembly, that changed the status of college to university. We were happy when this happened, but then, through this act unprecedented powers were conferred on the vice-chancellor. He could suspend anyone at the institute.
When BMC was established, there was district merit quota. The passing of this act has resulted in abolishing the quota system and is being changed to the provincial system. There are seats for foreigners. If those seats are not occupied, they are distributed divisional wise. But the vice-chancellor distributed those seats provincial wise, on his own.
The prospectus of this year has allocated thirty-five self-financed seats. Every year, six thousand students appear for the entry test. The self- financed students don't need to appear for the entry test. On the one hand, we have students who appear on merit, and on the other, those who have money. This is also the main problem.
The recent entry test also raised some eyebrows among the students when the result was delayed for three months. There was fear that some seats might have been changed.
Another problem is of scholarship. Because of the BMC scholarship, we are not eligible for any other scholarship, including BEEF or PEEF. When Rehmat Saleh Baloch was the minister of health, we were given six thousand rupees every month. For the past two years, we have not received any scholarships. In two years, four installments of scholarships are granted, but the vice-chancellor has given one installment and that too of only three thousand. And now, he has announced that they won't be giving any scholarships. Moreover, our annual fee was twenty-five thousand, but now we will have to pay one lac twenty thousand. Our welfare fee was two thousand five hundred, now it's sixty thousand. Our hostel fee was ten thousand and now it's twenty-six thousand. Our academic fee has been increased to one lac twenty-six thousand.
New policies are making Bolan Medical University a profit-making organization: Mahrang Baloch
What are the current demands of the students, and how can the problem be solved?
We have three main demands and the solution lies in addressing them. First, we want some amendments to be made in BUHMS Act 2017. For this to happen, we met Chief Minister Jam Kamal, the opposition and the government, and they all agreed that the Act has shortcomings and that they will make changes to it.
Second, we want the seats that were allocated as self-financed, and the foreigner seats, that were distributed provincial wise to be distributed divisional wise. We want the district merit quota system to be restored.
Technically the vice-chancellor of BUHMS is ineligible for his post: Mahrang Baloch
It has been proven that the vice-chancellor is ineligible for his post. The advertisement that was given for this post, clearly states the requirements for holding this position. According to the rules and regulations of Pakistan Medical and Dental Council (PMDC), a vice-chancellor must be a Ph.D. holder, which the current vice-chancellor is not. He must have been a senior professor, but he has not delivered any lecture at BMC.
When government posts are announced, an advertisement is issued, stating the requirements and qualifications for that post. After this, interviews are conducted, and the person is selected on merit. Since the vice-chancellor has been given powers, he chose his team on his own. No advertisement was given for the post of the registrar. He is a non-medical officer, and the rules of PMDC clearly state that a non-medical person can't hold that post in a medical university. So, our third demand is that all the people who were appointed this way, should be suspended, and the officials for these posts should be appointed with transparency.
We also demand that students be given scholarships, and the amount of fee be reduced.
A few days back when the students were protesting in front of the Balochistan Assembly, the police resorted to violence and arrested the protestors. What is the response of the government to these protests, and what happened when you went to negotiate with the education minister?
We have set our camp in BMC for sixty days. We protested when it was snowing. Till now, we have recorded five protests. Our biggest protest before this was in front of the provincial assembly. Zahoor Buledi and Akhtar Hussain Langove visited us, and they assured us that the problem would be solved. But the next day, we were told that the governor could solve this problem. When we met the governor, he didn't mention anything regarding the Act. The governor has failed in solving our problems.
The interviews for self-financed seats have been conducted and admissions have been given. When interviews for self-financed seats were happening, the students closed the college. Then, the vice-chancellor changed the location to Metropolitan Corporation. This is when we understood that if the problem is not solved now, it won't get solved ever.
There was an on-going session in the assembly. We went there and protested peacefully. They arrested the employees and doctors. Since the matter was highlighted, we decided to go to Sardar Yar Mohammed Rind. No progress was made. As education minister, he said he was not aware of this problem or what was happening. He also used indecent words.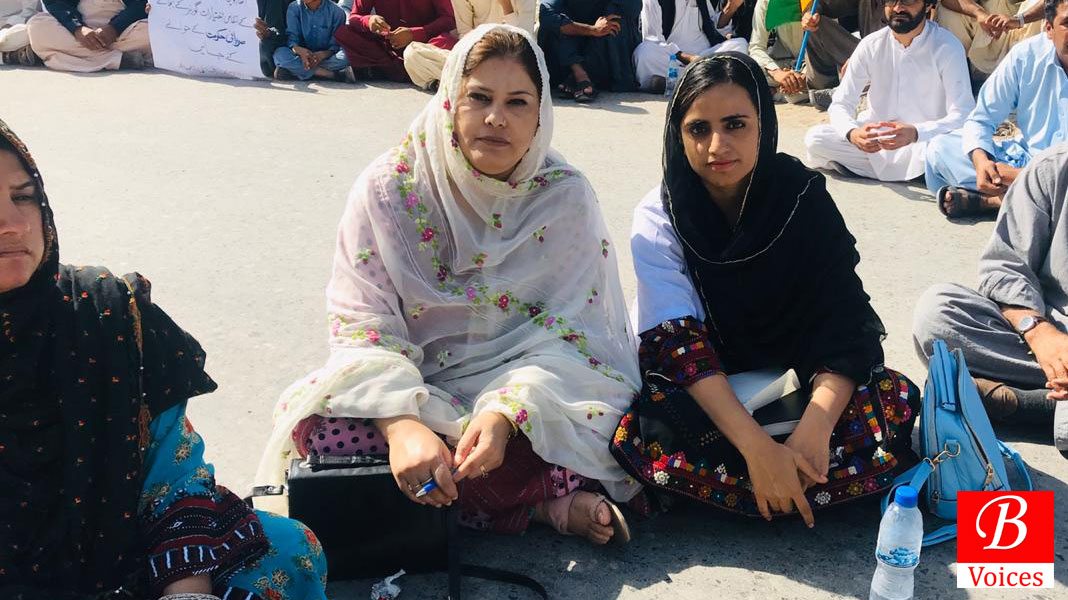 Some people argue that other student organizations are not part of this protest. Is this true, and if yes, does this mean there is a lack of unity among the students?
This may be true to some extent. There can be differences in our demands, but we are united. They all agree with us over the matter of scholarship and fee, and that it should be reduced. They also agree that seats should be on merit. We have a difference over the Act. We have told them that the problem is with the Act. In the future, anyone can use this act to increase the fee, even if it is reduced now.
We are united and working together on other platforms. BMC is the sole institute where the unity of students has remained symbolic. Before this, we all came out together against the Principal Shabir Lehri.
You were also at the forefront of the protest in the UOB scandal, but nothing happened. What are your thoughts on this?
This was the incident that changed me. At that time, I removed my niqab and gave an interview because there were victims who needed my confidence, which the male students could not provide. I took the initiative and tried to bring them forward so that they could speak. We remained active on every platform. We arranged protests everywhere. We also consulted the parliamentary committee. One of our student activists, Vice-Chairperson Dr. Sabiah Baloch, visited and met the committee of senate twice. She asked them to visit the University of Balochistan and see and decide for themselves. No progress has been made. We told them again and again that this is a grave problem and how could they possibly ignore it.
In Balochistan, when it comes to problems like these, only speeches have been given, and some protests were organized by political parties. The result of the committee is zero. Even if they are working or not, nothing has been made public.
The issues pertaining to the education have never been the concern for the past and present governments. It won't be a matter of concern for future governments either. They have passed some bills and funds in the name of educational emergency, but they have never considered solving problems like these.
Balochistan government has passed some bills and funds in the name of educational emergency, but they have never considered solving real problems of education: Mahrang Baloch
You were recently trolled on social media. People used your tweet to suggest that doctors who are protesting should have perfect communication skills in order to be a doctor. Is this their way of criticizing the protest or this really is the problem?
Social media is an open platform. If one person has an opinion, so others can also have an opinion. As a doctor, if I am being told about my communication skills, they must understand that the profession I am in, I have come here based on merit. Every year I clear the exams. If they are saying that I am not capable of becoming a doctor, then they are talking about the system through which I have come.
It is very strange to see that people doing dirty politics for corruption are justified, but when students come out, talking about their rights, they are criticized. My message to them is that try to understand what the problem is.
Coming out on roads was our final decision. Before this, when the Act was passed, we met the vice-chancellor and the ministers umpteen times. Finally, when nothing happened, we took to streets to save our institutions.
My message to those on social media is that you have the right to hold an opinion, but don't hit anyone personally, until or unless you have proof to talk about something.
Disclaimer: 

Views expressed in this article are those of the interviewee and Balochistan Voices not necessarily agrees with them.