Anisa Shabir
It was like traveling back in time. Witnessing the Spanish flu of 1918-1919 claim millions of lives, or the Black Death spreading and devastating Europe in the 14th century. World Health Organization (WHO) declared the coronavirus outbreak a global pandemic on March 11, 2020. It was no more a chapter from history books, but rather a real threat facing humankind, the first of its kind, in the 21st century.
Dr. Anthony Fauci, the director of the National Institute of Allergy and Infectious Diseases, stressed, "bottom line, things are going to get worse." The cases across the globe have spiked to 316,062 as of March 22, and more than 13,598 people have died due to this outbreak.
According to the Daily Situation Report released by the Provincial Health Directorate Government of Balochistan, the total number of cases in Pakistan was 650. In Balochistan alone, the number of reported cases rose to 108.
The news of the first case set off a chain of events in Balochistan: blame-game between provincial governments when pilgrims were returned to their respective provinces from Taftan border, WhatsApp became a major source of misinformation, making people vulnerable to this crisis more than ever, and young volunteers coming out to spread awareness with the help of Provincial Disaster Management Authority (PDMA).
What went wrong in Balochistan?
The news of the first case in Balochistan got reported on March 10, a minor, who had returned from Iran with family, via the Taftan border.  119 cases that were tested positive in Sindh, were those who had been quarantined at Taftan.
According to the daily situation report, 6,419 Zaireen were quarantined at Taftan, as of March 22. 4,596 were allowed to go to their respective provinces, according to the report released by Provincial Covid Control Room S&GAD Balochistan.
The pilgrims returning to their respective provinces raised alarms. Fingers were pointed at the mismanagement on part of the provincial government. Their stance in response to criticism: the government did everything in their capacity to host thousands of pilgrims, with "100 washrooms, remote testing, medical facility, 12 ambulances and security…," Jam Kamal, the chief minister of Balochistan, noted in his tweet.
True, the provincial government is not solely responsible for the mess that is exacerbating the situation. But when reports start surfacing that the screening involved taking temperatures of the pilgrims which in many cases is not effective to find who has contracted the virus, that there were not enough toilets and people were in squalid condition, there was lack of medical supplies, people were willingly mingling with each other rather than being 'quarantined' in the makeshift camps, exponentially increasing the spread of the virus, debunks the claims made by the officials.
The constant state of denial, not learning from mistakes, is further going to worsen the situation, rather than mitigate it.
WhatsApp: a hotbed of fake news and marketplace for religious myths
"According to D.C Quetta, all the shops are going to be sealed in Quetta after March 16. People should start stocking up, especially go for dry ration like pulses. There is also news that there is going to be a curfew," a voice recording of man was being shared in WhatsApp groups. The news of curfew proved to be fake. Messages like these increase the likelihood of people panicking and going for panic-shopping that results in people hoarding items when that may not be necessary. It, in turn, may result in a shortage for others.
The first trials of vaccines have started in the US, and it will be 12-18 months before we have a vaccine – that is if the trials are successful. Meanwhile, there are home-made remedies that are going viral and can treat those who contract the virus. All one needs to do is eat onion or garlic, which will strengthen the immune system. Unfortunately, it is difficult to tell many that there is no proof these remedies can cure the novel COVID-19.
Many people have started receiving revelations in their dreams on how to fight this evil, and how they may protect themselves. It is a chain of verses one has to recite, sometimes a million times, that may protect them from the 'COVID-19 evil'. Well, it would disappoint many to know it is utter recklessness to think that uttering some incantations, may save them. It will not, and it will certainly worsen the dry cough if someone contracts the virus.
These myths are giving false hope and making people more vulnerable. It is difficult to refrain from falling prone to fake news. But in times like these one has to make an effort to be more responsible. WHO has started an automated WhatsApp chat that directly delivers news to your inbox, including the section "myth busters", that gives a detailed list of myths regarding the COVID-19. Those who don't have access to Facebook or Twitter for checking the official accounts can switch to this method.
It is important to directly follow the officials on social media for accurate news and for what is happening in the area.
Awareness campaign by young volunteers
A social media campaign was launched last week in the wake of coronavirus pandemic across Balochistan. Young volunteers were seen distributing posters, with a big cross on handshakes. Volunteers explained to shop sellers and people they met on their way the precautions they should take. The awareness campaign was carried out in Quetta, Zhob, Turbat, Pishin, Gwadar, Dera Murad Jamali. "We all need to play our roles and to spread awareness among the people around us," Nabila Malik Haya, a young volunteer working with Individual Land said, "and above all we told people not to panic in times like these."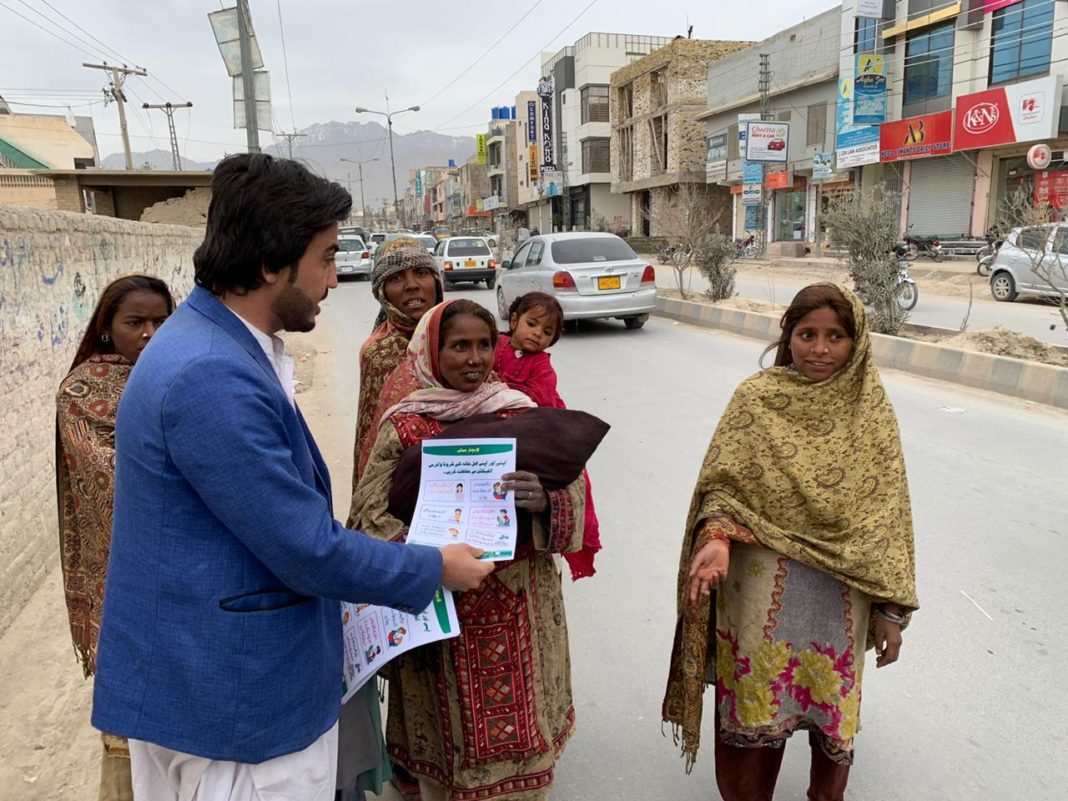 Although a lot of areas still need to be covered with every passing day, those at the forefront of such campaigns are vulnerable. As of now, it is necessary that such means of spreading awareness be halted, and alternate options be opted.
Stay home, stay safe
Social distancing is the only possible way to stop it from spreading. The government of Balochistan has ordered the closure of shopping malls, restaurants, and inter-provincial movement.  The mass Friday prayers are still happening, which is a substantial risk if not stopped in time. Moreover, marriage halls have been closed, but weddings are still being held at houses. People are having a tough time believing that the pandemic is real and that they may be next if they persist with this ignorance. Many are suggesting to go for a lockdown. The way the situation is developing, it is the inevitable choice the federal government will have to make urgently. Moreover, a comprehensive strategy on how to reach out to masses and stop it from spreading is needed like right now!
Test, test, test!
"Test, test, test. Test every suspected case," Tedros Adhanom, the director-general of the WHO, stressed while speaking to reporters. Precautions such as handwashing and social distancing are important, but it can only be contained if every suspected case, and those they have been in contact with, are tracked down and tested. Experts are emphasizing the need to flatten the curve, which will help the health care system cope with the ever-increasing patients. That can only happen if there is rigorous testing, combined with all the other safety measures.
Prime Minister Imran Khan in his address to the nation, said the total opposite of what the experts are suggesting. "If you get a cough or flu, it doesn't mean you have contracted corona. And for God's sake don't go for testing for such minor things," PM said. He went on to say that countries like the USA also don't have enough testing equipment.
The limited availability of testing equipment may hamper the testing process, but that should not be used as an excuse to say that testing is not required. It is the need of time, and with every passing minute, things are getting worse. A comprehensive strategy on how many testing kits we need, the number of ventilators required by the hospitals across the country should be the top priority.  According to Yao Jing, the Chinese Ambassador to Pakistan, China has provided more than 30000 PCR- testing kits and other safety kits to fight against COVID-19. Several other approaches should be made internationally for the procurement of the required equipment, and their distribution made transparent.
The government of Balochistan has up to date, not devised any comprehensive strategy on how they aim to fight the pandemic. The healthcare system is dilapidated and does not have the capacity to deal with the upcoming crisis. The chief minister is busy in awareness sessions and sharing it on his Twitter handle. Awareness sessions aside, a real-time action plan on how they aim to deal with the crisis is the need of the hour, and not a minute should be wasted.