Sher Jan P. Shohaz
During Prime Minister Imran Khan's visit to Turbat on 13 November 2020, hundreds of fake promises were made to console the people of Pakistan's most impoverished and geographically largest province but later no practical progress from those promises was ever made possible to let Mr. PM's words fulfilled since he stated, "very few federal governments thought of Balochistan," adding that his regime would assist Balochistan especially in the field education.
It is no denying fact that the province, be it education or other issues, has experienced no improvement in the socio-economic situations. According to a report published in Dawn on 17 November 2020, approximately 60 to 70 percent of Balochistan's children are out of school (the figure touches 78 percent for girls) which paints a gloomy picture about the most moneyed, culturally well-endowed, and resource-rich province which has around 12,500 primary schools from which a number is broken. The number of schools estimated without classrooms is nearly 7,000 and the following have an inadequate number of teachers. Nearly 5,000 ghost teachers have reportedly been found most of whom have been hired due to their political connections rather than having been appointed on the basis of merit.
What's more, the report further reveals that around 2,200 schools are deficient in boundary walls while nearly 5,000 schools have been named, are run by one teacher. This intensive famine of low attention of federal and provincial government has resulted in greater illiteracy in the province that stands at 41per cent.
The education sector in each year owns prototypes in economic statistics via platforms our officials keep slogans of #emergingBalochistan but none of them is brought into play for all practical purposes.
However, rural areas of the province are prone to a greater educational crisis than urban. Under PSDP No 2419 for the financial year 2018-2019, The Executive Engineer 2 Provincial B&R Turbat tendered a work of infrastructural improvement and construction of about 200 middle schools, approved by the Government of Balochistan in which construction of school building for Government Boys Middle School Kapkapar was one the works yet awaits for improvement. Although, each work was directed duration of 12 months with different amount of budgets respectively yet question on implementation of budgets seem to be unheard to every official of the current regimen.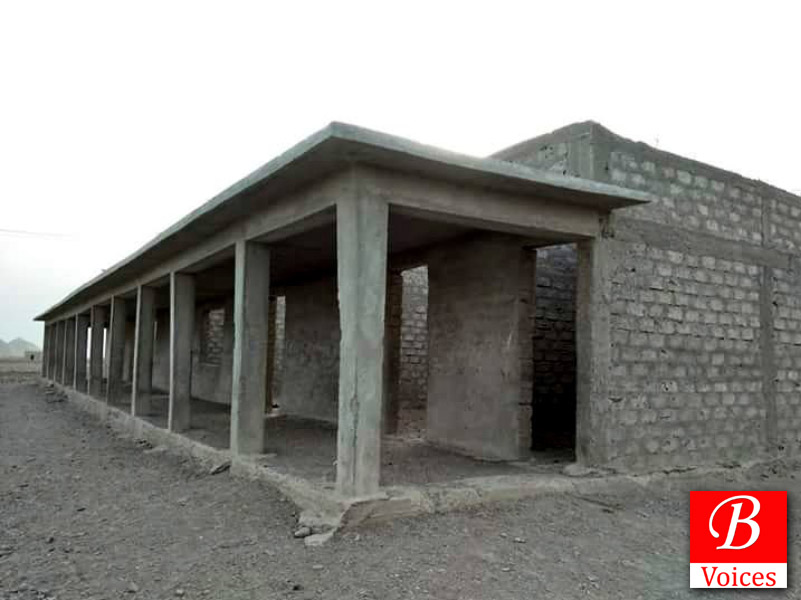 Seeming the worst condition of the school mentioned above, social activist and student Balach Qadir, a local of the region, since the beginning of the month started a campaign on social media and in-person to ask for a donation for school construction as a temporary adjustment. The campaign started from social media has received huge accolades while some of the people have donated a little amount in a donation. "I have visited each official of the current government, who owns power, to discuss the great pause in school construction, but was every time disappointed with repeated words of candidness," said Balach, adding that " I have personally reached to Finance Minister Zahoor Buledi and MPA Lala Rasheed on the following topic but nothing satisfactory happened. Later, I, too, made my meeting possible with DC on the issue and but no satisfactory initiative ever took place in the response of our all meetings and campaigns. This campaign was the last option left for us to provide a temporary arrangement and provide a roof to these kids."
The school had been upgraded into middle school in 2013 including the hiring of 5 teachers as making the number of all staff members reach 5 from whom only one is often seen present in school and others are missing.
How possible it sounds to the population living under a caustic plight to make an image of a competitive literacy via public donation? The great inattention of the provincial government demonstrates a strong fragility in interest and healthy deficiency in the jurisdiction to make Balochistan an accompanying province nationwide.
A report – Pakistan Education Statistics 2016-17 – which was launched by the Academy of Educational Planning and Management (AEPAM), draws a bleak picture of out-of-school children in the country where a total of 51.53 million children between the age of five and 16, as many as 22.84mn — 44pc — were out of school. In consonance with the 2015-16 report, 22.63m out-of-school children were estimated.
In accordance with details provided in the report, Balochistan receives the highest proportion of out-of-school children which stands at 75pc. According to the same report, approximately 5.06m children of primary school age are out of school. At the middle, high, and higher secondary level, the number is 6.51m, 4.97m, and 6.29m, respectively.
Another report acknowledges that nearly 80.50 percent of schools in Balochistan are poor in infrastructure some of which are without walls, cracked, and some don't have roofs and rooms including other fundamental equipment.
Consequently, controlling the rapid growth of illiteracy in the country requires a dire need of a grand plan with which the federal and provincial governments need to conceive and remain with. This too requires the government to make an increase in share in the Public Sector Development Program (PSDP) which has inclined in Balochistan to 14 percent in 2018-19, from 23 percent in 2014-15. This current budget in education is never sufficient to come out from educational challenges.
Similarly, rural areas of the province ought to be facilitated with different types of incentive and regulatory schemes to figure out what will work against giant challenges in our education.
The writer is a Turbat-based freelance columnist and an ESL instructor at the School of Intensive Teaching, Hub Balochistan. He tweets at @SheeranRind.
Disclaimer: Views expressed in this article are those of the author and Balochistan Voices not necessarily agrees with them.