Yasmeen Sana Baloch     
Art is defined differently by different people with different views but I define art as the reflection of one's identity. I believe every community and culture is beautifully embodied with the distinguished jewelry of art. It was the art that reformed the ages in literature and it was the art that compelled Elizabeth to support art and literature in those days.
Today, we are able to know the social issues and literature of the Old English period, the Elizabethan age, restoration age, and Victorian age due to the literature and art that they left for us. It means that every community and society will be remembered for the literature and art that will be produced by artists. Likewise, every age had a different genre, but all genres captivate the soul and help people rethink their decisions and views in a more mature way. As Plato says, that the purpose of every art is the same but the mediums are only different and they all touch the heart somehow.
Art has been differently defined as the soul reflection of tradition and life but Panjgur has never been serious regarding this topic. A few people produced literature who include Sadiq Rahchar, Rafiq Chakar, Kareem Azath, Advocate Mohammad Hayat, Glulam Nabi Bahand, Ismail Sama, Zahoor Zaibi Dr.Naimatullah Gichki, and many more but it was ignored by the youth.
The contemporary results have shown the interest of youth towards art and literature. The current literary Festival and now Altaf Sajid Art's Academy have strengthened the pillars of literature in Panjgur. Altaf Sajid Art's Academy has been named after the late Altaf Sajjad who belonged to the land of beauty and art; Panjgur. He was a renowned singer, comedian, artist actor who died due to a cardiac failure in 2018.
The inauguration of the Academy took place on 14-03-2021 by Deputy Commissioner Panjgur. Altaf Sajid Art's Academy is a result of the hard work of Mr. Chakar and Mr. Mustafa Kamal who worked smartly to throw down the gauntlet to the old systems of society.  Mstr. Chakar Hashim is the President and has a degree of M.A in Sociology and Balochi language. Besides he has a bachelor's degree in Hons.Electronics. Mr. Mustafa Kamal is the general secretary and holds a degree in M.A sociology and Balochi and Mastered in education.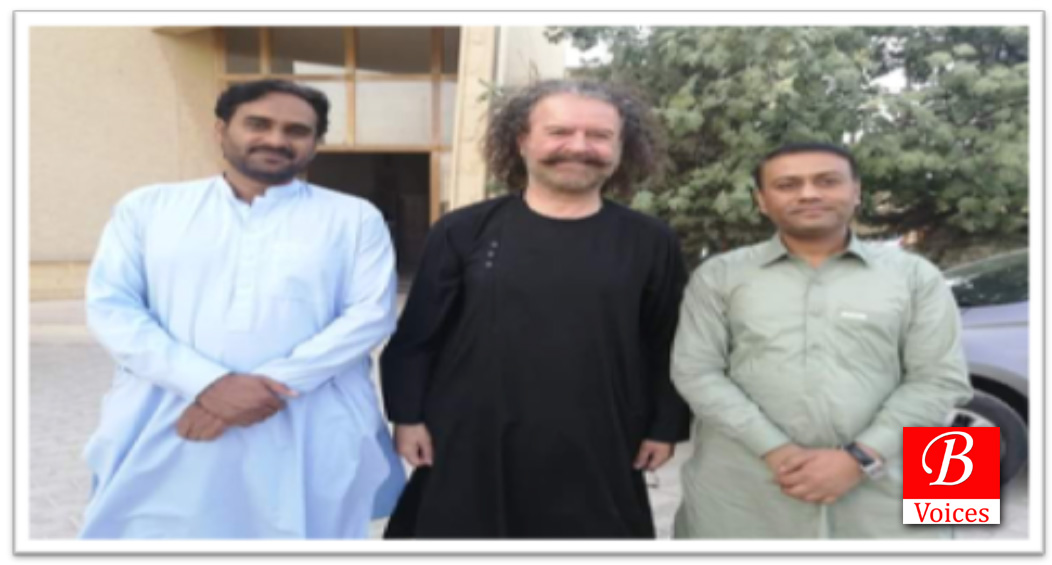 "The idea for making such an academy has been under discussion long ago. I and Mustafa Kamal met senior artists to establish an art academy in Panjgur. We faced many financial and social issues but we didn't give up. I think the most important role in the establishment of the Academy is of Mustafa Kamal, who persistently worked hard to rehabilitate the building into an academy and revive the taste of literature back into the city.
We held discussions and several meetings with Mohammad Baloch, SafiUllah, Asim, Malik Matha. Finally, we went for its registration and we succeeded".-Chakar Baloch
The main purpose of the academy is to promote art and cultural handicrafts. Talking with Baluchistan Voices, Chakar Baloch emphasized that they have received harsh and negative compliments by some of the people during its establishment and it was quite drastic. Panjgur has been like a corpse for many years and now people have realized their responsibilities. This is quite painful to know that many people refuse to assist with such applaudable works, especially the ones who can assist easily. Altaf Sajid Arts academy has reached the stage of success because of the self-financial support of the members and well-wishers. They have received no financial support from the government though it has been shown and highlighted on social media and students from different cities have supported this vision the government of Balochistan, Jam Kamal, and Asadullah are acting like strangers to the city.
It is a positive initiative and they have started Benjo and guitar classes for the willing people. The staff has also arranged auditions for the young people to utilize their skills. This initiative will break the old culture of only reading course books and getting grades. Students of Panjgur have been guided in a wrong way and the true definition of education has never been introduced to them. Needless to state, that if the youth of Panjgur will be provided such platforms, their talent and skill will be recognized on international platforms.
I, personally congratulate the staff of Altaf Sajid Arts Academy and also all people who are working for the promotion of literature in the city. It is the duty of the government to financially support such people who really need Panjgur to be developed and liberally educated. We are looking forward to the promotion of Balochi traditional music classes like Soroz and Dhamboorag in the future and the team of Balochistan voices wishes them good luck for their future plans.
Disclaimer: Views expressed in this article are those of the author and Balochistan Voices not necessarily agrees with them.