Arbaz Shah
Kanwal, 20, belongs to the Hindu community that has been living in Quetta and elsewhere in Balochistan since time immemorial. Many of her relatives had fled the religious violence following the partition of the subcontinent, in 1947. But her family chose to live in Pakistan.
Since then, the Hindu community in Quetta is restricted to make a limited practice of their religious freedom, unlike the other communities in Balochistan, to arrange their rituals and other religious practices.
Kanwal explains how she and other Hindu community members have been suffering from the imbalance and faith-based indiscrimination, "We have to finish our religious practices early at night, later it's difficult to get back home as we find no transport and other sources to reach our homes. Years back, it was not difficult as this because we had temples near our home and would visit them fearlessly. Many temples are converted to schools and libraries, some are closed and some collapsed in Quetta and other districts which are now turned into markets and personal properties".
There are now only four temples in Quetta, the provincial capital of Balochistan, where a sizeable Hindu population lives. Background interviews with minority activists suggest that the Hindu community fears for its protection as many of their temples have come under government custody. "The ancient Hindu temples that are converted into schools and libraries should be rebuilt into its old decorum, so that, the number of temples would get increased and the community would find it easier to reach out and practice their religious festivals near to their homes", one of them added.
There are now only four temples in Quetta, the provincial capital of Balochistan, where a sizeable Hindu population lives.
According to the Pakistan Bureau of Statistics, 2017, census, the total population of the province of Balochistan is 12.34 million, out of which minorities make a lower sum of 1.24 percent, that counts in total 153,016 population and Hindu community counts in a total of 0.49 percent, which means 60,466 people.
As per another report, which was released by the Human Rights Commission of Pakistan in the year 2020, it states that the government Sandeman primary school was established in Quetta in 1882 and was given the status of a high school in 1904. Harper was the first headmaster of this school. The school on Fatima Jinnah road also houses a combined building of a Hindu temple and Sikh Gurudwara, which is under the supervision of the Provincial Department of Endowments and Religious Affairs.
According to Neil Kamal, who serves in the Human Rights Commission of Pakistan in Quetta, "the same temple had been closed for years and now converted into the library which is monitored by the school administration. But local Hindus are not allowed to worship there."
Neil Kamal explains further that "under the premises of Sandeman school on Quetta's Fatima Jinnah road, there used to be a Hindu temple called Sanatan, which has now been converted into a library. Over there, all our sacred idols have disappeared, and, in their places, cosmetic designs of sacred idols have been hung which is completely unlawful and a violation of our basic rights.
As it is aforementioned, Mr. Neil counts the number of temples in Quetta on his fingertips that has now come down to only four, that include Arya Samaj on Masjid road, Krishna Mandir on Shawkshah road, Musafir Khana Mandir on Dr. Bano road, and Mata Mandir on Jinnah road".
Other than the temples, the same is the case with Gurdwaras. In this regard, Sardar Jasbir Ji Singh, who is head of a Gurdwara situated on Archer road Quetta, assets this, referring to this aforementioned Gurdwara, says this was one of the Sikh community's religious properties that were converted into a school of All Pakistan Women Association.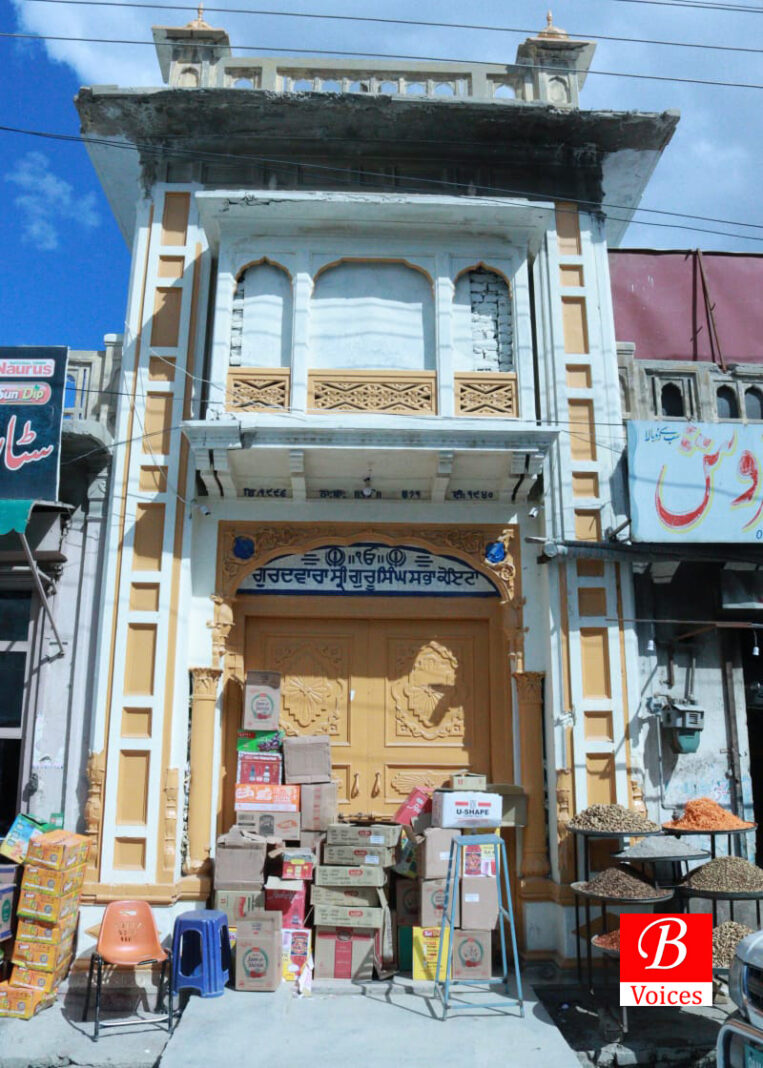 Sardar further explains his community's grievances that "the history of this building spans around 250 years. This building was owned by Guru Singh Sabha where the Gurdwara of Sikh community was established which was taken over by the then government in 1960 and was then built as All Pakistan Women's Association Girls' High School (APWA)".
Sardar Jasbir Ji Singh is also chairman of the Sikh community in Balochistan and a member of the board of trustees of the abandoned property. He is also one of the leaders of his minority community. He points out, "a gurdwara with the name of Sri Singh Sabha has been set up over here again, the RAT network had provided relief money in proceeding the case in the Balochistan High Court."
While talking about the background of the case, he recalls, "Kailash Nath Kohli who once served as chairman Balochistan Public Service Commission, filed a petition and in the end the decision of the case came in our favor".
He adds further, "We still feel insecure and in an uncertain situation from a mafia that may repeat what they did previously. There remain only a few gurdwaras to worship. We have asked the government to relocate the places where our places of worship used to be".
Qamar-ul-Nisa, a lawyer and social activist in Quetta, says while talking about the rights of religious minorities, "The fundamental rights enshrined in Article 8 to 28 of the 1973 constitution are equally enjoyed by all citizens of Pakistan. But the documented charter that is intended to fulfill human needs rarely meets practical grounds. Minorities rights shall deem pivot attention from government and other stakeholders, as we live in a multi-cultural society, there shall be equal service of justice and protection of citizens".
She added that the rights of minorities were also enshrined in the 1956 and 1962 constitutions while article 20-A of the 1973 constitution states that "every citizen has the right to follow, practice and propagate his religion. Perhaps, every religious group and every sect has the right to establish and maintain and manage its own religious institutions."
She stressed, "The government must take steps to protect all places of worship for religious minorities and return abandoned properties into temples and gurdwaras for minority community".
Rizwan Khan Kasi, another lawyer based in Quetta, filed a petition following the petition that was filed from Kailash Nath Kohli's chamber against the former All Pakistan Women's Association (APWA) girls high school in 2013, the verdict was delivered in favor of the minority Sikh community.
He says he provided his services for free to the minority community and wants to see their religious sacred places turned back into their worshiping places. "The case came up with a fair investigation, and the verdict was termed in the end in favor of Sikh community and handed them over the gurdwara".
After being handed over to the Sikh community, they are currently practicing their religious practices in the gurdwara.
In this regard, the senior minority leader shares his views on the condition of anonymity, "most of our holy places of the religious minority community were being occupied by some of the local minority members who reserve stronghold in community and use them instead for commercial purposes. These properties are heavily rented, which makes it difficult to expand the places of worship that once used to be the places of worship for religious minorities".
He further added, "The money received in the form of rent is dedicated to the trust of the minority, which in no terms benefits the community as a whole. The reducing number of minority worshiping places is a great cause for concern. Immediate steps shall be taken to resolve the minority's grievances and give them their due constitutional shares in society".
In the recent past, in a statement released by Minorities Rights Group International back on October 03, 2012, according to it, reviewing Pakistan's efforts for minorities protection still remains unfulfilled on the ground to stress Pakistan to do its unabated efforts for ensuring minority's right's provision.
The report further elaborates, "The Government of Pakistan has failed to honor the commitments it made at the UN review of its human rights record four years ago.
International NGOs are urging states to recommend it to ensure full protection of minorities, including Dalits and other marginalized groups. When Pakistan's human rights record comes up for review at the UN on 30 October, there must be a strong focus on the rights of religious minorities and other marginalized groups, whose human rights situation has deteriorated over the past few years, NGOs said in a joint statement.
What is happening with the religious minorities in Quetta, as mentioned above, is in direct violation of two points of justice Tassaduq Hussain Jillani's judgment of judgment appeared on June 19, 2014. Point 5 of the judgment directs as under: "A Special Police Force be established with professional training to protect the places of worship of minorities." Point 7 of the judgment states that "in all cases of violation of any of the rights guaranteed under the law or desecration of the places of worship of minorities, the concerned Law Enforcing Agencies should promptly take action including the registration of criminal cases against the delinquents."
Nonetheless, minorities in Balochistan hold a quota-based representation but even that too seems symbolic who are not paying their serious intentions to the issues faced by Hindus, Sikhs, and Christians.
Sham Lal, a minority representative on opposition benches in the Balochistan assembly, is of the opinion that "Minorities' religious rights are protected in the United Nations charter and in the 1973 constitution of Pakistan. What it necessarily needs is its implication to protect minority's rights. We have representatives in Balochistan government who seem to have little concern with the issue and does not heed humanitarian and essential assignment to do it".
For minorities to enjoy their constitutional rights, according to the advisor to Chief Minister Balochistan Khalil George on minorities, the provincial government is doing it with all possible means to protect their religious rights and to ensure the security of their lives and property so that they could feel as equal citizens of the state. But on the other hand, he does not comment on the claims and arguments that Sham Lal makes to question the government's non-seriousness over the minority's rights protections.
In his concluding remarks, Sham Lal says, Minority's religious rights protection is constitutionally chartered in the 1973 constitution of Pakistan that solely needs to meet the practical grounds to shield their religious and human rights.