Ali Baloch
QUETTA: Essa Nagri, situated on the eastern side of Quetta city, the provincial capital of Balochistan, is predominantly a Christian locality. It is an old settlement and the whole area around Essa Nagri used to be open and plain.
There was hardly anyone else other than Christian settlements. "Previously, there were cultivated tracts of land, and Brewery Road was visible from Essa Nagri," recalls Samuel Masih, an elderly Christian resident of Essa Nagri.
"Slowly and gradually, others tribes including Baloch and Pashtun covered the surrounding areas, and some of them settled around Brewery road area too."
Mr. Shabir Gill is a retired peon from a government department. He is in his 70s. While talking to Balochistan Voices about his community, he expressed his gratitude and said that Essa Nagri is scattered on a vast area, comprising several acres of land that starts from the main Brewery Road, adding that although the area is congested, it is clean.
Christians, who are predominantly Punjabis, are domiciled in Quetta. They came to Quetta city along with the arrival of the British Raj. At that time, Quetta was a small town, and it was used for military purposes. Baloch and Pashtun locals of Quetta did not do menial jobs which is why these Christians were brought into Quetta from Punjab.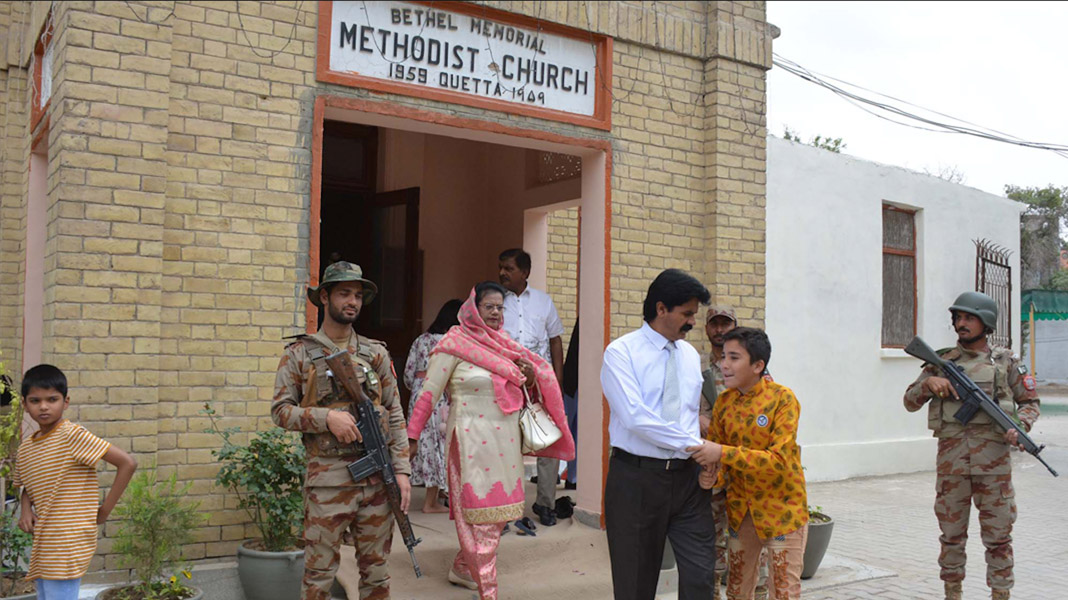 According to a report titled: 'Country Policy and Information Note: Pakistan Christians and Christian Converts' soon after the partition of the sub-continent, the majority of scheduled castes converted in Punjab and became part of the Protestant community in Pakistan.
After the partition, many uneducated members of this community were confined to menial jobs in the sanitation industry. Today, the stigma of Dalit ancestry is attached to them which makes them subject to discrimination in Pakistan.
"We have been living in Quetta for centuries, but to this day, we are unable to call ourselves sons of this soil because we are still non-locals as per the government records," laments Mr. Gill. "We exist privately; we do not exist in papers as well as in the records of the government," says Gill.
There is a difference between Locals and Domiciled residents. For instance, if a Christian and a Local apply for a job, the first priority will be given to the local, not to the domiciled holder Christian.
The Christians do not elect their representatives directly. Their representatives are, rather, elected indirectly through a proportional representation on reserved seats in both provincial and federal legislatures.
In this regard, Mr. Gill tells this scribe that a former minority woman legislator usually and sarcastically taunted them that why she should work for Christians because she had not been elected by the votes of Christians. Mr. Gill further recalls, quoting her: "Christians should be happy for the little welfare works I do for them because I have not come through their votes. My party made me MNA, not the Christians. So, I am responsible to my party, not to them."
"That is what we have to hear from our own Christian legislators, let alone other candidates and legislators belonging to other ethnicities and creeds," says Gill.
In 2014, Chief Justice of the Supreme Court of Pakistan Tassaduq Hussain Jillani gave his landmark judgment concerning security and discrimination on the basis of religion and religious beliefs.  The judgment covered a wide range of issues related to minorities in Pakistan. Two important judgments were ensuring the quota of minorities in jobs and establishing a special police task force to ensure security with respect to minorities. Apart from these judgments, the CJP directed the Federal and Provincial governments to ensure that minorities are not discriminated against on the basis of religious beliefs.
Unlike Essa Nagri, Bashir-abad is a tiny town of Christians in Nawa Killi, where 24 residential quarters are there for Christians, and these were built on the directions of former dictator General Muhammad Zia-ul-Haq in 1988.
One of the oldest residents, Javed Masih, talking to this reporter about the background of this, he said town. His family was one of the first families that came to live in these 24 quarters back then.
 "We used to live in Gora Qabristan, which is situated in the Quetta Cantonment area. Being homeless, we lived in the cemetery, and those graves were our houses in that cemetery," says Mr. Javed Masih, adding that during one of his visits to Quetta, the then President had seen them living openly in the said cemetery in pitiable conditions and had inquired about their them. He said that they told him that they were homeless Christians which had made him sorrowful to the core and he had uttered: "What would I say to anyone if asked about the treatment of Christians in my country."
As a result, Javed says, President Zia had strictly ordered their ex-MPA, Bashir Masih, to build 29 quarters for them which he complied with by building 24 quarters for homeless Christians. "Thanks to Zia we have been living since then in these quarters in Bashirabad, named after former minister Bashir Masih," he says.
But he is of the view that though they have the roofs over their heads now, they are still domiciled. "I appeal to the higher authorities to own us as local citizens of Quetta which is our long-lasting demand," he said.
 "We are born in Quetta and we live here for generations. So, we should be owned so that we can at least die in peace in this city which we call our own with a sense of pride," he concludes.