Adnan Aamir
Islamabad: Balochistan, the smallest of all provinces in Pakistan in terms of population, has recorded the highest population increase of 56 percent, according to preliminary data from sources and the Pakistan Bureau of Statistics (PBS).
The latest figures show that Balochistan's population has increased from 12.34 million in the 2017 census to 19.26 million as of the evening of April 20, 2023. In comparison, Khyber Pakhtunkhwa has seen an increase of 10.54 percent, Gilgit-Baltistan 10.52 percent, Sindh 10.46 percent, Islamabad 7.14 percent, Punjab 5.50 percent, and Azad Jammu and Kashmir 3.82 percent.
The total population of Pakistan has increased to 235 million, reflecting a 10.40 percent increase compared to the figures of the 2017 census. Balochistan's population growth rate is five times higher than the national average, and its share of the national population has risen from 6 percent to 8 percent.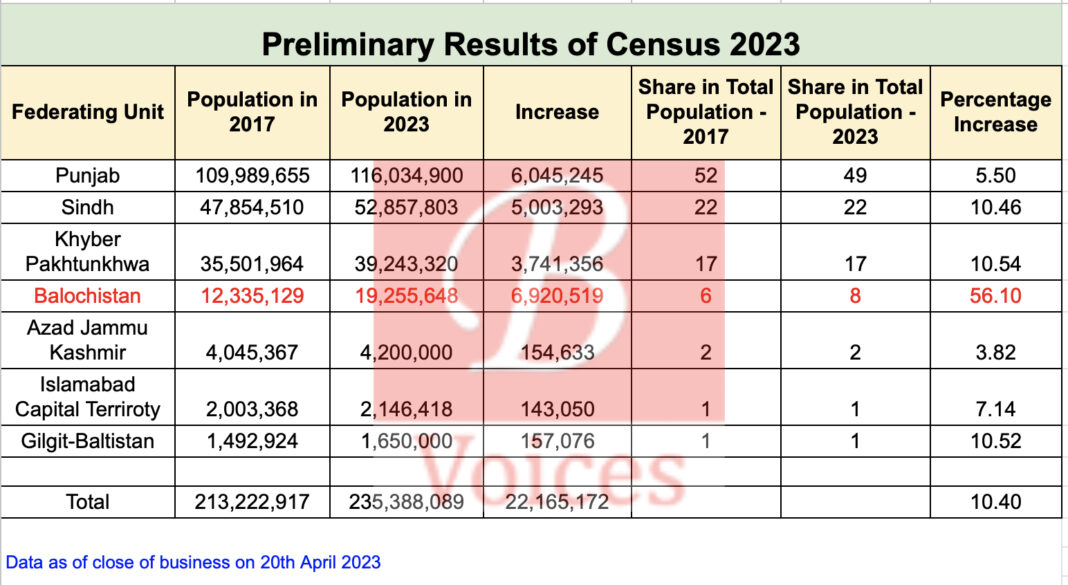 This massive increase in Balochistan's population is likely to have significant implications for the province's representation in the national assembly, federal jobs, and federal transfers through the existing formula of NFC.
The share of Balochistan's population in the national population has risen from 6 percent to 8 percent, which means that the province's seats in the national assembly and quota in federal jobs are likely to increase.
Additionally, the province is likely to receive more federal transfers, which could help it address some of its developmental challenges.
However, this population increase also poses several challenges for the province, such as the need for more infrastructure, healthcare, education, and social services. Balochistan is already grappling with several developmental challenges, such as poverty, unemployment, low literacy rates, and poor healthcare facilities.
The rapid increase in population is likely to exacerbate these challenges, especially in remote and less-developed areas of the province. Therefore, the provincial government and federal authorities will have to undertake proactive measures to address these challenges, such as investing in infrastructure, health, education, and social services.
The Pakistan Bureau of Statistics has temporarily halted census operations from 21-25 April 2023, with field operations set to resume after the Eid Holidays if decided by the Census Monitoring Committee.