Tahira Kahn
"I have five children. On the birth of my sixth child, I encountered an obstetric fistula which disturbed my life as a whole. My family has isolated me and more often I encounter suicidal thoughts. I am waiting for my surgery which will be undergone in the next week," Najia Bibi, a resident of village Kanobi, Loralai, states. She is one of the survivors of obstetric fistula.
Dr. Nazish Baloch is a senior registrar working in Bolan Medical College's (BMC) Gynecology department here in Quetta. Here she attends fistula patients like Najia Bibi flocking into her cabin from three different centers: Bolan Medical Complex Hospital, Civil Hospital, and Balochistan Institute of Nephrology.
"Amid a severe lack of urogynecologists, attending many patients is an arduous task. Only a specialist urogynecologist can treat patients with fistula. This forces us to refer the patients to a urologist," says Baloch.
The statistics when it comes to Balochsitan's precarious healthcare system reveal that the province lags behind all three provinces in the country. As such, the patients having fistula complications not only suffer a lack of access to proper healthcare but remain stranded in social stigmas. Moreover, the patients continue to suffer owing to the non-availability of urogynecologists in government-run health facilities in the province.  Obstructive fistula is a medical complication that exacerbates health risks during a child's birth.
As startling as the statistics, fistula cases are the highest in Balochistan followed by Khyber Pakhtunkhwa (KP). As per an article titled "Prevalence of obstetric fistula: a population-based study in rural Pakistan" (2014), over five thousand women were interviewed and the results showed that the prevalence of this disease is high in rural areas. Subsequently, the study also underscored the need for maternity care services to reduce the consistent occurrence of fistulas.
"An obstetric fistula occurs when a wall between the rectum and birth canal is affected during the delivery process. It mostly happens when the pregnant woman is a minor. During labor, the child's head is stuck in the birth canal because under-age girls are not ready to give birth to babies. In a nutshell, a woman loses her baby, dignity, and health at the same time and faces medical conditions for a longer period," Dr. Sajjad Ahmed tells Balochistan Voices.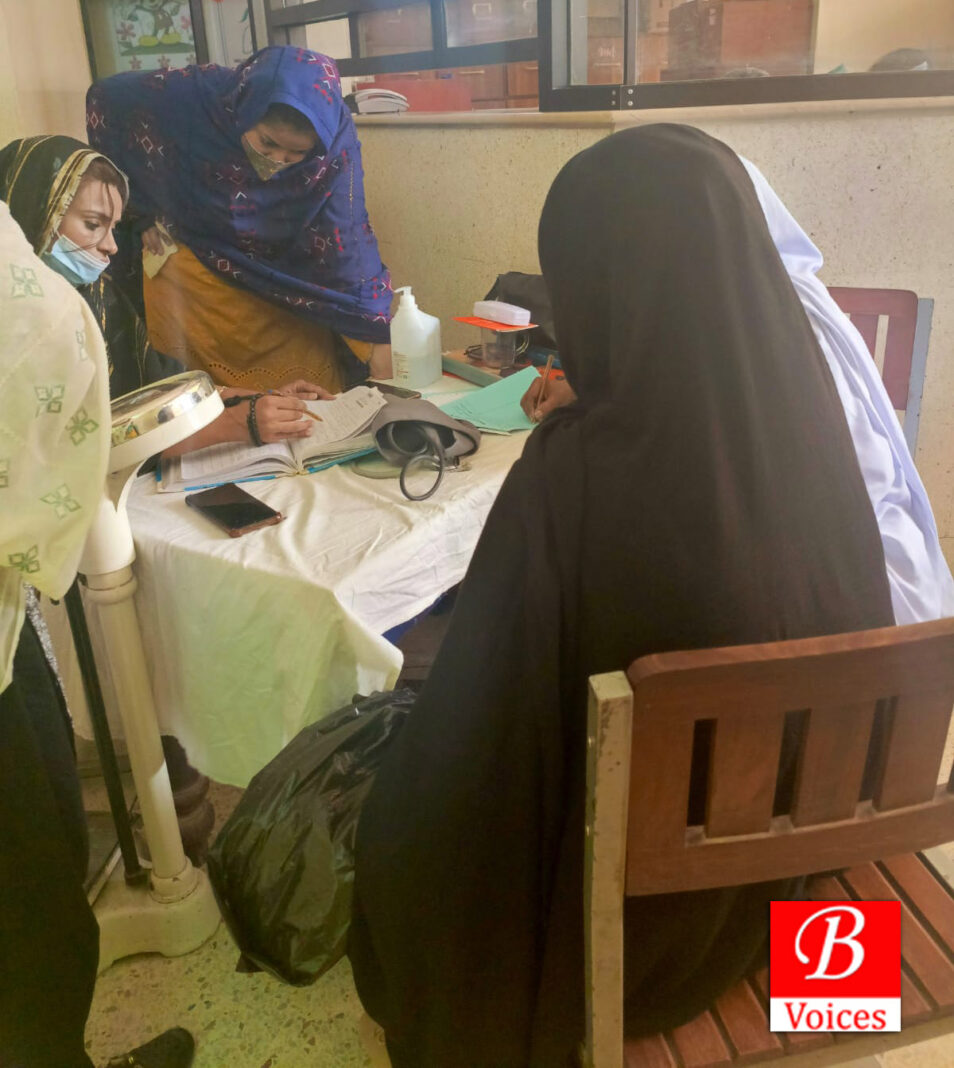 Is obstructive fistula preventable?
Hajra Bibi and her husband have understood the implications of child marriages. She suffered this agony for over a year and a labor attendant also did not convince her family to seek medical help.
"I was married when I was 14 years old. During delivery, I encountered this problem because my family consulted an unskilled labor attendant and not a gynecologist. Besides, there are no proper health facilities in my village. It took us a year to know about the cure for this disease," says Hajra.
Dr. Bushra, Kohi Goth Women's Hospital says that this condition could be cured if the patient has timely access to medical facilities. Regrettably, when it comes to interior Sindh and Balochistan, facilities are not available in rural areas. It further affects the most marginalized communities where health facilities are at a minimum level. She also explained the gendered impact of climate change in the context of obstetric fistula. According to her, during the flood period, parents were marrying even their 9-year-old daughters.
Moreover, one of the research articles titled "Social and economic consequences of obstetric fistula: Life Changed Forever?" 2007, shows that obstetric fistula leads to separation owing to socio-economic and economic reasons. Dr. Maria Ali Khan, a public health specialist, based in Quetta, explains that obstetric fistula is not a life-threatening condition but it is made worse due to social boycott, stigmatization, and even divorce.
Did obstructive fistula exist in the past?
A research report titled "Vesicovaginal Fistulae: A Surgical Outcome'', 2003 indicates that obstetric problems have existed since the existence of human beings. It occurs in one to three patients among 1000 deliveries. Historically, Jhonfatio repaired the first fistula in 1675. Besides, in 1849, Sims, famously known as the father of Gynecology, performed successful fistula surgery on a patient who underwent 29 failed surgeries.
However, Dr. Rabia of Kohi Goth Women's Hospital, comments that 'Dr. Johan Kelly', a fistula specialist from England, traveled to developing countries including Pakistan, Nigeria, Sudan, Angola, Ghana, Kenya, and Ethiopia to treat fistula patients. He performed his first fistula surgery in 1967 when he was on a mission to Nigeria. Since then, he has treated more than 9,000 patients. According to Dr. Kelly, it is equally important for communities to understand the problem of fistula like the way surgeons need to know how the fistula is repaired.
The way forward
Asher Javaid, United Nations Population Fund's (UNFPA) project coordinator of Balochistan, indicates that in the past two months, he has encountered more than twenty patients with obstetric fistula. According to him, patients neither afford the medications nor the expenses of travel to reach the hospitals of Quetta. Owing to these difficulties, UNFPA has sponsored their medication up to 50,000 per patient along with the travel expenses. He adds that hospitals also give surprise gifts to patients on their successful recovery. Owing to his expertise in the field, he has observed that people think it is a stigma and talking about it can affect their norms or even the dignity of the women.
Similarly, Dr. Rabia, Kohi Goth Women's Hospital, stated that from 2006 till 31st March 2023, 1513 cases of fistula had been reported and cured in Quetta with the help of UNFPA sponsorship.
Dr. Maria Ali Khan, a health expert, sheds light on the factors responsible for the obstetric fistula in Balochistan. According to her, low literacy rate along with meager medical facilities are responsible for compelling women to carry the life-long burden of the disease.
Generally, people in tribal areas prefer to deliver at home where midwives are not trained properly. In the context of urogenital fistula, she says that advanced medical facilities are not required in every case.
As per one research, twenty-five districts have 177 medical facilities. Of these facilities, 63% provide neonatal care services and only 3 facilities have intensive care Units. The survey also indicates that the majority of the intensive care units in the province lack modern equipment and trained professionals such as doctors, nurses, and midwives who deal with pregnancy-related issues. Additionally, medical facilities lack a policy framework to control infections due to which pregnant women are at risk in the province.
Overall healthcare infrastructure in Balochistan paints a bleak picture, and women remain deprived of standard healthcare, especially in rural areas of the province. More or less 750 women lose the battle of life during childbirth in Balochistan, and the lack of fistula specialists to attend to the growing number of woman patients can exacerbate the death ratio.
The writer holds an M.Phil Degree in South Asian Studies from the University of Punjab. She can be reached on Twitter @TahiraGhilzai.