Quetta: Heirs of a patient named Mr. Amir Hamza Rind staged a protest demonstration against the Negligence of doctors of Sandeman Provincial Hospital Quetta which resulted in death of patient, on Thursday.
Family Members staged a protest demonstration in front of Quetta Press Club along with Dead Body of the patient and demanded justice.
Earlier, Amir Hamza Rind, a patient of Hepatitis "C", was admitted in Sandeman Provincial Hospital Medical Ward 4 for treatment.
On Thursday, family members of the patient bought an injection doze from private medical store on the advice of the doctors. When that doze was injected to Patient his temperature increased and his condition became serious.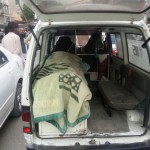 Heirs of the patient allege that rather than treating the patient doctors left him unattended. Later, patient was shifted to emergency ward by the heirs but he could not survive and passed away.
Rather than treating the patient doctors left him unattended which resulted in his death – heirs of patient
Mr. Abdullah Rind, Sarwar Rind and other family members told Media that negligence of doctors resulted in death of the patient. They further added that there are no health facilities for poor people coming with the expectations of free treatment.
Heirs of deceased patient further added that they have bought all medicines for their patient from private medical Stores. Sandeman Provincial Hospital doesn't even provide a single Injection free of cost to the patients.
Protestors requested Chief Minister (CM) of Balochistan Nawab Sana Ullah Khan Zehri to take serious action against the doctors of Sandeman Provincial Hospital and ensure basic healthcare facilities to the underprivileged people.