Islamabad: Adnan Aamir, Editor of Balochistan Voices, won the Agahi Award 2018 for Data Journalist of the year.
The sixth annual AGAHI Awards were held in Pakistan NationalCouncil of Arts (PNCA) in Islamabad on 9th December. Agahi Awards recognize the best of the media industry striving for ethical and responsible journalism from all across Pakistan every year. This year Agahi Awards were awarded in more than 40 categories.
Adnan Aamir won the Award for his Data story titled "Balochistan Government Builds Roads While People Sink Further into Poverty," which was published in Balochistan Voices. In that story, Adnan had proved with the help of data that budgetary spending priorities of the government of Balochistan are misplaced.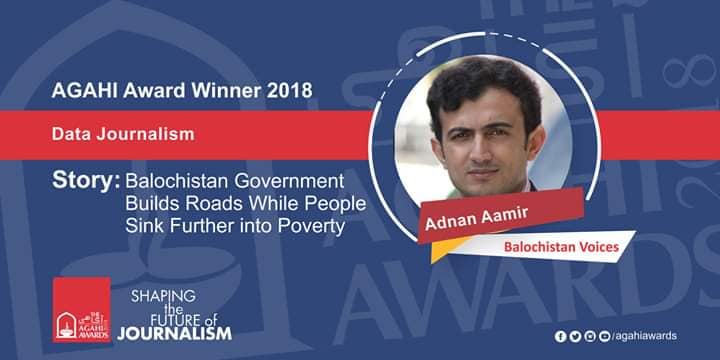 This is the third award, which Adnan has won in his career. Earlier this year He won CEJ-IBA Award for reporting on Delimitation. He also won Agahi award for the journalist of the year 2016 in Business and Economy category.
Apart from Editing Balochistan Voices, Adnan also works as a freelance journalist from Quetta. He attended Chevening South Asian Journalism Fellowship in the University of Westminster London, earlier this year.