The year 2019 proved to be a very newsworthy year in Balochistan. There were a lot of issues, which made it into the news cycle. Balochistan Voices covered the important issues of Balochistan throughout the year 2019. Following are the most-read stories of Balochistan Voices in 2019 in descending order:
This was a blog that discussed Gender inequality in Balochistan. Women's rights and gender imbalance is a major issue in Balochistan and this blog contributed to the debate…
By Asif Murad Umrani
China with robust intentions wants to rule all over the world keeping the eyes on trade and business through Belt and Road Initiative (BRI). China Pakistan Economic Corridor (CPEC) has now become the sole option for Pakistan's economic and strategic stability and prosperity. The center of all these activities is the Gwadar port, which is in the province of Balochistan. However, the people of Balochistan have not benefitted from CPEC. This article discussed how Balochistan has been left out in CPEC…
By Rehmat Ullah
This story was a guide on the art of essay writing. It was written to guide in a simple way with great tips to students and candidates ─ particularly those belonging to Balochistan ─ who appear in such examinations under competitive pressure; because, denizens from Balochistan are deprived of academies, which prepare candidates, with competent English teachers to teach them satisfactorily the essay writing in the province including in Quetta. After all, they compete with the candidates from metropolitan cities equipped with all academic facilities available to them…
By Sazain Zahid
In this blog, a teenager shed light on the problem of Bullying in Balochistan, which is an alarming issue. The repercussions of bullying are distinguished throughout the world; it affects students in school, employees at work, a girl in a patriarchal society, and worst of all a child in his own house. This "slayer" has brutally claimed thousands of lives. According to a UN report, an estimated 246 million children and adolescents experience violence and bullying in some form every year. There obviously have been hundreds of untold stories of bullying in Balochistan, which have claimed precious lives…
By Hemna Baloch
This article paid tribute to late Zajid Askani, who dedicated his life to the improvement of education in the Gwadar district of Balochistan. So many incredible personalities who sacrificed their lives for the sake of their nation and brought a huge revolution. They include Nelson Mandela, Che Guevara, and many others. A similar personality and entity lived in Balochistan, who sacrificed his life for the betterment of his nation, brought a huge revolution in the field of education and spread awareness about education and its significance. He is Shaheed Sir Zahid Askani, who was born on 2nd January 1979, in his native village "Paroom", district Panjgur…
By Dervaish Ali
The future of Balochistan and its people can be envisioned in terms of scenarios. These scenarios will have to be developed further in order to get some sense of the nature and complexity of the issues involved and the full implication of their materialization, or otherwise, on the province's communities in the coming years. A thorough study of all these needs to be made in order to reach a better understanding of the situation. The purpose of this post is not that.  At best, it is reflective/speculative as far as the understanding of the situation is concerned, and suggestive in the way of pointing towards possible remedial measures…
By A B Khan
According to the Pakistan Labour Force Survey (2014-15), Punjab has a 2.32 million unemployed population, Sindh has 0.66 million, KP with 0.51 million and Balochistan has 0.13 million. Clearly from the figures, Punjab has the highest unemployed population, but when we compare the unemployed population with the current total population to find out the percentage of unemployed population in each province, the scenario completely changes and the Balochistan with unemployed population of just 0.51 million becomes the most vulnerable having 4.13% of unemployed population…
By Engineer Salahuddin Baloch
This article was written in the backdrop of Yellow vest protest, which kicked start in Balochistan on 15th July 2019 as engineers from across the province gathered to protest for employment opportunities and technical allowance, with country's economy and economic activities that drive engineers already in tatters. While countrywide engineering profession painting rather an abysmal picture, the field, particularly in Balochistan, needs some heed…
Interview by Ibrar Ahmed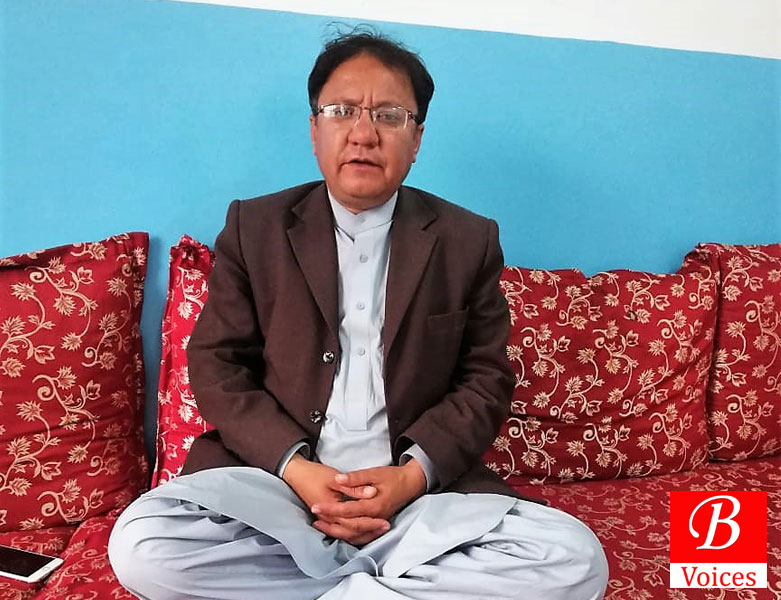 This was an interview conducted with Qadir Ali Nahil member of the Balochistan Assembly from PB-26 on 31st December 2018 from the platform of the Hazara Democratic Party (HDP). He is among the founding members of HDP and also served as Secretary-General of the Hazara Students Federation twice. Qadir Ali Nahil started working in daily Jang Quetta from 1995. He completed M.A in Mass Communication from the University of Balochistan in 2004 and secured a gold medal during his batch. Along with journalism, Qadir Ali Nahil also indulged in literature. He launched the first Hazargi language magazine "Manji" on an annual basis, which was later converted on a quarterly magazine. Later it was closed down due to financial constraints. He has also published his collection of poetry in the form of a book titled "Alguam."
By Adnan Aamir
The blackmailing scandal of the University of Balochistan was one of the most disturbing news stories, which came out from Balochistan last year. In a shocking revelation, a scandal was unearthed in the University of Balochistan where students were blackmailed using their videos captured by secretly place CCTV cameras. This was confirmed by officials of the Federal Investigation Agency (FIA). The first story on this issue was the most-read story of Balochistan Voices in the year 2019.
If you have something to say about the most-read stories of Balochistan Voices in 2019 then feel free to share it in the comments section below.