Syed Arbaz Shah
She is having a cute face, bright eyes, beautiful black hairs but still not a normal child because she cannot walk the way her fellows go, enjoy playgrounds, and running to school. Afsa a six-year-old girl studies in class first a school near to her home in Karbala, Pishin—one of the most populated towns of Balochistan. She feels difficulties and tired while going to school meters away from her home because in April 2014 poliovirus attack crippled her right foot at the age of 17 months. She is having crippled foot for a lifetime.
Rafi Ullah Afsa's father says he now regrets why he did not let the polio vaccinators vaccinate his daughter because he was scared his daughter would get physical dysfunctional — propaganda and myth produced as a narrative by the religious groups who are refusing polio for children and consider it a threat to the youngster's future.
"I had heard from Mullahs– religious clerics that polio is a project launched by infidels (the Western countries), they have planned policy to destroy 'Muslim Humma' through different tactics e.g. vaccination campaigns and being a believer I stood firm to my faith and refused polio teams to enter my house and vaccinate my daughter", says Rafiullah.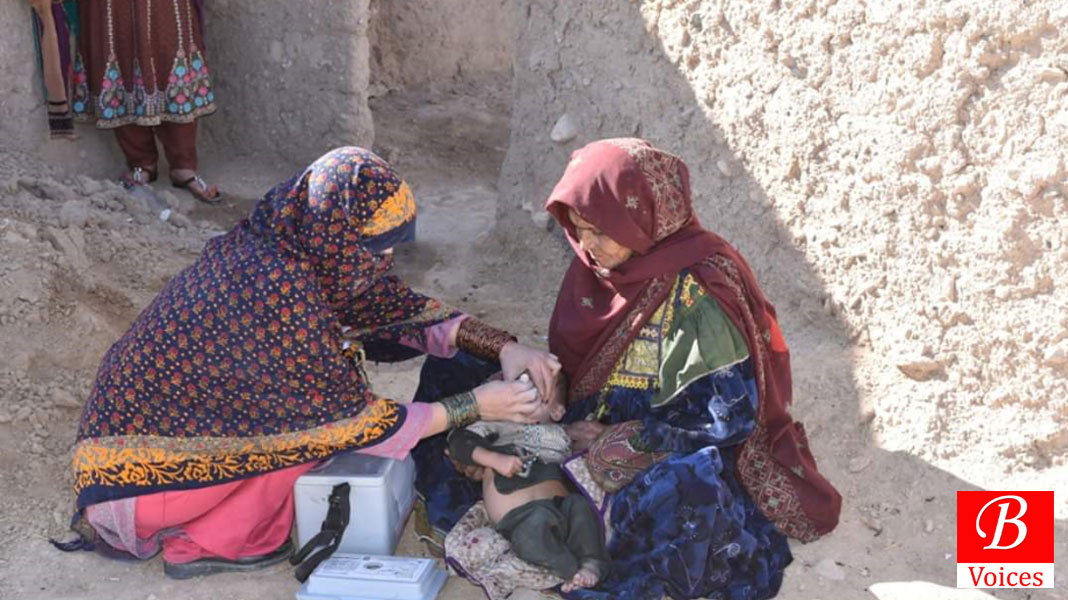 He strongly believed the teachings given by some of the Islamic scholars who had told them not to let the polio vaccination administering teams enter our homes said, Rafi Ullah.
"The Mullahs—religious clerics are followed by all of us, so, I threatened polio vaccinating teams not to knock even my home doors otherwise they will face consequences", says Rafi Ullah.
Polio vaccine has come with different versions We don't know where is it formulated and with what intentions do westerns vaccinate our children? said Molvi Sarwar who leads the congregation in Karbala. "I am straight in neglecting polio drops being poured to our children. Why would west favor us bringing ease in our grievances? Though the past history discusses their worst intentions about us".
Meantime, Molvi Amin-Ullah another cleric in Karbala humanizes the endemic poliovirus endorsing his support to make refusal parents for the vaccination of their children. "Quran centrally discuss humanity and teaches to help others in their hard time. We have been through different diseases which polio is one of and the world fights such viruses as Polio and an-other than just appeared Coronavirus. As a responsible cleric, I would support the Islamic council Pakistan decision(Fatwa)and will make refusal parents vaccinate their children".
The poliovirus affecting his daughter changed Rafi Ullah's world view about polio though the propaganda is still at its peak and thousands of parents across Balochistan are refusals and do not agree to let their children get vaccinated.
Rafi Ullah now not a "refusal" but a volunteer polio vaccination campaigner in the society and motivates parents and families who are refusals to let their children not be the example of his own "crippled daughter".
"Afsa was impacted by the polio type three virus," says community health worker (CHW) Bisma Malik, a polio team head working in the area where Afsa's home is situated. Bisma confirms how Afsa's father would remain refusal.
The situation is not changed the polio team still faces threats and refusals in the region told one of the polio workers while asking anonymity not allowed speaking to the media by the organization. "Even in the same region of Karbala Muhalla Baramzai, we have more than 60 refusals".
Bisma told she was several times followed by masked men on bikes. "We feared, they would harm us or kill us as we have seen different polio workers killed in the district", says Bisma.
According to the latest data of WHO/UNICEF, "The anti-polio propaganda stirred after Osama Bin Laden the then Al-Qaeda chief was killed in a United State Navy Seal attack in Abbottabad a garrison town mile away from the country's capital Islamabad. The religious militant groups started killing polio workers, doctors, volunteers, and security escort in different regions across Pakistan".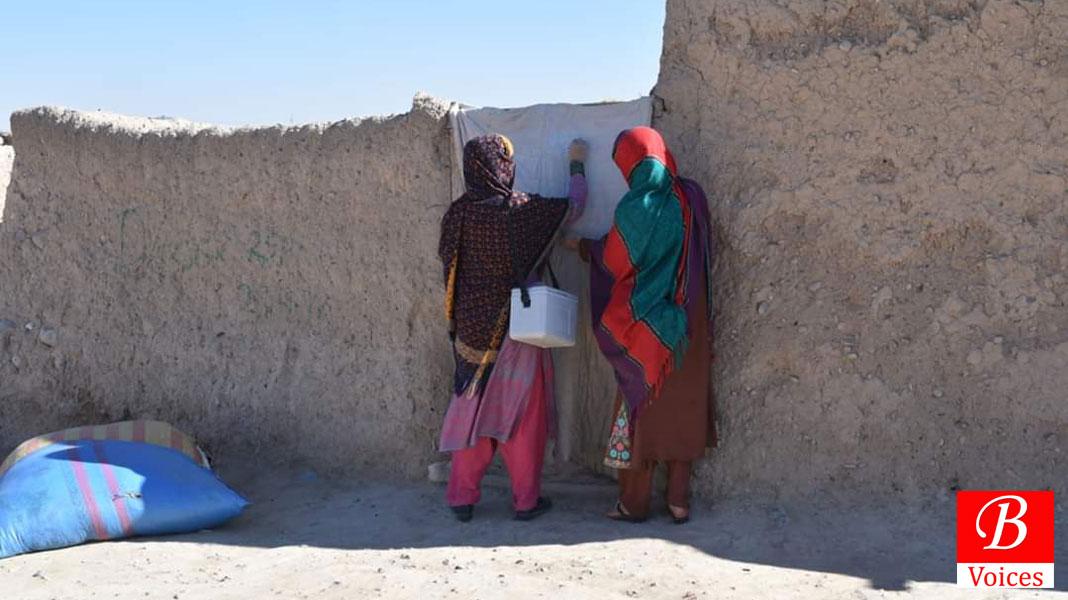 The health sector is rendered $2.6billion on polio eradication in the year 2019, where it has developed to a good phase, says Mudasir Malik. Secretary health department, Balochistan. "We deem a solemn concentration on polio eradication program in Balochistan. Facilitating field workers on polio is staying our top priority. The staff is provided the facility of BHUs and DHQs in each district of the province and additionally, our health expert contributes to ending poliovirus".
Previously an attack happened on Thursday 23 April 2019 in the south-west city of Chaman, which is a sharing border territory of Pakistan with Afghanistan, when two female vaccination workers were targeted as they carried out an immunization program. Nasreen Bibi, 35, was killed on the spot, while a 24-year-old woman Rashida – was seriously wounded. "Two gunmen opened fire on two female polio vaccinators in Sultan Zai village, located about 100km northwest of Balochistan provincial capital Quetta. Nasreen Bibi 35, died at the spot while Rashida 24 is seriously injured".
There has been only one poliovirus crippled case that happened in December in the fall of 2019, said official EOC Balochistan on condition of anonymity, "There are bike roamers following our field workers, but yet no team happened to be harmed. After the last terror attack claimed by Tehreek Taliban Pakistan (TTP), on our office in 2014 where our female officials were abducted from Ikalzai Pishin Basic Health Unit and were rescued in Kanozai Karezat by security forces". Polio teams are paid good stipends with the sum of 17500 rupees and are protected safely, said EOC Pishin.
According to reports shared by EOC Balochistan, "Pakistan has made considerable progress in reducing poliovirus transmission in recent years. However, in 2019 the program has seen a significant spread of the virus as the number of children missed during house-to-house campaigns resulted in an upsurge of polio cases in the country. As of today/now, 128 polio cases across all provinces have been reported, of which 11 have been recorded from Pishin, Dhuki, Chaman, Naseerabad, and Quetta of Balochistan province.
Massive population movements across the borders with Afghanistan and within the country, weak routine immunization service, poor water and sanitation, and high prevalence of malnutrition – all conditions are allowing the poliovirus to survive and paralyze vulnerable children with low immunity level. In addition to these operational challenges, the programme is also faced with a huge issue of misconception and negative propaganda by the vested interest group which has contributed to the increasing number of vaccine refusals".
According to recent reports published by Emergency Committee Under The International Regulations (IHR)in January 2020 "The first month began with bringing the additional figure to 146 polio cases registration, Where a total of 18 cases were registered across Pakistan of which 5 were from Province Khyber Pahkhtun Khuwa 10 from Sindh 2 from Balochistan and 1 from Punjab.
Whereas in the year 2019 a total of 128 cases were reported. Where highly 92 were reported from Khyber Pakhtunkhwa, 19 cases happened in Sindh province, 6 in Punjab, and a total of 11 cases were reported from Balochistan".
On other parts: the reports published by Global Polio Eradication Initiative GPEI in December 2019 tells, that "Afghanistan in its destabilized and war-affected scenario has reported 29 polio cases yet in the year 2019, January 2020 was followed with 3 more cases. Whereas, Pakistan has reported a bigger number of polio cases in the same year".
District Pishin shares its only border with Afghanistan, the country that has been the extreme sufferer of terrorism, instability. Securing the environment in district Pishin is among the most concerning factors of our priorities, said Qahim Lashari, Deputy Commissioner Pishin.
"The hardships we face are convincing those of refusals, who are not allowing polio teams to vaccinate the children under the age of five years. We have a strategy in convincing them with Islamic clerics, society heads, and women reserving expertise on health-care and women issues".
Rafi ullah, Afsa's father serves his voluntarism convincing refusal parents, who neglect their children to be vaccinated. Siraj Uddin stands another strong refusal, father of 3 children and a total of 13 children from his home are registered below five years from Karbala Pishin. He wants none of his 13 children poured with such taboo polio drops, viewed Siraj. "I'm a believer of Islam and it has told us not to trust infidels because they're our true enemies. Thay won't work in our interest unless tied with their own benefits". I can't see my beloveds spoiled in the hand of our enemy, said Siraj. When told of the story of Afsa. Siraj was of the view, " I don't believe in that, I have thirteen under age five children in my home, why are they yet not affected? I believe in Islam and that will shield our lives. We don't need non-Muslim's help".
Siraj Uddin fears his children may get dysfunctional after being vaccinated. All the views he placed were not of him, He heard it, He was told and misinformed about polio drops. It absolutely is a great risk leaving 13 children is not vaccinated. Siraj may deem the same scenario as of Afsa. The official convenience shall concern him and others who are yet strong refusal and who yet not let polio teams vaccinate their children.