The Gwadar Garment Factory was established and operated by China Overseas Port Holdings Co., Ltd., providing jobs for a large number of local low-educated and unemployed women. "In the off-season of aquatic products, they can also help make up for the family." Zaitoon Abdullah, deputy manager of the garment factory, told reporters.
"Almost 80% of our employees are locals." Mohammad Salim Batt, director of port operations at Gwadar International Terminal Co., Ltd., told media.
There are not many educational institutions and skills training institutions in the Gwadar area. Zain, the manager of the Gwadar China Business Center Office, admitted that nearly 90% of the local people may only be able to do simple custodial work when they first apply for jobs. "We teach them from scratch," Zain said. After training, these local employees are competent for simple technical work and computer operation.
Improving Healthcare
In the past five years, Gwadar's infrastructure projects have not slowed down.
Medical resources are scarce in the Gwadar region. If local residents are seriously ill, they have to travel thousands of miles to large cities such as Karachi to seek medical treatment. On December 16, 2019, the construction of the Pakistan-aided Gwadar Port Hospital Project officially started.
According to Deng Chaoyang, engineer of the project management team, the total construction area of ​​the aided hospital project is about 12,000 square meters, with complete department configuration and advanced medical equipment. Local medical equipment and technical level, improve the medical and health conditions of local people and change the current situation that local residents are difficult to see a doctor.
The climate in the Gwadar region is dry and hot, with an average annual rainfall of less than 60 mm, little vegetation coverage on the surface, and serious soil salinization and desertification. The first time I set foot on Gwadar, all I could see was the vast yellow sand. Zhang Baozhong laughed and said, "I thought I had reached Mars."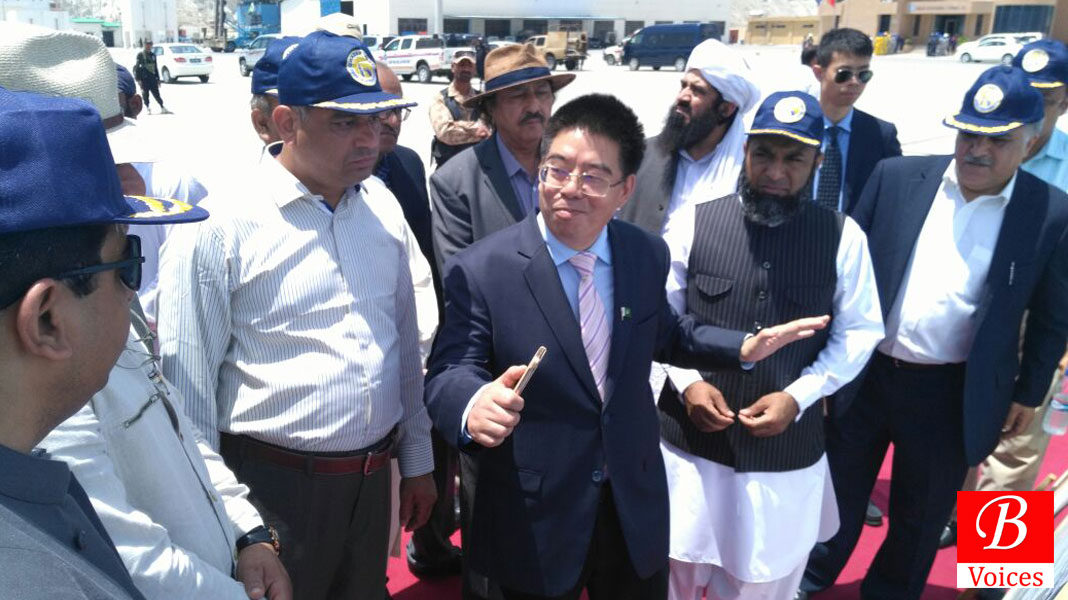 In order to systematically improve the ecological environment of the park, in 2016, Henan Yulin Holding Co., Ltd. participated in the construction of the "Green Port City" of Gwadar Port as a "green messenger" of the China-Pakistan Economic Corridor at the invitation of China Hong Kong Holdings.
Nie Yuewen, a landscape engineer of Yulin Holdings, told reporters that through unremitting efforts, they have built a garden-like port area full of vitality on the arid Gobi Desert, which has laid an ecological foundation for the development of Gwadar Port. "We want to build a green and vibrant Gwadar port."
The city is rising, with a silent gesture – Naseer Khan Kashani
Gwadar is Developing
"The city is rising, with a silent gesture," noted Naseer Khan Kashani, who joined the Gwadar Port Authority in March 2019. "The Gwadar East Bay Expressway is now 92% complete and is expected to be completed within this year. When I first came, it was only 25% progress. At that time, the Gwadar Vocational and Technical School were not even approved, but the project was completed ahead of schedule. "
The Gwadar New International Airport project is still progressing in an orderly manner. Naguman Abdul, chairman of the Gwadar Chamber of Commerce and Industry and owner of the Gwadar Fish Factory, told reporters that he hopes to export lobsters to China from the new airport in the future. "After the new airport is put into use, the packaged lobster can fly to China the next morning!"
This is part three of the three-part series of articles on this topic. Click here to read

Part One

and

Part Two

.
Sponsored Content