Aimen Khan
When Russia invaded Afghanistan in 1979, a 37-year-old man named Mauladad left Afghanistan for Pakistan with his wife, son, and daughter. According to Mauladad, he was a landlord in Qandahar, but in the state of war, they left everything behind.
During migration, very difficult routes were encountered, and an explosion occurred when he was passing a narrow village and stepped on a planted bomb, and lost his one leg. Somehow, they reached Peshawar, where he reported that they got help from UNHCR where he got operated and his leg was cut off and replaced with an artificial one. He was unable to walk for a year. Mauladad further reported that after a year they were moved to a Balochistan refugee camp in Killi Abdullah, a village in Balochistan.
Their condition was worse at that time, they were not having clothes to wear or good food to eat. He said "it was the worst feeling of my life''. But Mauladad did not see his children's deprivation, He decided to find a job and feed his family on his own. It was hard for them to survive in the muhajir camp.
He further said that, after some time, he got a watchman's job at someone's place. Mauladad and his son guarded their house day and night and watched the door. A few months later Mauladad and his family went to Quetta city.
He shared that they started working at the landlord's farmhouse and the owner provided them shelter to live there with his family.
Muladad mentioned that he is 80 years old now, and he still is a watchman of this farmhouse, now his family has become a part of this place and they have no land left in Afghanistan, they don't want to go back, because they are afraid that war will happen again, they can't take the risk again to go through all that again.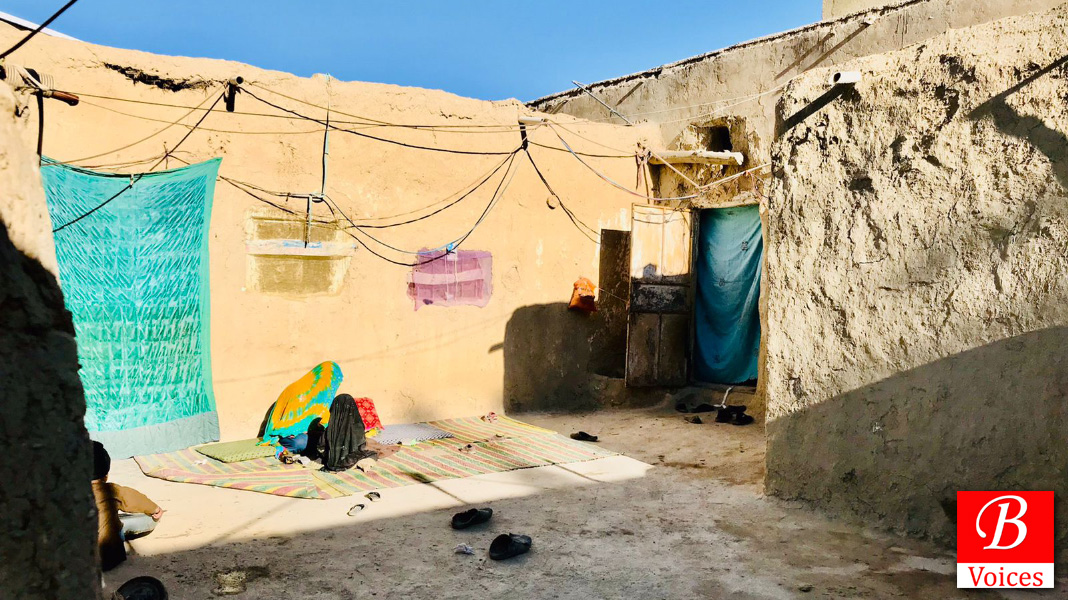 Mauladad is living here for many years, he and his sons are working day and night. One of his sons works as an electrician, and the second helps him in the maintenance of the farmhouse, 3rd got a job in a shop but still couldn't manage to make a house for themselves they are living in a mud house provided by the landlord. All of his sons are married and are having kids but they are still living in a place that has 3 rooms with no doors and no proper washroom.
Mauladad reported that during heavy rainfall they faced many difficulties, their house can be destroyed easily by wind, rain, and flood and it takes a lot of time to reconstruct it because they have no resources and enough money
Muladad's whole family suffered during this period. His Wife Gulsima narrated that "when they migrated from Afghanistan to Pakistan, she thought that their life had come to an end and she lost all hope when Muladad lost his leg". Gulsima burst into tears when she recalled the situation. She wanted to educate their children and wanted them to be successful but due to the war they have to leave everything behind and now they are living a life they never imagined. ''I wish that we were dead rather than living this insufferable life'' said Gulsima. ''I wish that all that has never happened so that my children have had a beautiful life'' she cried.
They both said that war has made their whole generation vulnerable, uneducated, and defective.
Jalal Noorzai, senior journalist and columnist said that it has been 30 years since the Afghans have been suffering.
In 1979, 700,000 Afghans were killed and 3 million migrated to Pakistan and some fled to Iran. In Pakistan, many Camps and Hospitals were made for the refugees. Jalal Noorzai stated that many Afghans are affected because their house has been destroyed and it's not just one story, there are thousands of cases. According to him, whoever is behind this war happening in Afghanistan has international support.
Mauladad sobbed while saying that there are no schools or hospitals for us. We are asked to buy medicines for six months if we go to a doctor for a normal fever check-up and due to lack of awareness we cannot say a word to doctors.
Humera Karim, External Relations Associate of UNHCR told us that the UNHCR has three types of people of concern for whom they are responsible. First the Refugees 2nd Internally displaced people (IDP) and 3rd the Stateless.
She said that not every person who leaves their homeland is a refugee, only those people who are forced to flee their country not for financial matters not for other things but for their lives their security and to protect themselves from discrimination.
Humaira Karim further said that when refugees came to Pakistan after the Russian war in the late 70s they were not some families they were a lot of families, and the state requested UNHCR for their support. UNHCR has a technical process for registration, NADRA provides POR cards (proof of registration) it's a form of document that gives them certain rights, for example, Education, health, and security.
According to UNHCR data, there are 314,418 Afghan POR card holders, 2,686 Afghan refugees, 19 non-Afghan refugees, and 12,508 Asylum seekers.
She said that in 2015 government of Pakistan stopped the new registration of refugees
She corrected us by saying that it's not Refugees Camps now because they have been living here for years so we called it Refugees Villages. There are 10 refugee villages, 3 in Loralai, 3 in Chaghi, others are Saranan, Muhammad Khel, Surkhab, and Malgagai.
As Mauladad and his family left mahajir village, Humera Karim agrees that a lot of refugees have left the villages because it was hard to only rely on UNHCR funds for those reasons many left in search of jobs and labor.
It has been observed that there are more than 3 million Afghan refugees living in Balochistan besides 314,418 registered ones, the rest of the others are missing basic human rights.
Their children are growing up without education and sufficient health facilities.
The Afghan war has inflicted visible and invisible wounds, it's not only one or two families, but there also are thousands of people like Mauladad who got affected by the war thousands of mothers like Gulsima who cry for their children's future, and many have lost their loved ones in this war many have been separated from each other.
Gulsima's tearful eyes question ''till when are we going to see all of this? When will this end''?
This conflict has resulted in the deaths of Thousands of people, but now this should end. The poor people of Afghanistan cannot lose more, Afghan leadership and the world should discuss how to make a world devoid of such horrible conflicts. Even if it won't be simple, eliminating war should be a moral requirement.
Believing that war can be ended is the first step in this process.