Ibrar Ahmed
Amir, 17, accompanied by his 4-year old sister Najma are in a quest to get water. They leave their home daily in Gulshan-e-Hassan neighborhood in Western-Bypass locality of Quetta. They carry 5 empty cans in a pushcart and search for water for the daily consumption of their household.
After a 20 minute walk, Amir and his sister managed to reach a pumping station, where water is supplied to the water tankers. He started unloading his cans so that He can fill them from one of the taps of the station. "Go away," shouted a man inside from the station.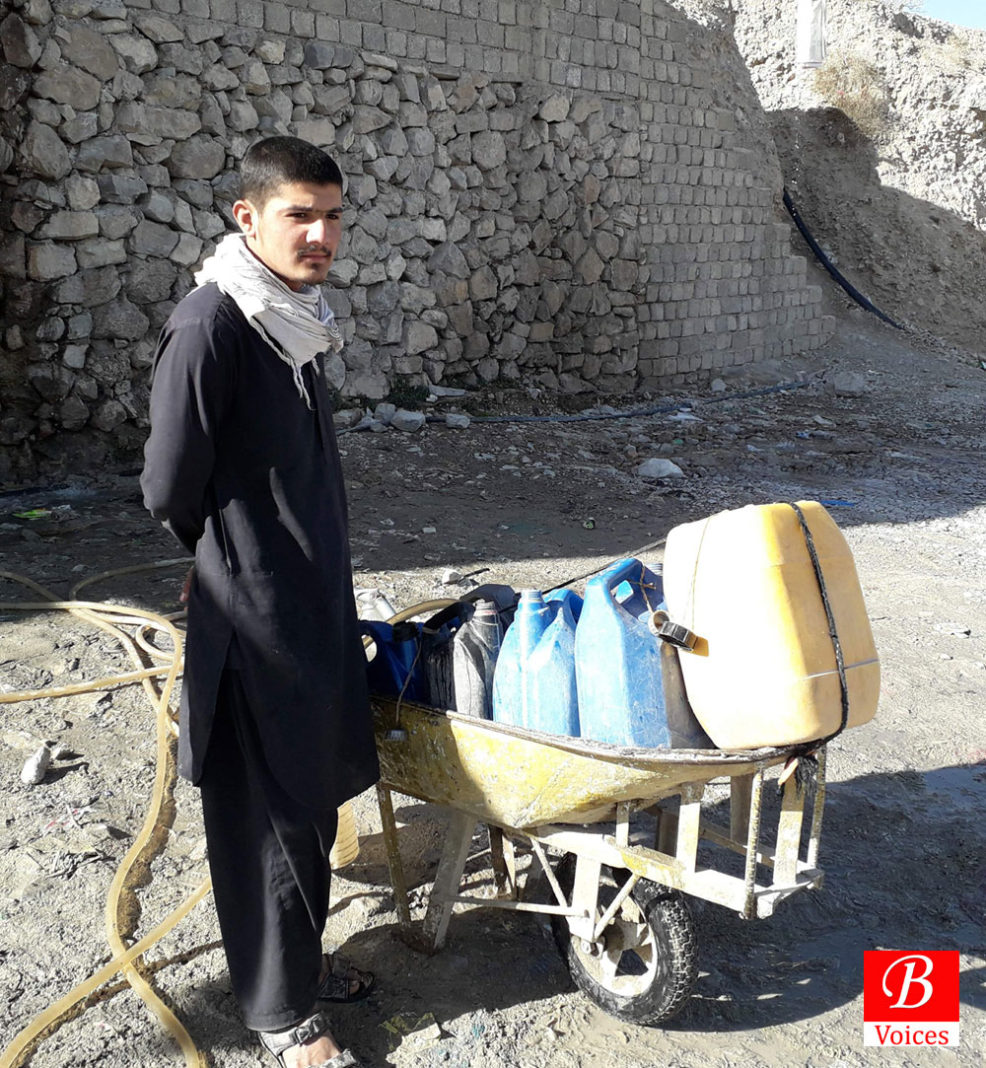 Jamal ud Din is the watchman of the pumping station and He told Amir and his sister that they cannot get water from here. "I have already told you that the water of this pumping station can only be supplied to Water tankers who pay us and not to others," He shouted at the top of his lungs. When Amir and Najma pleaded to Jamal, He said that this is what he has been instructed by his boss so He can't help them.
Amir is the only son of his aged parents. "My father can't carry these heavy water cans so I have to carry them to fetch water on a daily basis," He told Balochistan Voices. He said that He had been visiting the same water station for the last three days but he is not provided water.
The problems faced by Amir are commonly faced by hundreds of thousands of citizens of Quetta. Planned for a population of just 100,000 in the late 19th century, today Quetta has a population of over 2.2 million. The Primary source of water extraction for WASA are its Tube-wells installed all over the city, which are not able to fulfill the growing water demands of the provincial capital. According to official data, water needs of Quetta are 500 million gallons per day (MGD), whereas Water and Sanitation Authority (WASA) can only provide 300 MGDs of water leaving behind a shortfall of 200 MGDs. Consequently, citizens of Quetta have to use water tankers to collect water in person, like Amir, to fulfill their water needs.
The water shortage has impacted the lives of residents of Quetta in multiple ways. Kids who are supposed to play and enjoy their early age are forced to search for water on a daily basis. At the same time, this practice also affects their education because they have to miss classes to get water. Currently, the schools are closed till the end of February due to winter vacations. However, when schools resume in March, Amir and Najma have to miss classes whenever they go in search of water.
In some neighborhoods, some kind-hearted people provided water for free to the people who are in search of it. Still, people have to bring their cans to collect water and take it home. In some instances, the people have to carry water for as long as 30 minutes before they reach their homes.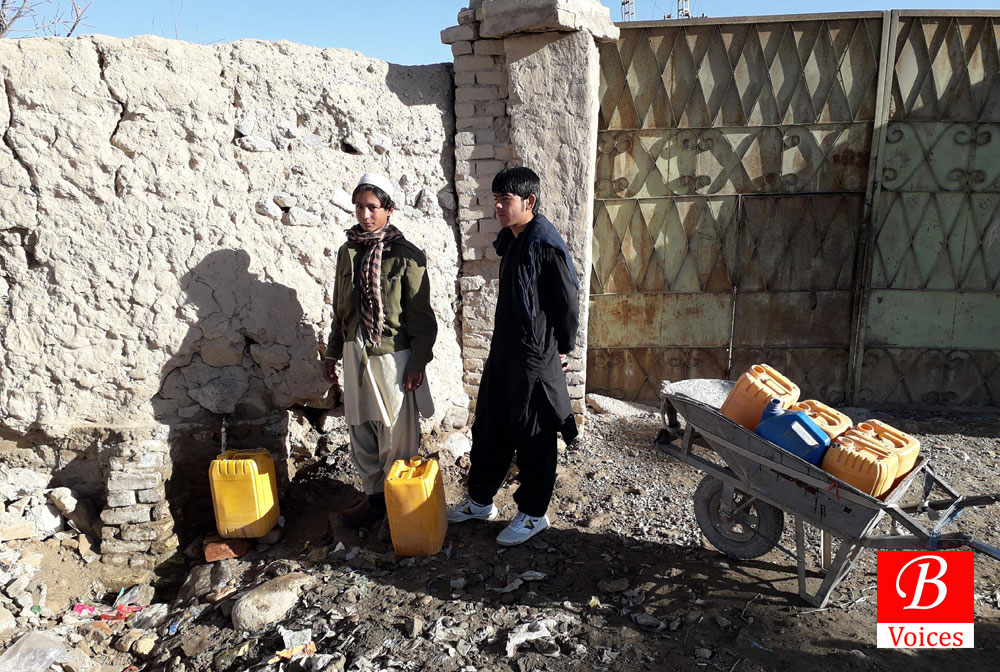 Pervez and Amanullah are cousins and both are 18 years old. They reside in Kachi Baig locality on Qambrani road. They also do not receive water from WASA and can't afford to pay Rs. 1,000 for a water tanker. Therefore, they also carry water cans to get water on a daily basis. They are fortunate because a garden owner has allowed them to collect water from his tube well out of kindness. They have to walk 40 minutes per day to get the water. Nature is not often kind and both the cousins have to brace cold weather of Quetta to collect the water on a daily basis. "Last week it was freezing cold but we had no choice so we visited the garden to collect water," said Amanullah.
Moreover, there is no guarantee that water seekers will get water each and every day. Sometimes the tube wells from where they get water for free are closed. Other times the homes of kind people, who provide water for free, are closed. "There have been situations that I have returned home without water after spending a couple of hours in unsuccessful search," said Amanullah. In such a case people borrow a small quantity of water from their neighbors provided that their neighbors have water. "There are times when we barely manage to get water to drink and cooking," said Amir. He added the daily search for water is the biggest struggle in his life so far.
Furthermore, the daily time-consuming exercise of collecting water has hampered the livelihood generation of underprivileged people. Especially the daily wagers are affected who have to make effort on daily basis to earn their livelihood. The water problem has not only created a permanent inconvenience for them but also affected their limited livelihood.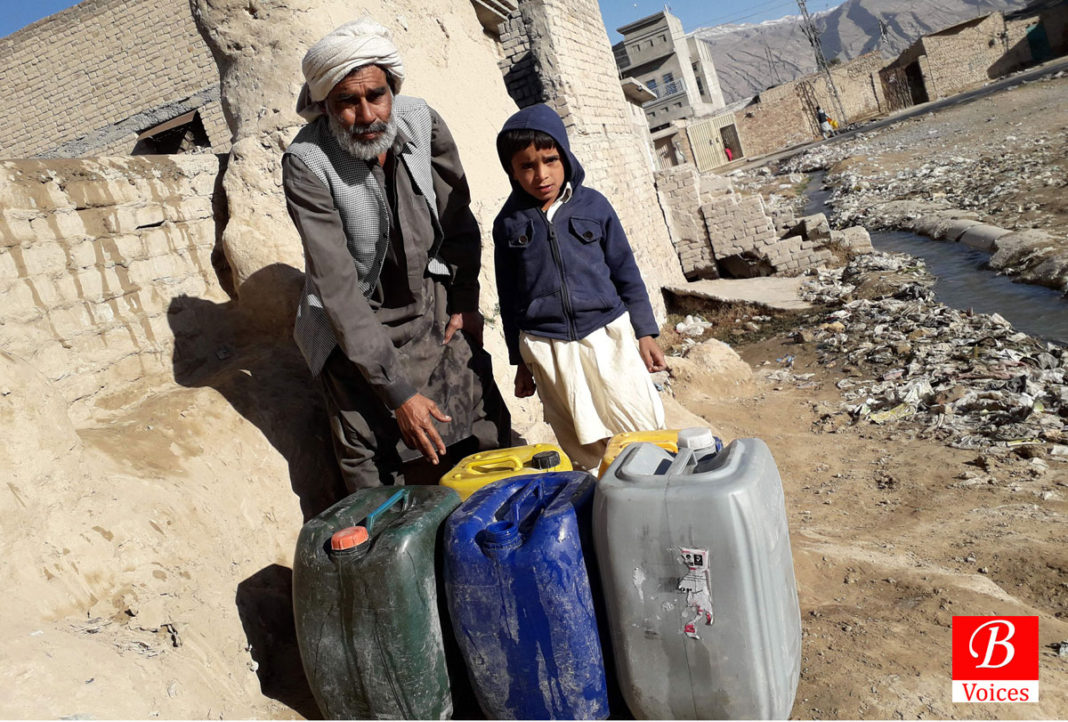 Muhammad Ali, 56, is from Jaffarabad district of Balochistan and sells ice cream for his livelihood and lives in a small rented house in Killi Qambrani area of Quetta. His three sons work on daily wages to put food on the table every day. Therefore, Muhammad Ali takes his four-year-old grandson Fayyaz along with him to get water. He said that first, he has to first get water for his house then take my cart of ice cream in the city. "The inconvenience of searching for water on a daily basis has crippled my ability to earn a reasonable livelihood for my family," He told Balochistan Voices.
Sami Zarkoon is a leading civil society activist in Quetta. He said that water shortage is arguably the second biggest problem of Quetta after terrorism. "Government has not taken any meaningful steps to resolve the water shortage problem in Quetta," He said. He told Balochistan Voices that citizens of Quetta have been hearing for the last ten years that government will resolve the water crisis through mega water supply projects but none of those claims have proved to be realities. "If the water shortage problem of Quetta is not resolved then eventually the people will have to migrate out of this city," claimed Zarkoon.
In Quetta, collecting water on a daily basis has become a huge problem for the under-privileged class. People blame WASA for this problem. WASA gets resources from the government to provide water directly to the homes of citizens. This scribe remembers that 15 years ago, citizens in Quetta received water from WASA pipeline and had to pay a monthly bill of Rupees 125. With the passage of time, the water demand of Quetta increased but the water supplying ability of WASA reduced. As a result, people across Quetta city suffer a plethora of problems due to the inefficiency of WASA.
Sitting in his office located on double road area of Quetta is Mujeeb Ur Rehman Qambrani – Managing Director (MD) of WASA. He said that WASA is doing its best to supply water to the citizens of Quetta. "Every year the water table in Quetta falls 7 feet. The water table has fallen to 1,000 feet, which used to be 600 a few years back," He claimed. "The fall in water table has reduced the quantity of water, which WASA can collect and then supply to citizens," explained MD WASA.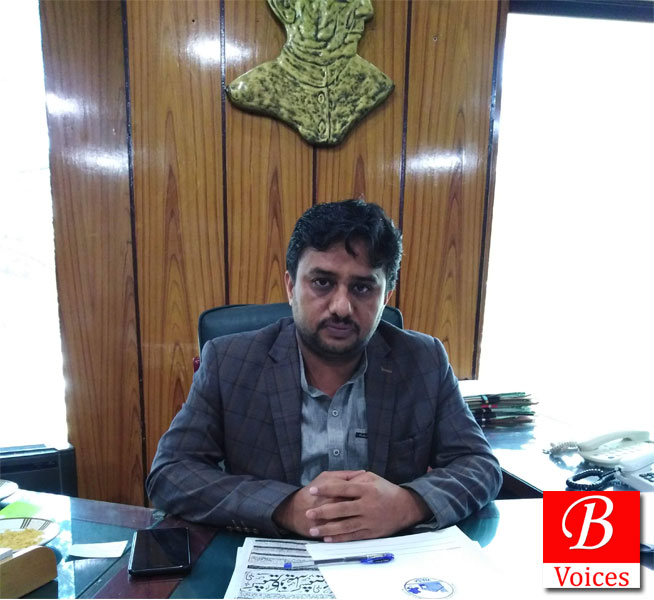 Qambrani further added that WASA is cracking down on illegal tube wells in Quetta city to control the fall in the Water table. "Under WASA Act 2004 we have sealed more than 100 illegal Tubewells and we plan to continue the crackdown," He added.  "Mangi dam located near Quetta will be completed within two years and this would help in managing the water crisis in Quetta," concluded MD WASA.
Till the time Mangi dam is built and WASA really ends the water shortage crisis in Quetta, people like Amir, Najma, Amanullah and Muhammad Ali would keep on spending the better part of their day in searching for water. "I don't believe that government can ever solve the water crisis problem in Quetta," lamented Muhammad Ali. "Searching restlessly for water has become a part of our lives and we accept this reality," said Amanullah.